Album Review: Pestilential Shadows – Revenant (Seance Records)
One of Australia's longest-running and most respected black metal bands, Pestilential Shadows have been building a towering canon of work since 2003. It's been seven long year's since the band's last full-length, the widely celebrated Ephemeral, but now Pestilential Shadows arrive in a cursed world with Revenant.
Here, they delve into the core themes that have always been at the heart of the band's work: namely, the grand reaper Death and the many possible pathways that death leads the mortal flesh upon, to its rest and unrest. Inspired by the riddle "What is dead that doesn't die?," Revenant likewise offers many sonic/spiritual pathways of death, decay, pestilence, and putrefaction.
Revenant will be released on CD, vinyl LP, and cassette tape formats on September 3rd, 2021 via Seance Records.
Pestilential Shadows demand that you let the darkness of Revenant consume your soul. The Pale Rider has ridden in and his bony fingers are pointed out you.
Revenant is a black metal epic but one that focuses on the harsher and darker side of the sound. Harking back to the early days of the scene but with so much more refinement. What we have here is drawn-out viciousness with touches of post, blazing and enthralling grandiosity, moments of melodic levity and blistering speed.
Don't worry that it's only 6 tracks long, Revenant is every bit the black metal epic you would hope it is. Tracks like Procession of Souls, Twilight Congregation and Beneath the Dying Stars are lengthy and drawn-out bouts of suffering. Beautiful, morbid and horrifying black metal that stays consistently intense. It makes you long for the sweet release of darkness while also being utterly enthralled by the arrival of the Grim Reaper.
What happens once you've taken his hand? That's some of what Pestilential Shadows explore here. You won't find all the answers but you'll certainly have the soundtrack to what might be beyond the void.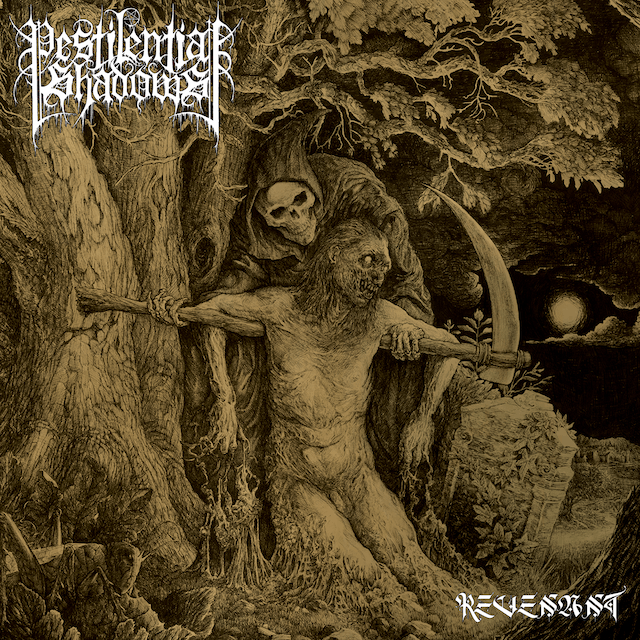 Pestilential Shadows – Revenant Full Track Listing:
1. Procession of Souls
2. Hunter and Reaper
3. Twilight Congregation
4. The Sword of Damocles
5. Revenant
6. Beneath the Dying Stars
Links
Pestilential Shadows - Revenant (Seance Records)
The Final Score -

7.5/10