Album Review: Ov Sulfur – The Burden Ov Faith (Century Media Records)
The blackened deathcore collective that is Ov Sulfur will release their debut full-length album 'The Burden Ov Faith' on March 24th, 2023, via Century Media Records.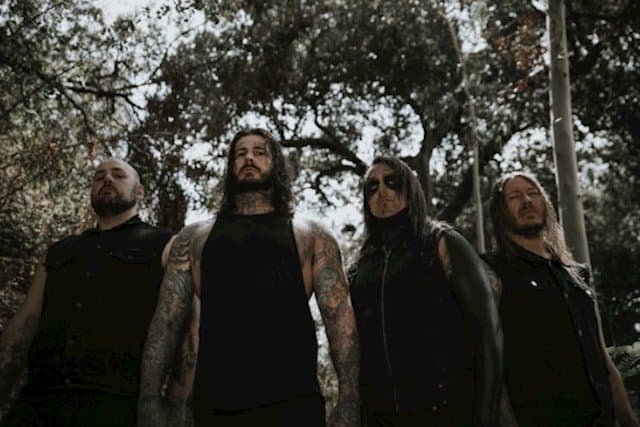 Much anticipated and with much expectation, The Burden Ov Faith is an extremely big moment in the career of Ov Sulfur. Not just because it is their debut full-length but because the previously released EP and slew of singles from this album has caused rabid-like hunger within their listener-base.
Anticipation, demand, and expectation that a lot of bands would crumble under. A weight that the blacked broad shoulders of Ov Sulfur are more than capable of holding up.
Letting everyone know that this album is going to be feral, furious, and freaking demonic from the start with Stained in Rot. The brutish deathcore is manic but layered with melody, rhythm, and clean singing. A real showstopper of a track and one hell of an introduction to The Burden Ov Faith.
The first of many guests makes an appearance on the following Befouler. A track that rages and rages bloody hard with the bonus of Alex Terrible of Slaughter to Prevail certainly adding some levity to the intensity. The deathcore makeup is familiar and ferocious, with a chorus that soars, and the breakdown at the end is pure chaos.
Taylor Barber of Left to Suffer joins Ov Sulfur next on the barbaric Unraveling. A track that takes some of the earlier subtle symphonic touches and puts them front and centre. This, a track that has a much blacker heart, but shows a measured magnificence that is just awesome. Then there is the slab of brutality that is Death Ov Circumstance. A hyperactive blast of heaviness blended with symphonic splendour and delivering an epic sounding chorus.
The beastliness of Ov Sulfur as prominent as their experimental side. Which makes the overall deathcore makeup impossible to just dismiss. For all its unbelievable raging savagery, it's an album with far too many interesting melodic twists and turns to ignore. Tracks like the lower tempo but unashamedly heavy Earthen, with its thrilling guitar solo, the haunting intermission of A Path to Salvation that is more metalcore than deathcore, and the imaginative epic, I Apostate, that showcases some of the coarsest instrumentation of the entire album.
Light the Torch vocalist Howard Jones then lends his immense vocal talents to Wide Open; the combination of Ov Sulfur's epic deathcore and Jones' stylish voice is the stuff head-banging dreams are made of. A track that has some downright heavy instrumentation and some devastating vocal growls but plenty of melody too. Melody that elevates it from being more than just a brash and intense death-infused metal track.

Then there is The Inglorious Archetype, a penultimate track that has one goal and one goal alone, crush. Done through sheer feverish speed and brutish heaviness. Whereas the finale, the title track, features the ruthless style of Kyle Medina from Bodysnatcher and the enigmatic wonder of Lindsay Schoolcraft. One of the most detailed and delightful tracks on the entire record that sees the band really dig into a cinematic crust.
It's a massive album and more than lives up to the hype. Ov Sulfur are about to blow up, big time.
Ov Sulfur – The Burden Ov Faith Track Listing:
1. Stained In Rot
2. Befouler (Ft. Alex Terrible)
3. Unraveling (Ft. Taylor Barber)
4. Death Ov Circumstance
5. Earthen
6. A Path to Salvation
7. I Apostate
8. Wide Open (Ft. Howard Jones)
9. The Inglorious Archetype
10. The Burden Ov Faith (Ft. Kyle Medina & Lindsay Schoolcraft)
Links
Website | Facebook | Instagram | Twitter
Ov Sulfur - The Burden Ov Faith (Century Media Records)
The Final Score -

9/10