Album Review: Mastodon – Emperor of Sand (Reprise Records)
Emperor of Sand is Mastodon's seventh studio album & first since 2014's divisive Once More 'Round the Sun. It was released on March 31st via Reprise Records.
A concept album, Emperor of Sand is a darker record then more recent Mastodon efforts. Dealing with themes of death, survival & human mortality as a whole. Drummer Brann Dailor had this to say about the album's story:
"A Sultan in the desert hands down a death sentence to this guy. He's running from that. He gets lost, and the sun is zapping all of his energy akin to radiation. So, he's trying to telepathically communicate with these African and Native American tribes to get rain to pour down and kill it."
While bassist Troy Sanders added that:
"We're reflecting on mortality. To that end, the album ties into our entire discography. It's 17 years in the making, but it's also a direct reaction to the last two years. We tend to draw inspiration from very real things in our lives."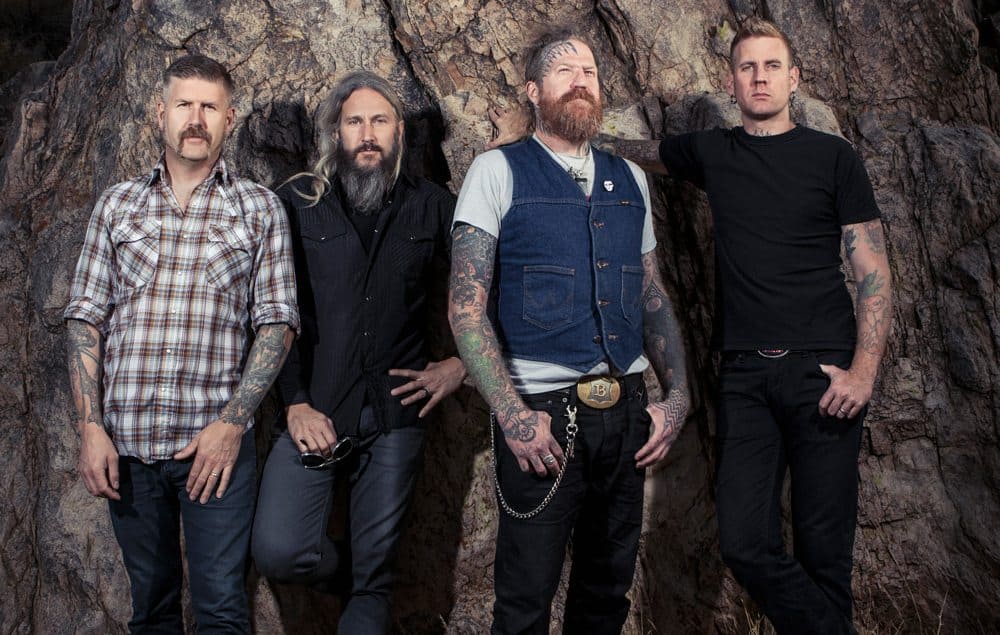 You can read our thoughts on the previously released singles; Sultan's Curse, Show Yourself & Andromeda.
Emperor of Sand opens with Sultan's Curse & it's not the strongest start for Mastodon. It's a very 'by the numbers' modern rock song for the band & doesn't feel particularly inspired. The track  does have some nice meaty riffs, a good guitar solo & some nice variation in vocals but it's not one you'll remember long afterwards. It's followed by the even more disappointing, Show Yourself. Brann Dailor dominates the vocals & other than a low steady main riff it's forgettable as anything they've ever done.
This early on you can't shake the feeling that the inventiveness that made Mastodon such a popular band is missing. Thankfully things do improve & Show Yourself is as commercial as you get throughout Emperor of Sand.
Things really get going with Precious Stones' dusty riffs & speedy drum beat. It all culminates in a memorable & catchy chorus. The wailing guitars gives Steambreather a real ancient feel, it's imaginative & the most interesting song so far, it's structured so well. The use of effects give it an almost middle-eastern feel.
These effects begin to crop up more & more from this point. The trippy intro to Roots Remain leads into some seriously heavy riffs & hooks. This sounds like something that could easily have fit on Crack the Skye (arguably the most inventive of Mastodon albums) save for the cracking guitar solo at the end.
At the halfway point of the album it's hard to not feel a bit underwhelmed. What we've heard so far is a mix of more commercialised Mastodon with smatterings of imagination & style. Nothing really jumps out, that is until Ancient Kingdom, the best song on the album.
A peppy pace with a wickedly mind-scratching riff it flows brilliantly with some great shared vocals but when it hits the chorus it transforms into something else, something amazing. That's what I'm talking about. Troy Sanders' gruff vocals, that guitar melody, the throbbing bass hook & the fucking bells. It's the complete opposite of what we've heard before in that this is what you'll remember & this is what you'll be playing months down the line. All with that recognisable Mastodon prog-style too!
There isn't another low point for the remainder of the album but it also never hits the high of Ancient Kingdom. Heavy riffs, deep bass lines & some screeching guitar solos drive Clandestiny & Andromeda on nicely with the latter having a crushingly heavy finish.
A short middle-eastern sound melody introduces Scorpion Breath, a kind of starter to the final & longest track, Jaguar God. The former is hard-hitting slab of heavy metal, no screwing around just slamming as hard as they possibly can (the drumming is something else here).
Almost 8 minutes long, the acoustic melody of Jaguar God's soft guitar tone is instantly appealing. It's a real show of the vocal capabilities of all the Mastodon members as they share & back up each other's performances wonderfully. As the song progresses it transforms, picking up the pace & beginning to delve into a more Mastodon prog sound. It's a solid finish to an album of two halves & it seems as though the fellas have tried to please both sides of their fans.
The first half has a more commercialised rock sound while the second sees them return to their roots & embrace their history. It creates a bit of a disconnect with album unfortunately & it probably would have been better if they had settled for one style only.
Tracks like Sultan's Curse, Show Yourself & Word to the Wise just don't hit the mark. Whereas Ancient Kingdom, Andromeda & Jaguar God are instant Mastodon classics.
Mastodon – Emperor of Sand Full Track Listing:
1. Sultan's Curse
2. Show Yourself
3. Precious Stones
4. Steambuilder
5. Roots Remain
6. Word to the Wise
7. Ancient Kingdom
8. Clandestiny
9. Andromeda
10. Scorpion Breath
11. Jaguar God
Mastodon - Emperor of Sand (Reprise Records)
The Final Score -

7/10
Comments Rating
( reviews)