Album Review: Machine Head – Catharsis (Nuclear Blast)
Machine Head return with their ninth studio album 'Catharsis', one that has seen a bunch of mixed reactions across the interweb based off the previously released singles. Some people love what they've heard so far, plenty of people don't and frontman Robb Flynn has come out swinging.
We've reviewed the singles that have been released so far so check out those reviews below.
Beyond the Pale
Catharsis
Bastards
Kaleidoscope
Now please note that Unholydarklotus wrote the single reviews. I (The Disc) am writing the album review having not heard a single track so far. So, don't be surprised if we have differing opinions.
We're huge Machine Head fans with the albums we have reviewed getting serious high praise. Check out those reviews below.
The More Things Change
Through the Ashes of Empires
Bloodstones and Diamonds
We've also done a Top 10 Machine Head songs that you can read here and check out our review of their last London show in 2016 here.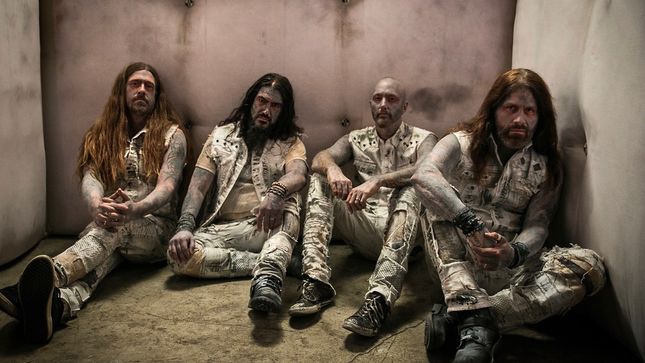 A 15-track album, Machine Head have a lot to say on Catharsis. A lot of which you may not want to be told. Well, Machine Head have said "fuck you, you will listen". Catharsis is an album that is completely filled with emotional & heartfelt messages, expressed through heavy riffs, roaring vocals and groovy beats. Catharsis is Machine Head drawing from every part of their career, even the more maligned records like The Burning Red & Supercharger (both good albums in their own right).
"Fuck the world"
Volatile is an apt title for a track that erupts with serious aggression. One that delivers punchy riffs that really hark back to a much older Machine Head sound. Flynn snarls & roars his way around some 'no nonsense' lyrics that really make the track stand out.
The title track follows with a surprisingly melodic start that builds in epic energy towards Flynn crooning "you're there to watch me crumble". The song then kicks it up a notch to deliver one of the most diverse sounding Machine Head songs in a long time. It's an incredibly layered track with some killer breakdowns. An absolute barn-burner that had me singing along instantly.
The longer Catharsis goes on, the more impressive it is. The thumping rhythm & head-banging awesomeness of Beyond the Pale, the circle-pit inducing Kaleidoscope (sure to be a live favourite), the mournful Screaming at the Sun and the inventive, expansive & challenging, Heavy Lies the Crown.
There are a couple of ballads throughout Catharsis too. The first coming with Bastards (sort of), a gob-smackingly good song. It's emotionally charged & Flynn's voice sounds great on it. The guitar melody is out of this world & when it kicks it up a notch its reminiscent of Dropkick Murphys' punk sound. It put the biggest smile on my face even with its highly controversial lyrics.
The other is Behind the Mask and while it doesn't hit the highs of Bastards, it's sweet melody & dark lyrics make it another memorable one. Especially when it picks up in tempo briefly near the end.
For all the positives though there are a few moments where the quality we expect from the band aren't met. California Bleeding is disappointingly bland, Triple Beam's rap metal effort is cringe-inducing & Psychotic is fairly forgettable.
The triple header of the meaty Grind You Down (ain't that chorus so Burning Red?), the high-tempo ferocity of Razorblade Smile and the haunting ballad of Eulogy ends Machine Head's latest opus in a very positive way.
The negative reviews…I really question just what those people were looking for. The Blackening: Part 2? This is Machine Head evolving, using their entire history to create an album that doesn't always get it right but is a celebration & a statement at the same time. A terrible album? Utterly absurd. It's not the best work they've done but it's a bloody great album.
There are elements of The More Things Change, The Burning Red, The Blackening, Unto the Locust and Bloodstone & Diamonds here. This really is a Machine Head history-spanning record! It feels deeply personal & that is something I and all of us here at GBHBL adore about them.
We'll see you in the fucking pit screaming Machine Fucking Head.
Machine Head – Catharsis Full Track Listing:
1. Volatile
2. Catharsis
3. Beyond the Pale
4. California Bleeding
5. Triple Beam
6. Kaleidoscope
7. Bastards
8. Hope Begets Hope
9. Screaming at the Sun
10. Behind a Mask
11. Heavy Lies the Crown
12. Psychotic
13. Grind You Down
14. Razorblade Smile
15. Eulogy
[amazon_link asins='B077JGPJDV,B0773XBFG4,B077GGKB9L,B077GFDTW5′ template='UseThisOne' store='g0e5b-21′ marketplace='UK' link_id='44133e0b-0249-11e8-bcfc-e53d9aee052b']
Catharsis is available now via all major streaming services including Apple Music below. You can also pick it up via Amazon above & Nuclear Blast here.
Machine Head - Catharsis (Nuclear Blast)
The Final Score -

8.5/10