Album Review: Kruor – Destroyers (Self Released)
Finland's underground death metal quintet Kruor released their 3rd full length album entitled 'Destroyers' on March 23rd 2018.
Destroyers is an apt name seeing as the 8 track album comes at you with intense destructive force, enough to make you bow your head in respect. Filled with bone-crunching riffs, roaring vocals, hard hitting bass & drums, opener 'Chant of the Undying' lays the groundwork for an album that is solid through and through.
Hard-hitting numbers follow with Berserk, Chaos Supremacy and In the Midst of Desolation all delivering on the promise of unrestricted fury. The latter of the three is particularly attention-grabbing as it encourages you to open up a pit no matter where you are.
Destroyers is a rough sounding record, something that might fit the style on show but makes for an uneasy time trying to pick the more nuanced elements of a track like At the Gates of Demise. It adds quite a bit to the raw sonic power of Kruor though especially when they're firing away with the short-ish intensity of Plague, a track that really lets the bass and drums do the work.
Destroyers grows in strength with the final couple of tracks absolutely slaying with death metal heaviness. Slaughterhouse is just a fantastic, heavy metal track while From Abhorrent Dreams to Reality is an epic.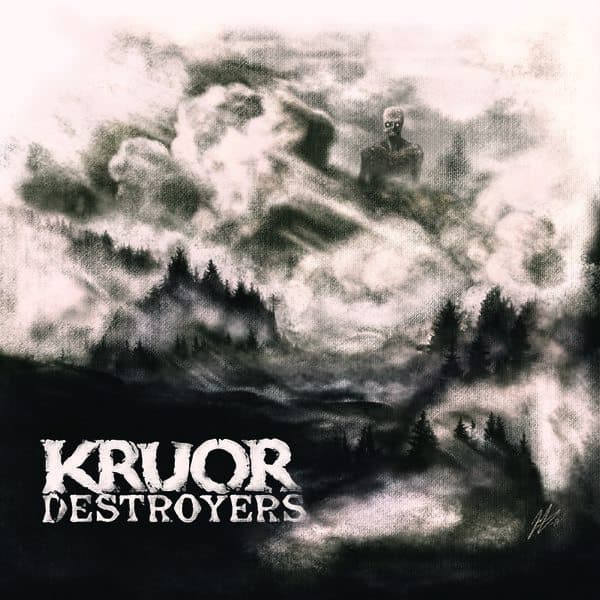 Kruor – Destroyers Full Track Listing:
1. Chant of the Undying
2. Berserk
3. Chaos Supremacy
4. In the Midst of Desolation
5. At the Gates of Demise
6. Plague
7. Slaughterhouse
8. From Abhorrent Dreams to Reality
[amazon_link asins='B079M9RSJ2,B079MCFT2V,B079M28MHF,B079LTHLQF' template='UseThisOne' store='g0e5b-21′ marketplace='UK' link_id='4ac9b79e-3a6d-11e8-a48f-c7ca73f94bdf']
Destroyers is available via all major streaming services such as Spotify and Apple Music which you can listen too below. Find out more by checking out Kruor's Facebook Page and watch some of their videos on YouTube.
Kruor - Destroyers (Self Released)
The Final Score -

8/10