Album Review: Hellripper – The Affair Of The Poisons (Peaceville Records)
Hellripper's upcoming new studio album The Affair Of The Poisons is scheduled for release on the 9th October 2020 via Peaceful Records.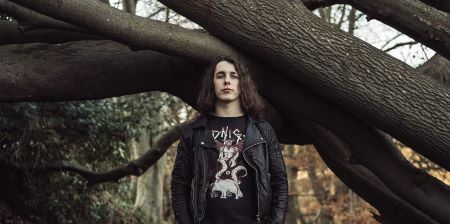 Hellripper, aka James McBain, based in the Scottish Highlands, says of their forthcoming epic:
The Affair of the Poisons' contains the mixture of thrash/black/speed metal and punk that Hellripper has become known for, but this time I feel that the end result is more cohesive. Some of the tracks are more straight-forward while others contain some twists and parts that are new to the Hellripper sound. As always, the whole writing and recording process was done at home by myself, with a few friends of mine contributing some additional vocals and lead guitar parts. The album was mixed by myself and was mastered by Brad Boatright at Audiosiege who did an amazing job.

Lyrically, the album's themes primarily revolve around witchcraft and the occult, with some tracks being based on historical events ('The Affair of the Poisons', 'Beyond the Convent Walls') and Scottish legend ('Vampire's Grave').

Skadvaldur did an excellent job, as he always does, of creating a piece of artwork that both represents the album's themes, as well as being a somewhat of a homage in style to the old B-horror movie posters that inspired a few of the album's tracks.
It's in an eye-wateringly fast and heavy way that Hellripper kick off the brand new album with the title track. A thrash/speed metal slice of savage fury that will give any would-be head-bangers serious neck ache. It's an absurd start but just a slice of the horror that Hellripper have in store for us here.
Spectres of the Blood Sabbath and Vampire's Grave arriving with furious and evil intent whereas Beyond the Convent Walls is a thrashing maniac of a listen.
It's non-stop ferocity played fast, hard and heavy from the moment a track begins to the moment it ends. Something that could be tiresome but Hellripper keep this album short (8 tracks) to ensure no lethargy sinks in.
Spitting blood and gore still, Savage Blasphemy is face-meltingly hot. Hexennachtm is so frantic it's like Hellripper is having a fit and Blood Orgy of the She-Devils is 'video-nasty' levels of brutality. Before a beast of an album wrap up with the blackened rhythmic sound of The Hanging Tree.
Hellripper – The Affair of the Poisons Full Track Listing:
1. The Affair Of The Poisons
2. Spectres Of The Blood Moon Sabbath
3. Vampire`s Grave
4. Beyond The Convent Walls
5. Savage Blasphemy
6. Hexennachtm
7. Blood Orgy Of The She-Devils
8. The Hanging Tree
Links
Shop | Website | Facebook | Twitter | Instagram | YouTube | Peaceville Records
Hellripper - The Affair Of The Poisons (Peaceville Records)
The Final Score -

7.5/10