Album Review: Helleborus – Saprophytic Divinations (Redefining Darkness Records)
Like the enigmatic & deadly winter flower from which the band takes its name, the ancient Greeks called the Helleborus "the plant of fauns". Heavily influenced by the Orphic Mysteries and traditional western witchcraft & folklore, the band pushes the exploration of orthodoxy black metal into the uncharted territory of sensual duality with a focus on occult herbalism & sexual mysticism.
Following the debut release The Carnal Sabbath & the liminal single 'Prayer Of The Undying', Redefining Darkness Records will be releasing Helleborus' sophomore work Saprophytic Divinations. Saprophytic a term given to fungus or plants whom grow or eat from decaying matter. The band explore the concept of prophecy or divine communications blooming from the macabre. Out on December 6th 2019.
Twisted evil and so very magical, the black metal sound that Helleborus spit forth is one that has a bit of the old and new school about it. As exemplified by opener Celestial Grace and the following Alraun Ghost, we have bleakly savage heaviness wrapped up with atmosphere and distilled through a modern sieve that lets the flesh-tearing riffs, chunky drums, bass and gurgling vocal through.
Eerie but with threat, Verum Fidei's acoustic melody is interrupted by brief spoken word before Helleborus emerge out of the fog with evil intentions for the ritualistic horror that is Devil's Garden. The stuff nightmares are made up of, there is no escape as Juniper Legacy's ferociously heavy rhythm shows that this is an album that will haunt you, be you asleep or awake.
Leaning into their more expansive edge, Decaying Observer is an offering routed in the sound of ancient times and legends. Easily the best track on the record, it is followed by the faster tempo of Noctre Amans, an equally as thrilling listen just not as attention grabbing.
Blakulla's Meadow and the title track keep things rooted in the black and bleak for a strong finish. It's hard to say it's too exciting as the album has lost a lot of its lustre by the end but the quality is certainly still there.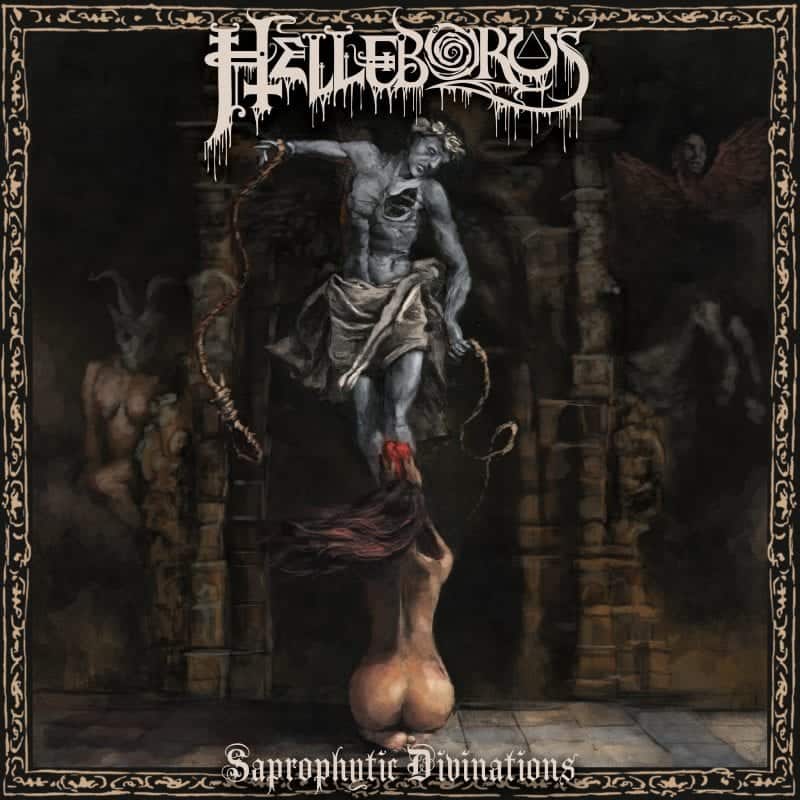 Helleborus – Saprophytic Divinations Full Track Listing:
1. Celestial Grave
2. Alraun Ghost
3. Verum Fidei
4. Devils Garden
5. Juniper Shrine
6. Decaying Observer
7. Nocte Amans
8. Blakulla's Meadow
9. Saprophytic Divinations
Links
Helleborus - Saprophytic Divinations (Redefining Darkness Records)
The Final Score -

7.5/10