Album Review: Heavy Meta – Mana Regmata (Self Released)
Lowell, Massachusetts natives Heavy Meta are proud to officially announce the release of their debut album, Mana Regmata. Set for release on February 11th, 2022. Active since 2017, the enigmatic sonic shapeshifters music initially started taking form way back in 2013. In 2019 their first official effort, an adventurous four-song self-titled EP, was released and they're now back with an even wilder work of art in 2022.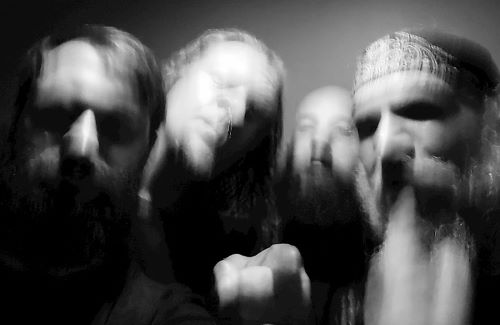 There is no easy way to describe the noise that Heavy Meta create. They themselves jokingly describe it as 'Blackened progressive cowboy nintendocore' and there is the sense of the kitchen sink being thrown in here.
Make sense of that if you will, just be assured that what you're hearing is chaotic, brash, coarse, and freaking unique.
Mana Regmata is a wild ride that causes great enlightenment and deep confusion. There's no denying that it is a technical and progressive marvel with influences ranging from all ends of the heavy metal and rock spectrum. However, it's also clear that Heavy Meta are doing their own thing and doing it their way. It's about embracing the chaos rather than shying away from it.
Comparing one track to another is like comparing night and day, Heavy Meta don't do conventional and the end result is baffling. Yet, here's the thing… it's downright brilliant.
In a world where we bemoan the lack of originality, along comes Heavy Meta and their inimitable talents to shut everyone up. Of course, you can draw comparisons to the likes of The Dillinger Escape Plan, Botch, Every Time I Die and Mr. Bungle but you can also draw comparisons to the likes of Faith No More, Converge, Voivod and King Crimson. Regardless, Heavy Meta sound like none of these bands and that is a really rare thing.
This is pandemonium that everyone can get on board with. Heavy Meta are championing the strange and unusual while also delivering a heavy metal record to remember. There are 8 tracks to digest and once you've made your way through it, there will be no doubt that you'll be in love with Heavy Meta and their brand of lunacy. An album that will be get repeated plays throughout the year when you just need something that matches your mood for abrasive and bad-mannered behaviour.
Heavy Meta – Mana Regmata Full Track Listing:
1. Blastocyst
2. Caffeine Casket
3. Worms
4. Psalm VI
5. Delusions
6. Two Fly
7. Boötes Void
8. Vicious Wishes
Links
Bandcamp | Facebook | Instagram | YouTube
Heavy Meta - Mana Regmata (Self Released)
The Final Score -

9/10