Album Review: Deified – Anthrobscene (Self Released)
British rising metallers Deified will release their new mini-album 'Anthrobscene' on the 29th May 2020.
A time capsule discussing the modern era; 'Anthrobscene' doesn't hold back with its commentary on social media, the digital revolution, mental health, climate change, politics, and more. Dark, angry, philosophical and downright nihilistic, Deified reflect on some of the worst parts of today's status quo, all the while immersing listeners in a brutal and innovative sonic landscape.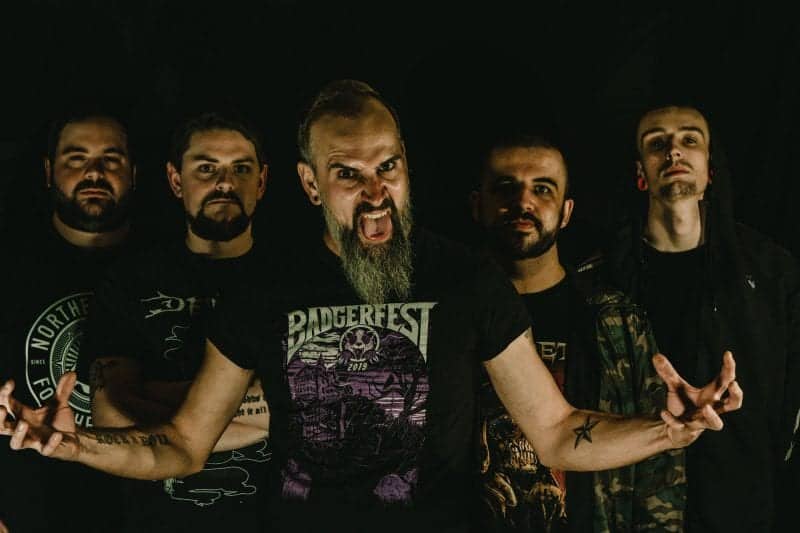 It might be a 'mini-album' but Deified pack a hell of a lot into Anthrobscene. Eight tracks and about 28 minutes of vicious heaviness with a welcome added touch of flair that makes this effort feel much larger.
You get that sense from Prelude, as the guitars and drums race away. Building towards the fervour and fury that is Dark Desires, a track that is weighty as hell. Smash-mouth vocals, blistering guitars and a percussion section that hammers away hard. It's got a violent assault type sound but distilled through Deified's passionate approach to their subject matter.
Faster, more concentrated and with even more fire in their bellies, we then get Broken Matrix and Enemies Within. There is no arguing with the no-nonsense approach to their metal and this is a pair of tracks that will leave few standing still.
After a short electronica Intermission, it's back to the hyper-activity with Apotheosis – Rebirth where the vocals are spat out rather then sung. Blood Under the Bridge lets the riffs do all the heavy lifting, which is more than fine as they're utterly brilliant. Before An Ode to Armageddon changes tactics by introducing haunting melody before building up the guitars and drums leading to a frantic flare-up of head-banging heaviness.
This is the sort of heavyweight release that turns heads.
Deified – Anthrobscene Full Track Listing:
1. Prelude
2. Dark Desires
3. Broken Matrix
4. Enemies Within
5. Intermission
6. Apotheosis – Rebirth
7. Blood Under The Bridge
8. An Ode to Armageddon
Links
Shop | Website | Facebook | Instagram | Twitter | YouTube
Deified - Anthrobscene (Self Released)
The Final Score -

9/10