UnholyDarklotus: 5 Metal Disappointments of 2016
If you don't listen to rock and metal, I imagine you have had a pretty terrible year. Bombarded with nonsense from the likes of Taylor Swift and Calvin Harris (okay, I had to google for a couple relevant people) I imagine you have pretty much given up on music right? Even your pop stars wear Metallica tops these days right? Well, over here on the dark side, metal is alive, well and vibrant with our old guard releasing quality albums and new bands picking up the baton and pushing out some unbelievably high quality music across many of our subgenres. This is the place to be and it's never too late to come and join us so put away that Clean Bandit and Anne Marie featuring Sean Paul single (yep, Googled that too) grab yourself a good gateway album like maybe Metallica's Black Album or Skid Row's Slave to the Grind and start your journey. There is a lot of good music available after a stellar year. It's the right time but, alas, it isn't perfect. Despite all the good and great music we have had this year, there are also things that didn't happen. It is these things I am going to talk about here. The things that maybe have left a bit of a hole, a bit of a downer, on what would otherwise have been a perfect year.
Here are the 5 things we didn't receive this year that we should have. The 5 things that would have turned a great year into an exceptional one. The 5 things Father Christmas did not bring me despite my multiple letters.
5 – The pop band Ghost's Heavy Metal Album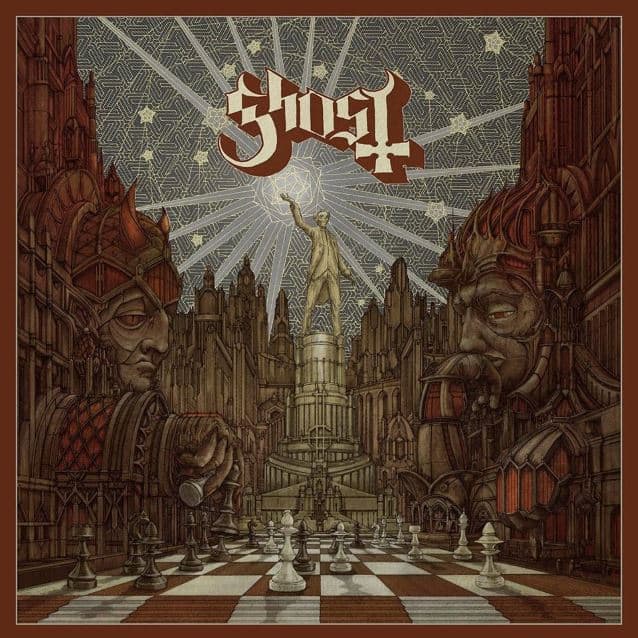 Despite flirting with the idea and teasing us a little by dressing up like they were in an extreme black metal band and acting a little weird at pop music award ceremonies, the 80's pop synth band Ghost's promise of a rock or metal album in 2016 failed to materialise and instead they released an EP called Popestars which focused very heavily on them staying close to their Scandinavian pop roots. They even managed to only record one original song this time round with the rest being covers. Instead of metal they just released another record filled with tracks that could comfortably side alongside Abba's Dancing Queen or Tears For Fears Everybody Wants to Rule The World, still, what do we expect from a band who, behind the Papa Emeritus façade, is fronted by Donny Osmond. Maybe next year Ghost can replace him and we might get the rock album we have all been waiting for.
4 – Red Hot Chilli Peppers just, well, going away.
Well, I got the wrong end of the stick on this one. So obviously this year there was an announcement for Red Hot Chilli Peppers newest album, The Getaway. I missed the whole "music" bit and assumed the announcement was actually that Red Hot Chilli Peppers were going away. I had a few beers to celebrate the end of multiple albums of the song Californication just recorded over and over with different lyrics and a different name, I smiled, I slept well and genuinely just felt like the whole world was a little cleaner for a time so imagine my shock when they released a new album? I was in shock, I was depressed and I was horrified and that was before I had heard a single song. I was much worse after. I don't understand why they keep recording and I don't understand why every song sounds like that fucking song. They must be rich by now right? Just quit. Please. My fault for misunderstanding it or not, it is still a massive disappointment to me that they have decided to continue with their career. Maybe next year?
3 – Last Christmas (Originally recorded by Wham) – Christmas cover by Phil Anselmo and Robb Flynn
So, rumour has it that Phil was originally planning to record a cover of White Christmas but was advised against it, probably sensibly. Instead, as a show of solidarity among metal brothers, Phil was due to come out of rehab or anger management or wherever the hell he was, be reasonably humble and try to win over fans by making a play for the coveted Christmas Number 1 chart slot. That song was meant to be a duet, sung with a certain Mt Robb Flynn, and was meant to be a cover of the infamous Last Christmas by Wham. It was all set to smash Christmas records, the official single cover had been put together (that image isn't a fake, honest…..) and then the unthinkable happened. Phil's return happened but with none of the regret and desire to win over friends and fans that we all expected. Instead he completely forgot he had already actually apologised for making a racist comment and reverted to the original story of how his Nazi salute was regarding a white wine joke and not white power. With Phil having completely absolved himself of all guilt, especially after we heard how he once bought a kebab from a Turkish bloke so couldn't possibly be a racist, there was no longer a need for winning anyone over and the cover song was cancelled. What an absolute shame. Still, there is a rumour that Robb may still go ahead with it. Apparently he is interested in getting a bit of radio play?
2 – An official apology from all members of Green Day.
Okay, I must admit I wasn't sure this would come but I do hope, every year without fail, that it will happen. For me, I have never really liked the band, instead thinking their radio friendly version of punk to be childish and weak but I do, at least, get why people liked them in their early years. Because of this I will settle for an apology for the last 12 years only. From the moment American Idiot was released until now, I believe we are all owed an apology. I want an apology for American Idiot, I want an apology for their trilogy of albums Uno, Dos and Tres, I want an apology for Revolution Radio, I want an apology for the Broadway Show of American Idiot, I want an apology for appearing on American Idol and I want an apology for The Saints are Coming and, off the back of that, for me having to look at Bono's face more than anyone should fairly have to and more than I would have if the song had not existed. I feel like they have wronged me personally and have cut me deeply. I still have nightmares where I am in trouble and a nasally Billie Joe Armstrong and Bono, holding a charity box, turn up in a boat, or a plane or on bicycles to save me. I have the difficult choice to either take their hands or die and then, bang, wake up in a sweat. I don't know what happens next, I never reach that part but I hope I choose death though. So maybe this apology will never come but I will continue to hope each year but the apology will only be enough if they then instantly stop either making music or being tits. I fear the latter may not be possible though. So another year ends with disappointment but on to next year, where I will patiently wait to hear from them again.
1 – The Corey Taylor, Kerry King and Robb Flynn triple album – Our Thoughts
Man, I was so sure this was going to happen. 3 full CDs of spoken word set over heavy metal music, and rock for Corey, one for each person. How good would this be? Disc 1 was Corey's and Disc 2 was Robb's and both would have dealt with the same topics, the same track listing, and we would then have got to hear their opinions. As we all know opinions are sorely lacking in heavy metal and something like this is needed so we know how they feel. I even had a copy of the planned track list. Check it out –
1 – Donald Trump
2 – Racism in modern times (just called Phil Anselmo on Robb's CD)
3 – Brexit
4 – Lemmy
5 – The Walking Dead
6 – The Use of Mobile Phones at Gigs
7 – Syria
8 – The new Star Wars films
9 – An Opportunity to Talk About Their Humble Upbringing
10 – An Opportunity to Say Nice Things About Metallica with a Focus on Lars and His Ability to Play Drums
And what about Kerry, I hear you shout? Kerry's disc was slightly different and instead of giving his opinion on the same topics, he was just going to be giving his opinion on Corey and Robb's opinion, calling them out wherever possible. There was even talk of Kerry having a collection of backing speakers who would just firmly shout Slayer over and over.
Well, sucks for us, it didn't happen and we are left stuck, having to form our own opinions. Well, maybe next year.
So there you have it, my totally tongue in cheek list that now, on reflection, I actually would like to have. I should note that I am a big fan of Phil Anselmo's music and Robb Flynn's too. Not necessarily their words or actions but their music is killer. I love Lars Ulrich, I know that Ghost aren't nearly as pop as I have made out and I doubt Donny Osmond is actually in that band though it would explain a lot. As for Green Day and the Red Hot Chilli Peppers, well, they can both get lost permanently.