TV Series Review: American Horror Story – Roanoke
"Oh, I can't believe that Agnes. I knew she was upset about losing the Saturn Award, but I didn't think it would make her completely homicidal."
American Horror Story: Roanoke is the sixth season of the FX horror anthology television series American Horror Story. It premiered on September 14, 2016, marking the first time the series has debuted outside of October, and concluded on November 16, 2016.
To start off with I have to explain why this review has been written a few weeks after the season finale, to put it simply this season was such a shit storm I honestly didn't know where to begin and I've put it off long enough. So here we go…
Matt (André Holland/Cuba Gooding Jr.) and Shelby (Sarah Paulson/Lily Rabe) recount their story "My Roanoke Nightmare" through dramatic re-enactment in which they describe their move from the city to the country after Matt is attacked and Shelby suffers a miscarriage. After outbidding some angry locals, the couple purchased an old farmhouse that was built in the 1700s. As the couple begins to renovate the house and adjust to their new home, Shelby starts to encounter forces of a malevolent nature.
The opening of this series had me intrigued and although I felt very little sympathy for the yoga obsessed, hipster Shelby I could get past it to find out more about the supernatural history of the house. The problems definitely lie in the extremely split series, with the first half being a re-enactment and the second half being reality. That concept makes the entire first half lose all rewatchability and credibility, especially when the actors real life personas are jammed in your face as some sort of joke.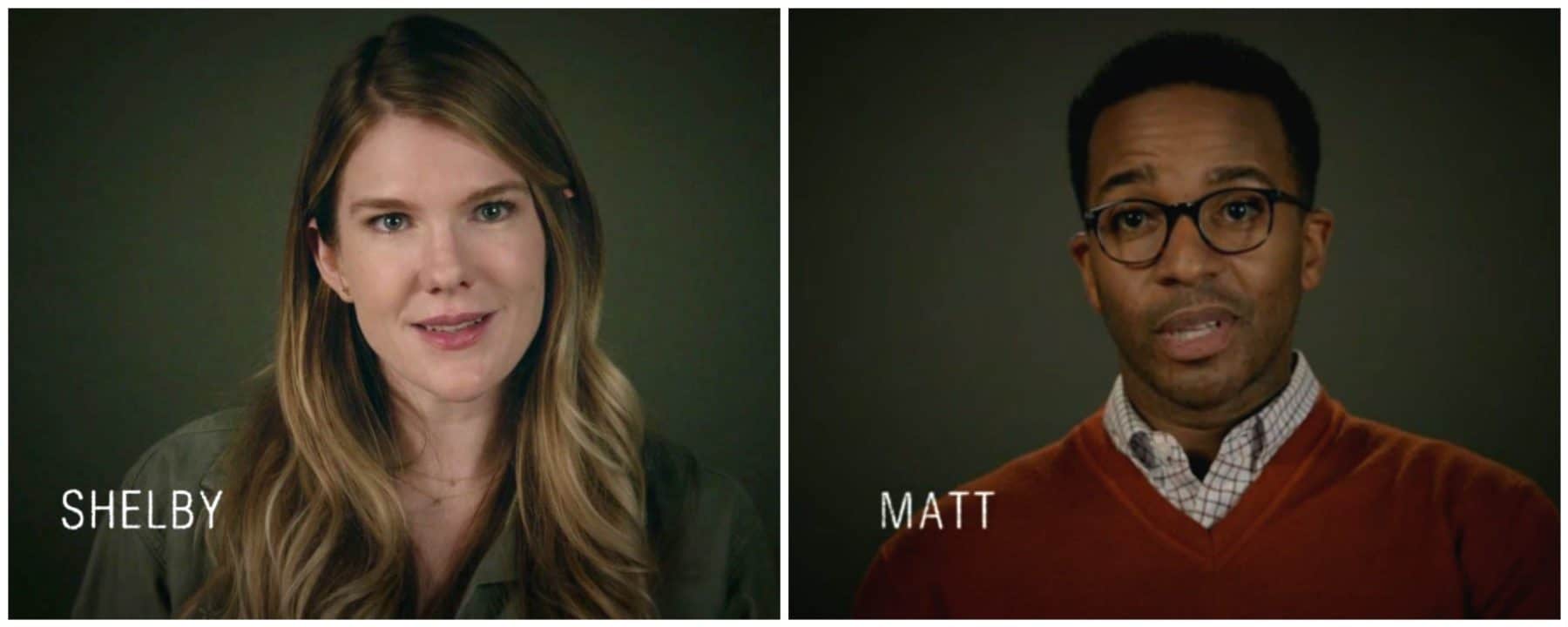 As the series continued on I found every episode more confusing than the last, I wasn't sure if it was supposed to be funny or if I'm so desensitized to horror that this series would actually be deemed scary by a "normal" audience. I still don't understand if we were supposed to like Shelby (Lily Rabe) because when she was killed off I sighed with relief, until I realised that Audrey (Sarah Paulson) was still alive and her most grating scenes were still yet to come. Sarah Paulson must take a break from the next season because she's been done to death; playing 3 roles alone in Roanoke. There is such a thing as overexposure and as an actor you need to have a certain believability and mystery, but I've seen Sarah Paulson play far too many roles to ever see anything new or truly believe in any other roles she undertakes.
I understand why they chose this seasons' theme, with the success of Paranormal Activity and other found footage films but for me it didn't work. The experiment they tried made this the worst season yet, and I thought that Freakshow and Coven were bad, but at least those series have some rewatchability. If you want to see how a real mockumentary should be done, just watch Lake Mungo; you really believe in those characters and it feels a lot more genuine. My favourite part was learning about The Butcher (Kathy Bates) and The Witch of The Wood (Lady Gaga) but that was never resolved in the end and seemingly completely dropped out of nowhere.
From shakey cam, to "oOooh my GooOOd Matt", to overexposure of actors and an unresolved ending: I have no choice but to rate this poorly. If the intention was to terrify and horrify then it failed, the only positive thing to come out of Roanoke was seemingly unintentional comedy.
American Horror Story - Roanoke
The Final Score -

3/10
Comments Rating
( reviews)