Top 10 New Blood Bands To See At Bloodstock 2017!
One of the many reasons to love Bloodstock, the UK's best metal festival, is its support of the scene. Not content with just giving lower & mid-tier bands a leg up. They also have a dedicated stage that is all about the future of the music I, you & they love.
The New Blood stage sees the cream of the independent & underground scene take to the stage to showcase their talents to the Bloodstock masses. Bands are chosen to play based off the 'Metal 2 the Masses' competition, via music submissions & if those behind BOA like what you've got.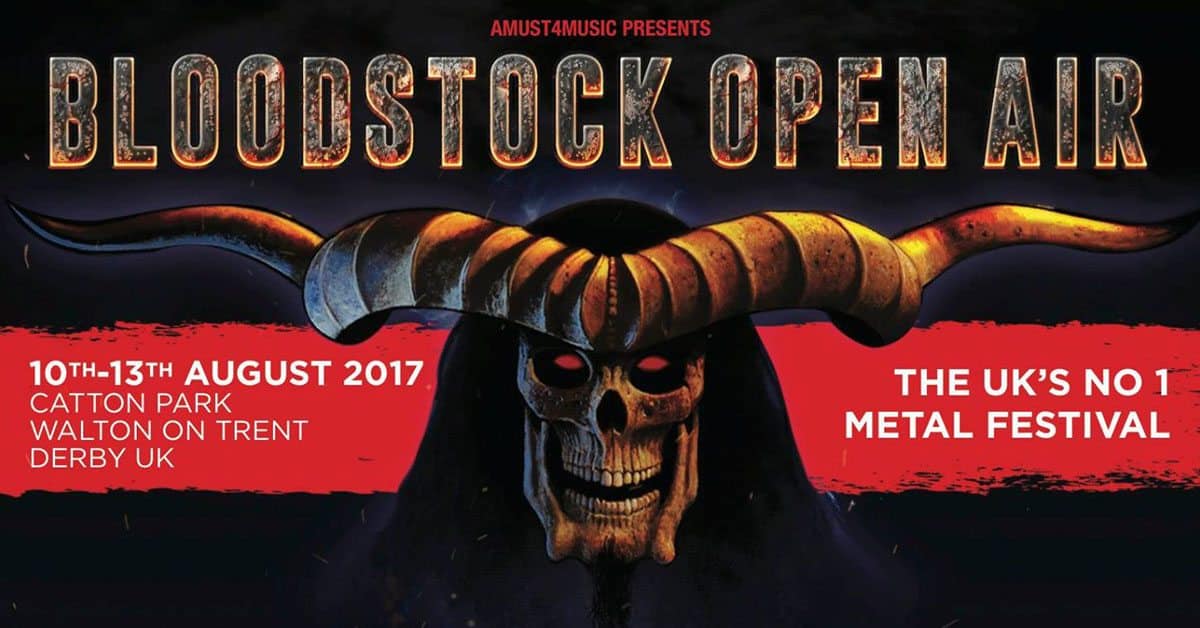 It's a fantastic idea & has been proven to be very successful as bands which previously played on the New Blood stage find themselves booked to play the second stage (The Sophie stage) years later.
Even if you're looking at the stage lineup (2017 is now complete) & thinking "I've never heard of any of these bands" the great thing about the New Blood stage is how easy it is to just wander in, catch a set then wander back out in time to see the next band you wanted too.
Maybe wandering curiously around isn't your thing. Well, we've put together a handy top 10 bands we think you should definitely check out on the New Blood stage this year!
10 – Blood Oath
The rise of Blood Oath is phenomenal having only come to life at the end of 2015. A year later after a run of successful shows they dropped their excellent debut album. Brutal death metal played with some serious aggression, make sure you check them out on Friday night!
9 – Heathen Deity
One of the oldest serving bands on the bill (sort of), Heathen Deity came to life in 1998 & released an EP before going on hiatus in 2004. In 2016 they made their triumphant return with a new line-up & a totally new energy. Bloodstock is another step forward in the blackened metal band's evolution & their set on Sunday will be something to remember.
8 – Mist
All about crushing doom, Mist hail from Ljubljana, Slovenia & formed in 2012. With one stellar EP out already, their debut album is due to be released soon. Only the second time they will have played live in the UK, Sunday night is where you need to be.
7 – Hundred Year Old Man
Being the second band on the New Blood stage on the Saturday, Hundred-Year-Old Man have a tough task but with their atmospheric post-metal sound, they should easily bring in the crowds. Promising an energy packed, aggressive show their debut album will be out early 2018.
6 – Ba'al
When we talk about the future of rock & metal, it's bands like Ba'al that come to mind. A cracking style of post-metal & dark sounds, they've been tearing up the scene live on route to their debut release this year. Check them out on Saturday!
5 – Vorbid
Hailing from Finland, Vorbid play fast, melodic & heavy thrash metal. With a twin guitar assault Vorbid's style of thrash metal is progressive as hell & very exciting. Having only existed since 2013 they are easily one of the most exciting prospects on the New Blood stage. Check them out Sunday night!
4 – Thuum
There isn't much sludge & doom on the Bloodstock bill this year which makes seeing ones that are even more important. Not that it would matter, the bill could be all sludge & Thumm would still stand out as one of the most important bands to see! Make sure you're watching Friday when they take to the stage.
3 – Blaakyum
Coming all the way from Beirut, Blaakyum mix middle eastern influences with thrashy groove metal all with anti-war/anti-extremism lyrics. Closing the New Blood stage Sunday night, this will be a fantastic finish to the festival. Especially as it's been 10 years since they last played in the UK.
2 – Nordjevel
Deservedly headlining the New Blood stage on the Friday night of the festival. Nordjeval are the one of the most exciting black metal acts on the bill. A band made up of serious talent, they dropped their debut self-titled album recently & are sure to be one of the standout bands of the entire festival.
1 – Na Cruithne
One of the few folk metal bands on the bill, Na Cruithne released their debut album, Gairm an Fhiantais to a rapturous response. Mixing traditional Gaelic music with black metal & a groove edge, Na Cruithne's debut England gig is one of the most exciting of the weekend. Make sure you go see them on the Sunday!