Single Slam – Valediction by Insomnium (Heart Like a Grave)
Finland's melodic death metal masters, Insomnium, are back with a brand new single called Valediction from their incoming new album, Heart Like a Grave.
Heart Like a Grave will be the band's 8th full length studio album and follows their 2016 release, Winter's Gate. It will be released via Century Media Records on the 4th of October this year. You can see the track list for the new album at the bottom of this article. Insomnium formed in 1997 releasing two demos in their early years before their debut full length, In the Halls of Awaiting.
Insomnium are a 5 piece with Niilo Sevänen on lead vocals and bass and Ville Friman on guitars and clean vocals. On the drums, we have Markus Hirvonen while the other guitarists are Markus Vanhala and Jani Liimatainen.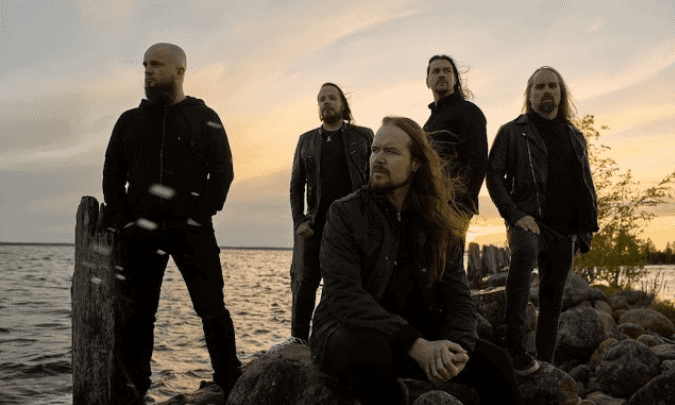 Speaking about the new album, the band released the following statement on social media – "The concept of the album is to delve deep into the heart of the Finnish melancholy. We've been inspired by some of the bleakest and saddest songs, poems and tales that truly capture the essence of northern gloom. Land where the frost ravages the harvest and creeps inside the souls, summer ends before it even starts, wife leaves, little brother dies in snow on a Christmas morning, and the golden days of youth are forever gone. So there are echoes of Harmaja, Rautavaara, Vainio, Peltoniemen Hintriikka and of course our own petty, miserable lives."
Valediction is just over 5 minutes long and is a cracking start to the new album. It all kicks off straight away with a ripping riff and speedy drum beat. It's really catchy stuff. The first verse comes in with a passage of clean singing and a more tranquil rhythm. Harsh vocals jump back in alongside some excellent lead guitar work. The harsh vocals continue through the chorus that ends by throwing you straight back into the fast and fiery riffing and bassy rhythms from the intro. It is solid heavy metal and quickly gets your head banging along.
The second verse is genius though using both vocals styles alongside each other. It sounds absolutely fantastic. The second chorus ends into a gentle melodic melody that erupts back into life suddenly and we head into a decent guitar solo with hard hitting bass and drum beats and a squealing guitar. The melody stays through to the end though growled vocals join in for a final verse.
Valediction is a cracking song. It doesn't always sit firmly in the melodeath camp, with moments of polish but that isn't a bad thing necessarily. It certainly doesn't harm the track much. I really like it. The fast riffing parts are brilliant and I like the almost Dark Tranquillity styled clean verses. The drums are great, as are the lead guitars throughout and the harmonised vocals in the second verse are a moment of genius. Excellent track and an exciting start to the new album.
Tracklist:
1. Wail of the North
2. Valediction
3. Neverlast
4. Pale Morning Star
5. And Bells They Toll
6. The Offering
7. Mute Is My Sorrow
8. Twilight Trails
9. Heart Like a Grave
10. Karelia
You can preorder a copy of Heart Like a Grave from Insomnium, here and from Century Media, here.
Insomnium Links
Website – Facebook – Twitter – Instagram – YouTube – Century Media
Valediction by Insomnium (Heart Like a Grave)
The Final Score -

10/10