Single Slam – Unsainted by Slipknot (We Are Not Your Kind)
So here it is, the moment a large chunk of the metal community have been waiting for. It's the first single from Slipknot's new album, We Are Not Your Kind. This is Unsainted.
The American metal icons have announced the full details of their 6th studio album called We Are Not Your Kind. The album is due for release on the 9th of August via Roadrunner Records. It's weird to think that the band formed way back in 1995. They released their iconic debut, Slipknot, in 1999. 25 years in existence and we are only getting a 6th album now. Side projects, hiatuses and tragedy have often plagued Slipknot but somehow, even with all that, when they don their masks and say they are back, the world ripples with excitement and expectation.
Along with the news of the album release, Slipknot also released images of their new masks which you can see below. Considering the masks were meant tot ake focus off of the people in the band, it is amazing how they have taken a life of their own. New Slipknot masks gets almost as much attention these days as new Slipknot music. I'm not sure how I feel about that personally but they are pretty cool. As always with the Slipknot train, positive news often comes with a little negativity too. This time it comes from the recent sacking of long term custom percussionist, Chris Fehn. His replacement is yet to be announced leaving Slipknot currently as an 8 piece.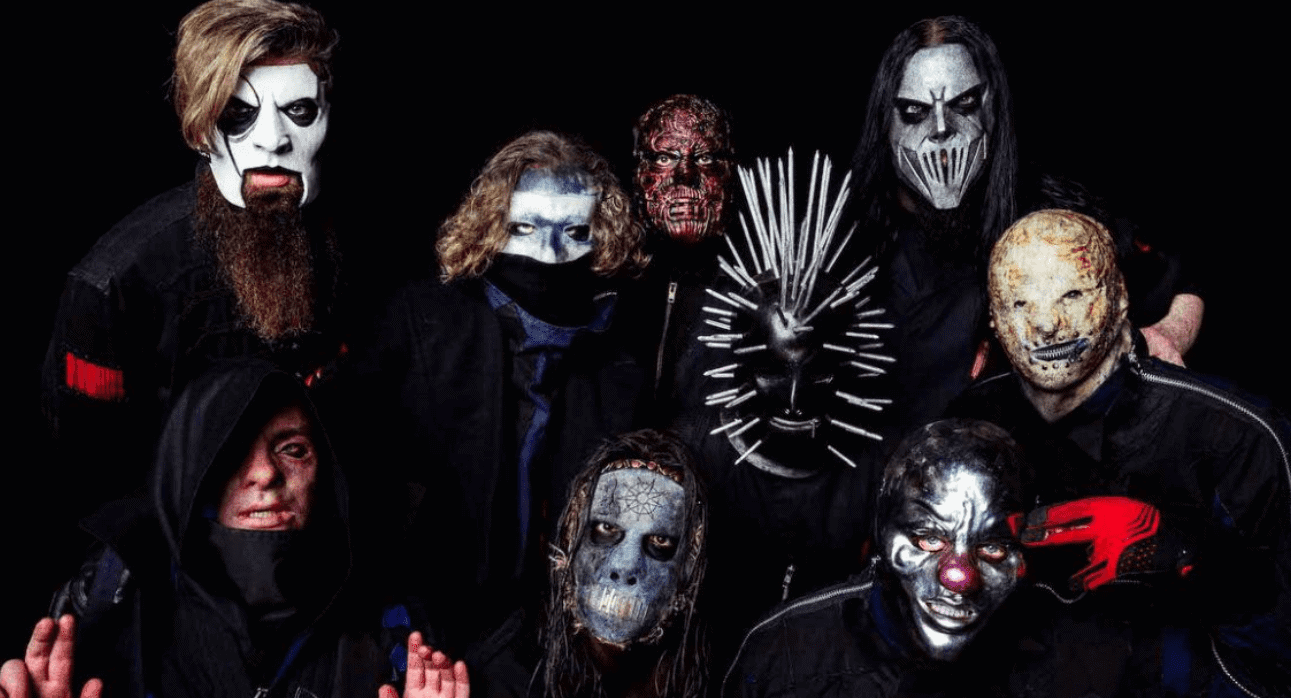 On vocals it's Corey Taylor with Shawn Crahan on backing vocals and custom percussion. Mick Thomson and Jim Root are on guitars and Alessandro Venturella is on the bass. Craig Jones is on the samples and keyboards while Jay Weinberg is on drums.
On to Unsainted then. Unsainted is just under 4 and a half minutes in length and is pretty decent. Starting with a bit of high toned female choir vocals, it shows Slipknot aren't quite bereft of new ideas and sets the scene nicely. There is a little wobble when Corey joins in on the last note and leads into what becomes the songs chorus. The transition doesn't sit quite right with me. Cleanly sung, quite high in pitch, it sounds good but just isn't completely convincing. Choir vocals, clean singing – it isn't recognisably Slipknot but you do sense an undercurrent. Something building in the background.
It is, and drops and when it does we are transported back a decade into full on heavy memories. Thrashing drum blasts with beats shooting off in multiple directions. A crunching guitar riff. Little scratches and sampling, slamming bass lines and viciously snarled vocals. The way the riff builds is pretty special and it feels good listening to a band as important as Slipknot are spitting fire and fury like it was twenty years ago. The clean chorus is fine. Catchy enough and acting like a decent foil to the angst of the verses. It definitely works better sandwiched between the heaviness then it does in the intro. We then loop back to where we started, ending with the same intro choir.
Catchy, creative and really heavy, this is Slipknot on form. Time has passed, they have changed as a band and matured as musicians but put these guys in a room together and magic happens. It isn't all retro though. This is an evolved band and that is important if they want to stay relevant musically. We Are Not Your Kind is off to a great start. I expect there will be some surprises on the way. Like I said, this isn't Slipknot of twenty years back. There are bound to be diversions away from their expected sound. As a start though, Unsainted is a damn fine metal song and should have Slipknot fans jumping for joy and Slipknot haters intrigued at least.
Check out Unsainted now on all the usual streaming platforms. You can see the official video, directed by Shawn Crahan, above and on the band's YouTube channel here. You can preorder a copy of We Are Not Your Kind from Slipknot, here, and from EMP here. Keep up to date with news and releases from Slipknot at their website, on Twitter, Facebook and Instagram by following the links.