Single Slam – Twisted Lobotomy by Annihilator (For The Demented)
Canadian thrash metal band, Annihilator have released a single called Twisted Lobotomy. It will feature on the band's sixteenth studio release called For the Demented. That album will be released on the 3rd of November via Neverland Music/Silver Lining Music.
Having formed in 1984, Annihilator have been through a huge amount of line up changes with only lead guitarist and vocalist, Jeff Waters, still remaining in the band today. To give you an idea of how much they have changed over the years, Wikipedia list seven former vocalists, five former guitarists, nine former bassists and eleven former drummers. Annihilator are a very successful and highly respected band. They are the largest selling metal band to come from Canada, along with Sacrifice, Voivod and Razor, make up the "Big 4" of Canadian thrash. Cradle of Filth even covered one of their tracks, Alison Hell, on their recent album release Cryptoriana – The Seductiveness of Decay.
Annihilator are Jeff Waters on lead guitar and vocals with Aaron Homma is on rhythm guitar. Rich Hinks looks after the bass and Fabio Alessandrini is on the drums.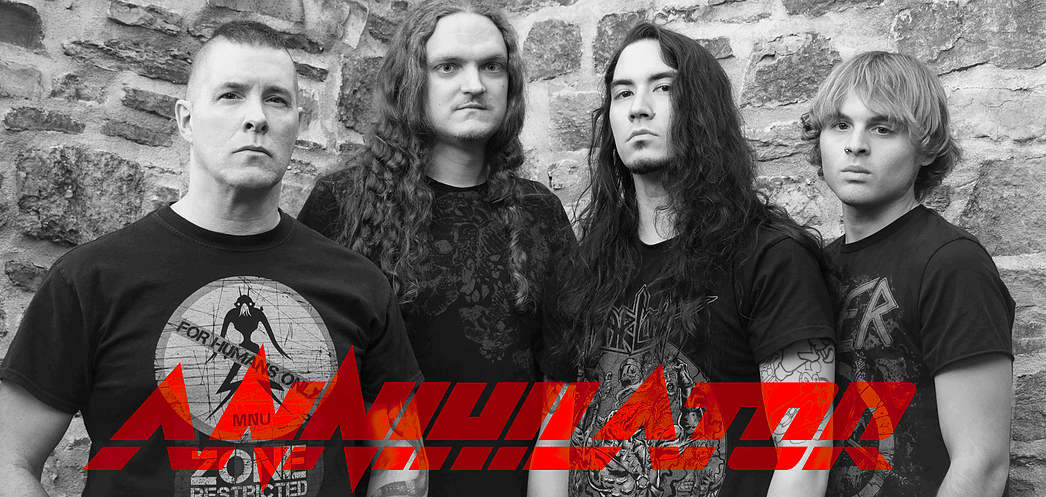 Annihilator's guitarist and main song writer, Jeff Waters had the following to say about writing the new album – "It was time to analyse what a lot of fans over the years have kept telling me. It was time to sit down and figure out 'why' ANNIHILATOR's early 'thrash-meets-melodic' caught the ears of so many and to try to sweep the 'fan' part of my writing/playing/singing out the door and welcome back the mostly original Waters writing that was to be the first four ANNIHILATOR albums".
"I was well aware that trying to re-capture the past usually fails, or at least won't come close. So, I decided to bring in fresh ears, both musically and physically with Rich Hinks, my bassist for the last few years. And doing most all of the records by myself, including writing and playing most all on my own, as well as mixing, mastering, engineering, etc… well, it can become routine and can often hinder you from being objective and more creative. I think metal fans are going to hear much of what they have been waiting for from ANNIHILATOR".
Preview Twisted Lobotomy below –
Twisted Lobotomy is 4 minutes and 45 seconds long and is a great track. An awesome old school sounding thrash intro leads into a great riff with banging drums and bass. It builds layer upon layer until exploding into life with furious speed and technicality. The drums are ferocious and the guitars squeal out devilishly. Fast, higher toned, but gruff vocals spit out lyrics at pace. There is no chorus, not really. The verses are long and build in tension before a cry of "Twisted Lobotomy" leads into squealing guitars and the next verse.
About half way through the track switches into a supreme chugging drums and bass section that is pure heaven. We go between this galloping rhythm and some guitar leads with slides and squeals and then back to the moshing rhythm. This builds for a bit before all descending into ragingly fast chaos with pounding drums and speed riffing. Fast drums, bass and squealing guitars and quick riffing are the order of the day before an extended yell leads back into another verse through to the end. The track closes with the only bit I don't like – 19 seconds of a feedback esque guitar squeal. I get that bands like to end with this sort of noise but 19 seconds long is a bit much. Nobody is going to sit through that before skipping forward a track.
That is the only complaint I have after listening to a near perfect song by a band as much raw passion, power and ability as they did nearly 30 years ago. Twisted Lobotomy is hard, heavy and head banging/moshing heaven. It is a fantastic track and one that raises expectations for the new album to seriously high levels.
You can preorder "For the Demented" digitally from here. Each preorder will give you an instant download of Twisted Lobotomy. You can also pick up Twisted Lobotomy and more from Annihilator via the Amazon links below. Check out Annihilator on Facebook, Twitter, their own website and Instagram to keep up with more info on them and the new album. Be sure to give them a like and a follow while you are there.
Check out the full track listing for "For The Demented" below –
• Twisted Lobotomy
• One To Kill
• For The Demented
• Pieces of You
• The Demon You Know
• Phantom Asylum
• Altering The Alter
• The Way
• Dark
• Not All There
[amazon_link asins='B075MZSKJF,B075SBV5DK,B0000248L1,B01NCENU6H,B00IB3P5AS,B0002KQOE4,B0116X384O,B002WBAH8K' template='UseThisOne' store='g0e5b-21′ marketplace='UK' link_id='8c457c33-a830-11e7-9842-e70b6a8b332c']
Twisted Lobotomy by Annihilator (For The Demented)
The Final Score -

9/10