Single Slam: Defying the Sacred by Deicide (Overtures of Blasphemy)
American death metallers, Deicide, have released the second single from their new album. This song is called Defying the Sacred and it will feature on the band's 12th studio album called Overtures of Blasphemy.
Overtures of Blasphemy will be the first album in over 5 years from one of the more controversial bands in death metal. It will be released via Century Media Records on the 14th of September and based on the first single, it is going to be good. That first single, Excommunicated, is an exciting slab of speedy death metal. You can read our thoughts on that here. Deicide shot to infamy in their early years, hitting the ground running in 1990 with their debut, the self titled Deicide. They released some cracking albums in a row after that excellent debut. Legion, Once Upon a Cross and Serpent's of the Light are all widely regarded as exceptional but as a band they were becoming known more for the antics of front man Glen Benton as for their music.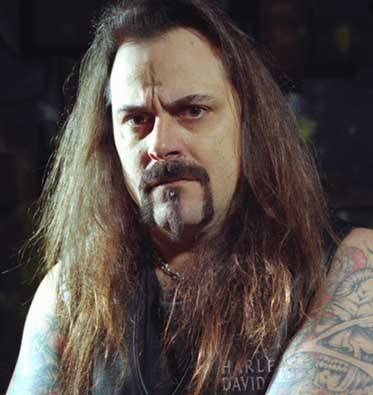 Self proclaimed Satanists, Deicide were banned from playing in many countries worldwide. They had a tour poster depicting Jesus with a bullet in his head, publicly spoke about killing and torturing animals. Benton also burned an upside down cross into his forehead as well as promising to kill himself on stage at the age of 33. He wanted to reverse mirror Christ's life. These actions won them legions of fans in some circles and made them despised in others. Fast forward to now and they seem to have grown wiser with age. A, thankfully, still alive Glen Benton tends to speak publicly less now and whatever their beliefs, we are able to just focus on the music.
Alongside Benton, who is the vocalist and bassist, we have Steve Ashelm on the drums. On guitars, it's Kevin Quirion and Mark English.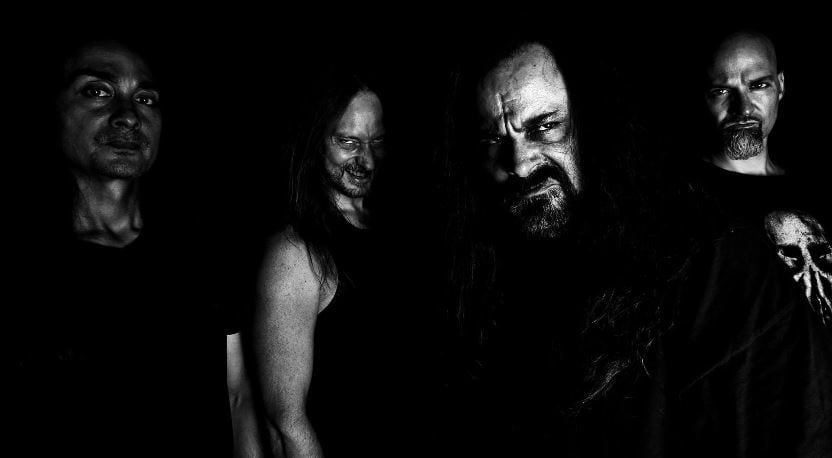 On to the single then and Defying the Sacred is excitingly quite different from the first single utilising a lot more lead guitar melody and a bit more groove in it's 3 and a half minutes. Not entirely though. There is plenty of the typical, ferocious and furious Deicide in the track too. It starts off with a steady drum beat and a squealing guitar melody. As the song progresses, the high pitched lead guitar continues but the drums explode into inhuman blasts and the underlying riff comes quick and heavy. The vocals are full of fire and brimstone, roared out in dark and grizzly tones.
The lead guitar drops down to join the riff and it becomes a bit more expected with flurries of insane drums and furiously fast riffing. Occasionally the lead guitar jumps back up in pitch to add a short line or two that elevates the song immensely. There is a cracking solo, played at finger breaking speed while the drums slow down to add a bit more rhythm before everything comes in for a final blast of crushing heaviness to end.
Where Excommunicated seemed designed to pummel you, Defying the Sacred is a little more restrained in its approach. That isn't to say that it isn't heavy. It is, but at times it feels like a melodic death metal track rather than a just straight up, in your face 3 minute death blast. I think that is great too. I love it when a band push themselves outside of their normal comfort zone. It isn't the first time Deicide have played with melody but after 5 years, it would have been so easy for them to just revert to type. This is a cracking song and the new album continues to look better and better.
[amazon_link asins='B07F4DNZ74,B07FB9KGGH,B07FBCDNXH,B000000H7D,B000000H60,B079V95WYF,B00FR1AMSM,B000GAL166,B006A8UBSM' template='UseThisOne' store='g0e5b-21′ marketplace='UK' link_id='49e2ddb0-b0f9-11e8-8fe6-479919d80aaa']
Defying the Sacred is available now on all the usual streaming platforms like Apple Music and Spotify. You can preorder the new album, Overtures of Blasphemy, over at Century Media, here. Keep up to date with news on Deicide at their Facebook and Twitter pages.
Defying the Sacred by Deicide (Overtures of Blasphemy)
The Final Score -

9/10