Single Slam – Dance Macabre by Ghost (Prequelle)
Marmite occult metal/alternative rock band Ghost have released the second single from their upcoming album. This track is called Dance Macabre and it will feature on the album Prequelle, due on the 1st of June via Loma Vista Recordings.
I have personally never really been much of a fan of Ghost, falling on the side of "I don't get the fuss" and "his vocals are shit" over the glowing worship they receive from many other places. That's just my opinion though and doesn't even represent the views of us all at GBHBL. We did catch them live at Bloodstock Festival in 2017 and enjoyed that show but more for the theatrics and visuals then for the music. I have pretty much listened to everything they have released and it has never clicked. I don't like Meliora and I didn't enjoy Infestissumam. Hate would sum up my feelings on Square Hammer and Popestar. Ceremony and Devotion is weak.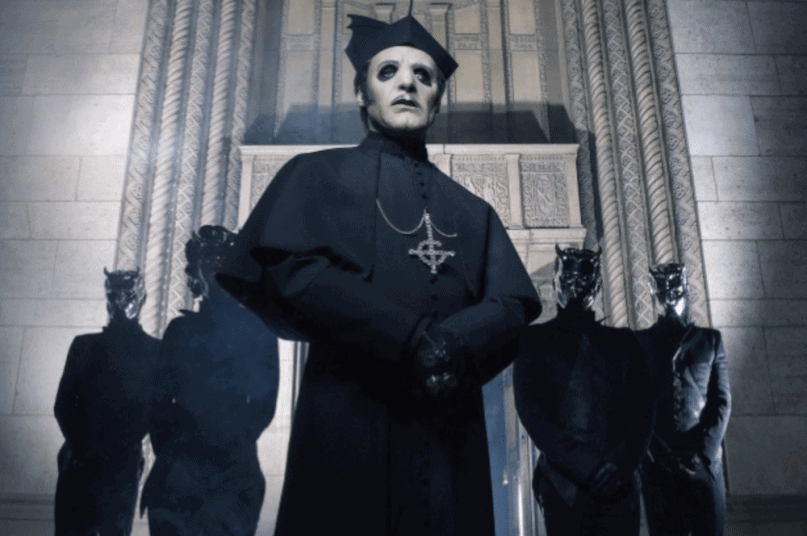 It just doesn't work for me though you can read some differing opinions if you check out the links above. That moves us on to Prequelle where we have already had a single called Rats. I didn't love it but I also didn't hate it which made a nice change. For those who don't yet know, Prequelle marks a change in the perceived line up with Papa Emeritus being retired and a new frontman called Cardinal Copia taking the reigns. I hoped that it would maybe reflect a change in style in Rats but it doesn't really. A frontman can change his make up but that doesn't change his voice, I guess.
On to Dance Macabre though and we have 3 minutes and 40 seconds of music to check out. The tracks starts with a distinctly pop rock sounding mid tempo beat and simplified riff. It sounds like it would be really at home as one of those tracks you vaguely recognise on a double cd of 80s driving anthems. The verses get poppier with the guitars dropping out for Cardinal Copia to sing cleanly over a very gentle drum beat. The chorus is catchy enough despite the slightly cringy lyrics.
The second verse gives more of the same but with a bit more backing vocals. Another chorus comes and goes and we head into a cool instrumental section where the guitars take to the front a bit. There is a decent solo though it is in the background in it's first phase. Again, the track is so cheesy it is almost unbelievable but then this is Ghost. There is a second solo as the song ends and Cardinal Copia treats? us to some "whoa, woahs". and we are done.
Dance Macabre is a strange song. It is enjoyable in the way that Bon Jovi's Living on a Prayer or Europe's The Final Countdown is. The sort of song you play at a party as a bit of cheese laden pop rock and that is fine. Enjoyable but not a good song and more importantly, not a good metal song. Some decent guitar solos are mainly hidden behind a polished drum rhythm. As expected, the frontman is front and centre, and his vocals are good. Absolutely suiting this style of music. The lyrics are cheesy and, I think, lack the occult suggestions often shown on other tracks. It is a decent pop rock ballad that is likely to be quickly forgotten, by me at least.
You can pick up Dance Macabre at all the usual streaming services now like Apple Music and Spotify. If you love what you hear so far from Prequelle, why not pick up a preorder of the new album from here. You can also grab this and more at the links below. Keep up to date with Ghost news and music at their website, on Facebook, Twitter and Instagram.
[amazon_link asins='B07CBMVCW6,B07CBMPN86,B07BZC8B95,B07BZB64G8,B07CBLRXNT,B07BZJK5ZS,B01JQV86IQ,B01M0FGYP6,B01KJXNIPG' template='UseThisOne' store='g0e5b-21′ marketplace='UK' link_id='bdb06f3e-5a75-11e8-bef9-35dd76d63456′]
Dance Macabre by Ghost (Prequelle)
The Final Score -

5/10