Single Slam – Blinded by As I Lay Dying (Shaped by Fire)
Californian metalcore band, As I Lay Dying, return with the second single from their incoming new album, Shaped By Fire. This is Blinded.
Shaped By Fire is due out on the 20th of September via Nuclear Blast. The first single from Shaped by Fire came out last year and was called My Own Grave. You can read our thoughts on it here. It follows 2012's Awakened, a huge gap but for well publicised reasons. I think enough has been said about it now so I'm not going to go into it again. Just a quick summary will do. The band went on hiatus after frontman Tim Lambesis was found guilty and incarcerated for the attempted murder of his now ex wife and mother of his children. Thankfully a failed attempt at ordering a hitman. He did his time, built bridges with his band members and straightened up, now back releasing music with As I Lay Dying as they test the waters to see if there is room for them still.
As I Lay Dying are Tim Lambesis on vocals with Nick Hipa on lead guitars and backing vocals. Phil Sgrosso is on rhythm guitars and keyboards, while Jordan Mancino is on drums and Josh Gilbert is on bass and clean vocals.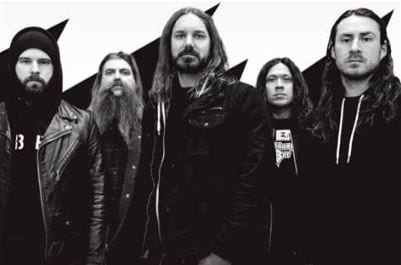 We are no court of law, morals or ethics here. We judge music and Blinded is a very good song. Weirdly I wasn't much of a fan of As I Lay Dying in the past. I think their music has taken on a new lease of life since the issues. I guess, horrid as it sounds, the source material that they base their lyrics on now has allowed for some very deep and meaningful music. Something I have always loved about my music.
My Own Grave focused on Tim accepting the blame for everything he had done and it was put across powerfully and emotionally. Blinded follows a similar path though comes across more as an introspective cross examination than another apology. Lyrical lines like "Feeling too powerless to change, stuck and unable to escape, incapable to see another way, I need someone to shake me, to wake me" give an honest assessment of his mental state as he tries to make amends and form a life after.
Blinded is just short of 3 and a half minutes long and has a really nice riff and drum intro that kicks up to pitting levels pretty quickly. The vocals are strong and passionate and the chorus is cleanly sung but catchy as hell. The lead guitars drip melody all over the song adding speedy lines in the prechorus and a wicked melody over the choruses. There is a short but fiery solo and a couple nice instrumental breakdowns with rumbling bass and booming drums, especially enjoyable when it comes in for a big ending after the last chorus.
I guess the only real negative with Blinded is that it's very by the numbers musically and structurally. While the lyrical content is engaging and every note, every bar is played or sung perfectly, it feels like it could be any good metalcore song really. Melodic intro, heavy verses, clean choruses, breakdown of sorts, more chorus. It's so familiar. Good but heard it all before. That's not necessarily a bad thing, especially for long term fans of the band. Now is probably it the time for experimentation I guess. Anyway, let's not leave on a negative. Overall Blinded is a safe and familiar metalcore song with strong instrumentation and emotionally poignant lyrical content. It's the second decent track from Shaped By Fire which itself is shaping up to be, um, fire!
You can check out Blinded on all the usual streaming platforms now. Preorders of Shaped By Fire are available from Nuclear Blast, here.
As I Lay Dying Links
Website – Facebook – Instagram – Twitter – YouTube
Blinded by As I Lay Dying (Shaped by Fire)
The Final Score -

8/10