Mobile Review: Happy Wheels (Mobile – Free to Play)
Happy Wheels takes a leaf out of the physics based games similar to the immensely popular Trials series & ramps up the accident factor by a large amount.
It's amusing but very difficult to master…
I have to pre-empt this review by saying that this game is a work in progress…in total there are 6 characters all with their own unique characteristics & vehicles but as of right now only 2 are available with the rest coming later.
We have Business Guy who rides a 2 wheel scooter (15 levels available) & Irresponsible Dad who rides a bike with his toddler in a seat behind him (5 levels currently available).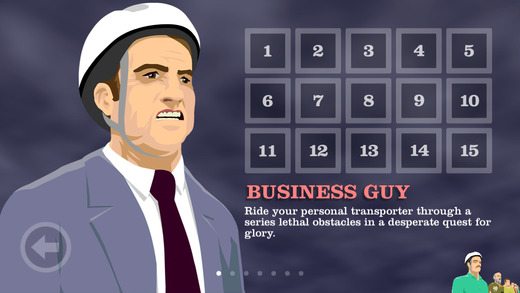 Reviewing this game with so much content to come makes it difficult but the game has been available to download since August 2015 & the first new levels for Irresponsible Dad were added in December 2015.
With so much content to be added that timeline seems to suggest that the game may not be complete for another couple of years! By than this will have been completely forgotten about & deleted from most people's mobile device. You have to keep interest in your game & a few levels every few months isn't going to do that.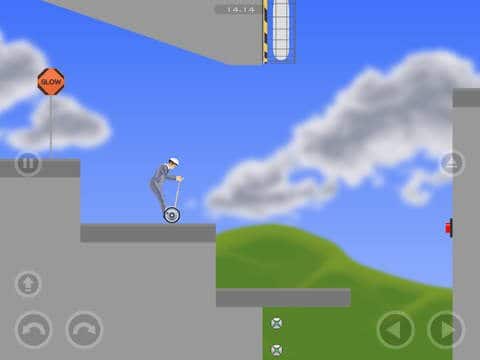 The creators are seemingly banking on players getting hooked on 'the create your own levels' section which is a really nice inclusion. Very confusing at first, if you put the time in to learn the details you can come up with some crazy & very dangerous obstacles to overcome.
Unfortunately there isn't currently a way to upload these for others to play.
Level designs are pretty basic & un-impressive but the amount of character control you have is great. Getting to the finish line is a serious challenge as you dodge traps, keep your character balanced & in one piece.
Happy Wheels revels in the gory destruction of your character & lets you carry on until they physically can't (I've been legless & still able to drag myself along the ground). It can be very amusing to see Irresponsible Dad cycling along with an arm missing & a dead toddler on the back.
I like what Happy Wheels is trying to do & for a free to play game it only has 1 paid for offer which is to remove ads at £1.49. With such little content I can't recommend this but once it's a full game than this £1.49 would be money well spent as the ads can be quite obtrusive here.
Happy Wheels
The Final Score -

6/10
Comments Rating
( reviews)