Live Review: Erra + Silent Planet + Invent Animate + Sentinals at The Electric Ballroom, London (15/03/23)
Erra are long overdue a tour in this country – bringing heavy hitters Silent Planet, Invent Animate and Sentinels alongside them this was a show to be anticipated. Combined with heavy tube strikes, all these bands had a show to make up.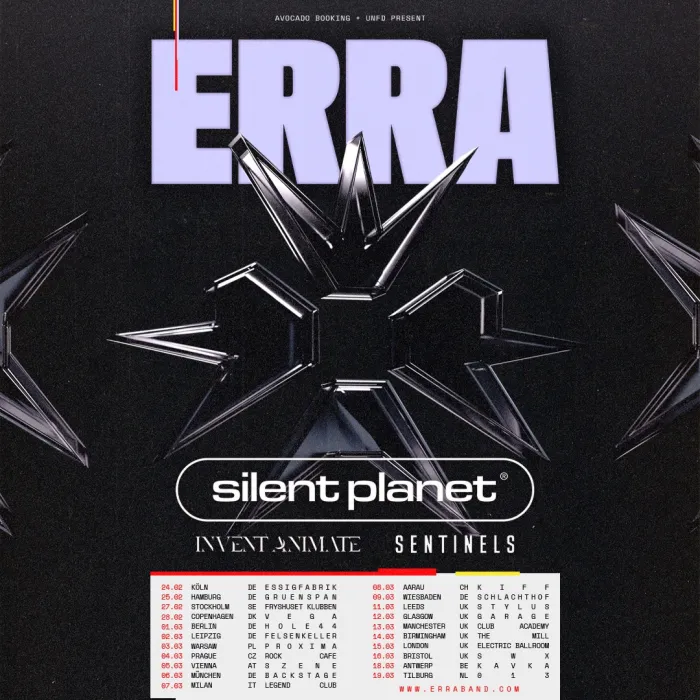 Sentinels explode onto the stage with a ridiculously heavy sound, they play a very quick set riddle with sharp hits to the jaw and they are very easy to enjoy. As someone who hasn't listened to them before it's easy to get into as somebody who likes Metalcore.
Invent Animate are a band I've heard of intermiddently, nothing crazy. Knowing nothing – Invent Animate are simply fantastic. They get the crowd moving in ways Sentinels struggled to. I'll admit I got involved in that pit and it is an all round great set, it's over far too quickly. If you have the chance to see them, go for it. I highly recommend.

It's worth noting that there were heavy tube strikes this wednesday night – the Electric Ballroom is not as packed as it should be for a 4 band lineup of this calibre, nethertheless it is quickly time for the highly anticipated Silent Planet. A band I have a lot of love for. They come out to the absolutely huge 'Orphan' a song ladled with heavy riffs and huge tippy tappy leads. They keep up the energy with songs like 'The Sound of Sleep' and ':Signal:' which is absolutely terrifyingly heavy. I wasn't the biggest fan of that single release but after hearing it live it might be a new favourite for me. Silent Planet have played essentially a greatest hits set for them which is actually poorly suited to my tastes. I want more of their 2021 album 'Iridescent.' 
Silent Planet get to the end of their set with 'Trilogy' and the words before the breakdown echo out into the room.
"It's always red, the static in my head"
– a minute later Silent Planet are gone from the stage and we're ready for Erra.
Erra are a band I've been wanting to see for a couple years now – in between a pandemic and then being on huge tours anywhere but the UK people are excited. Though I think it's worth noting the room doesn't look as full as it maybe was an hour ago. Opening up with the disgusting 'Gungrave' Erra are here to prove they should be listened to. 
The electric ballroom seems to be perfect for their sound and size. They pull out a plethora of heavy bangers fit for this lineup – 'Nigh To Silence,' 'Pull From The Ghost,' and 'Snowblood' all go down a treat and it's over far too quickly. A night of easily digestible metalcore in the capital. 
Erra + Silent Planet + Invent Animate + Sentinals at The Electric Ballroom, London
Erra -

8.5/10

Invent Animate -

9/10

Silent Planet -

8.5/10

Sentinels -

6/10