Horror Movie Review: Wolf Creek (2005)
Based on true events is a statement that I despise in horror as it's often taken literally resulting in a wide audience believing that the events they're seeing actually happened. Wolf Creek is one such movie that uses the 'true events' tag within its marketing resulting in a common belief that the entire movie is based on a true story.
The actual truth behind Wolf Creek is that it's influenced by several murders around Australia including those by Bradley John Murdoch & by Ivan Milat.
Directed & written by Greg McLean, Wolf Creek sees a trio of backpackers heading off to Wolf Creek National Park to see the Wolf Creek Crater. They read the signs about no camping, so park up & hike to the Crater. As darkness begins to fall they head back to their car only to find it won't start forcing the trio to camp out.
That night a local called Mick (John Jarrett) comes across them & after some back and forth banter says he'll tow them back to his camp where he can make some repairs. His odd behaviour & overly generous attitude makes the group a little uneasy but they decide to take him up on his offer.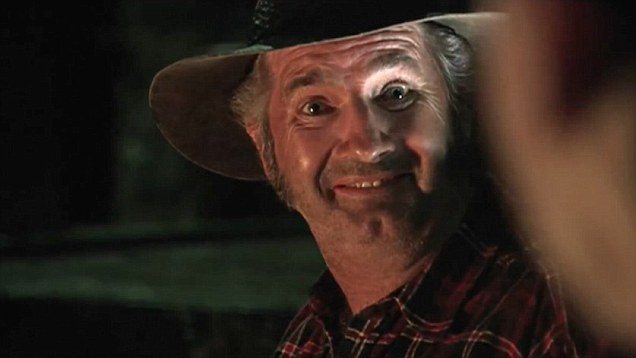 Back at his camp, Mick tells them stories of his life in the outback. His demeanour continues to make one character, Liz (Cassandra Magrath) uncomfortable but the other two, Ben (Nathan Phillips) & Kirsty (Kestie Morassi) don't seem to bothered. Unfortunately it turns out they should have been as Mick spikes their drinks knocking them all out.
Mick is not a 'bloke', not in the slightest.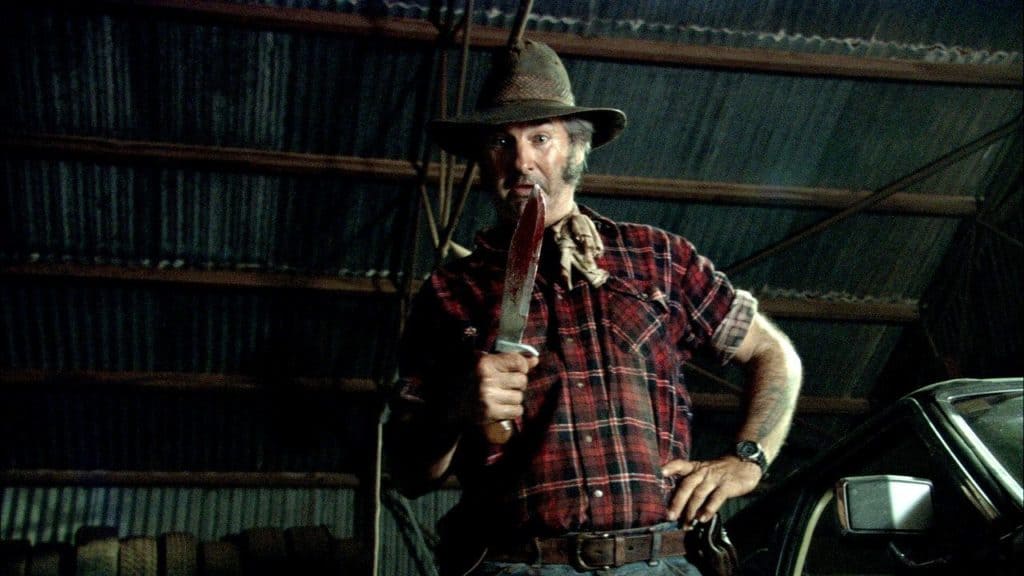 Liz wakes up gagged & tied up but manages to free herself where she sees the maniac torturing & abusing Kirsty. In a surprising turn of events though, Liz manages to get hold of Mick's rifle & shoots him in the neck!
Now all horror movie fans know he's not dead but Liz still has the rifle & he's down! All she has to do is finish him off! Does she? Of course not. In quite possibly one of the most absurd bits of writing Liz throws the rifle down next to Mick, rescues Kirsty and the pair run off.
Can you guess what happens next!?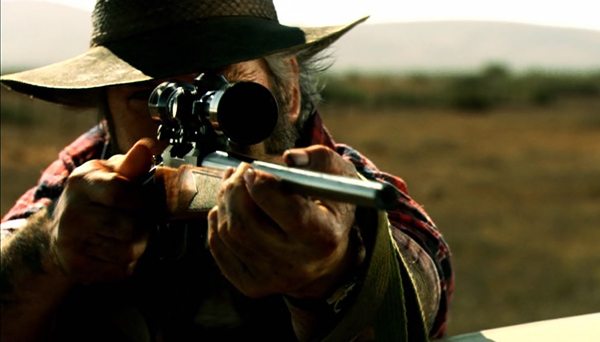 This moment is so idiotic that it derails the movie briefly. You'll be left scratching your head. Why wouldn't she shoot him again? Why would she leave the gun next to him? Even if it was empty he'd have ammo somewhere? What about other guns? Why would she leave the bloody gun next to him without checking he was definitely dead!?
The excuse that she was disoriented, confused, scared etc doesn't fly when you consider the fact that she was able to shoot him moments before!
You can't feel sorry for the characters after this. They had a chance, a golden chance to end it before it ever really got going & they didn't. It's a huge hole in the plot & no amount of good acting or horrifying violence can fill it.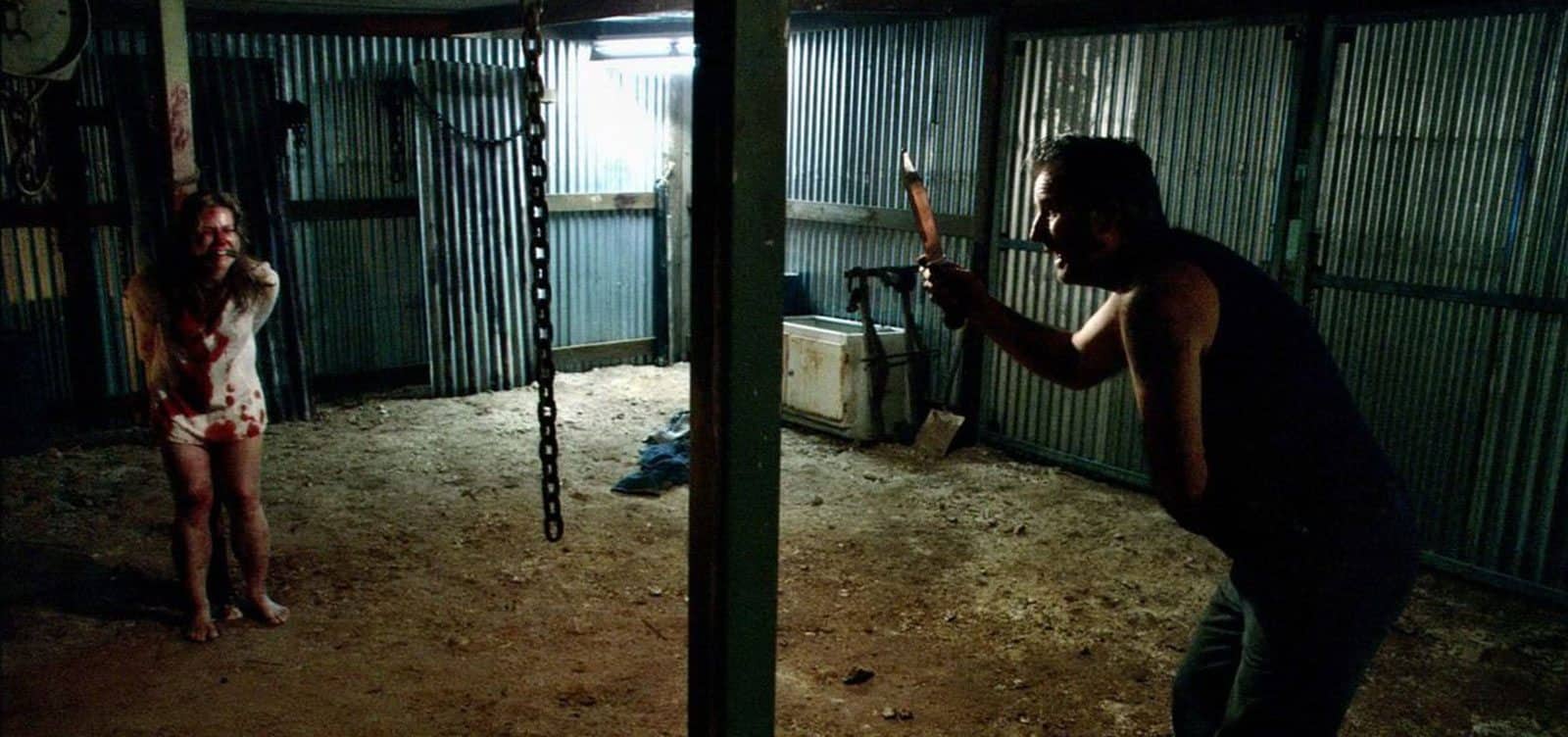 It's a real pity though as Wolf Creek is a good movie up to that point. The acting is solid as hell with John Jarrett really standing out. Mick seems so much like a top guy, willing to help but with a bit of cheeky Aussie banter too. Then every so often the facade drops & you're looking into the eyes of a stone-cold killer. Intense.
Another thing that's good is that the film doesn't do violence for violence sake. The moments are extremely visceral, nasty & have way more impact as they're not every few minutes. The location deserves praise too. The sense of being in the middle of nowhere is felt & the outback has never seemed so terrifying.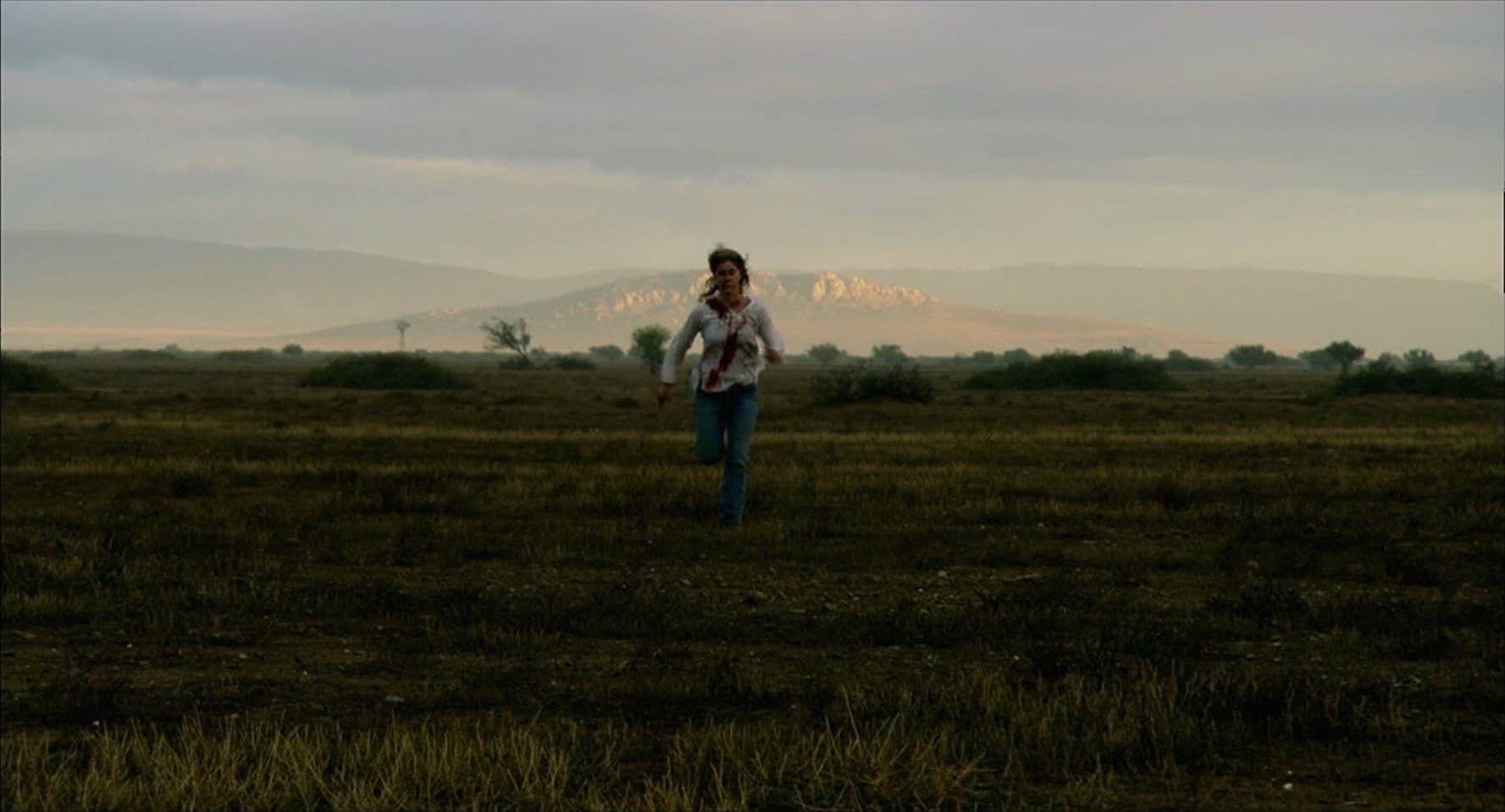 It's a bit unfortunate that those involved tacked on a sequel bait finale that seemed designed to try & convince people that they'd just watched a true story. Still, I'm happy to see what Mick is getting up to in Wolf Creek 2!
[amazon_link asins='B000GG4SQA,B00ESQF7TQ,B00KN0C65O,B01JIKG7XQ' template='UseThisOne' store='g0e5b-21′ marketplace='UK' link_id='06e888d0-dac3-11e7-9223-1b970a009551′]
Wolf Creek
The Final Score -

6.5/10