Horror Movie Review: The Unfamiliar (2020)
Directed by Henk Pretorius who co-wrote the story with Jennifer Nicole Stang, The Unfamiliar looks to take the tired 'paranormal' themes of modern horror and add some new twists.
Does it succeed?
Elizabeth (Izzy) Cormack (Jemima West) is a British army doctor returning home to her family after a tour of duty. Having only recently given birth to a new baby, she left under a haze after a fight with her husband, Ethan (Christopher Dane). So, she's looking to get the families life back on track.
Although distance has grown between herself and her step-children, Emma (Rebecca Hanssen) and the younger lad, Tommy (Harry McMillan-Hunt). The former's behaviour put down to being a teenager while latter is a little harder to explain.
He seems obsessed with Hawaiian artefacts his dad brought back from a recent trip to the country and claims he talks to Ethan through a radio at night. If all of that wasn't enough for Izzy to deal with, her war-scars are beginning to manifest and not all of them are physical.
She begins to experience strange and unusual events around the house. Things that scare her and have Ethan wondering if she is suffering from PTSD. She's resistant to the idea and as things begin to ramp up for the family, she will discover just how unfamiliar she is.
A strong movie driven by a story that starts off in very familiar territory (ghostly goings-on) before revealing a strong hand. Drawing from the darker myths and legends of Hawaii, it creates an already unique feel simply because you don't get much of that. A country associated with sun, sea, sand and welcoming locals, The Unfamiliar shows off a darker and interesting side of it.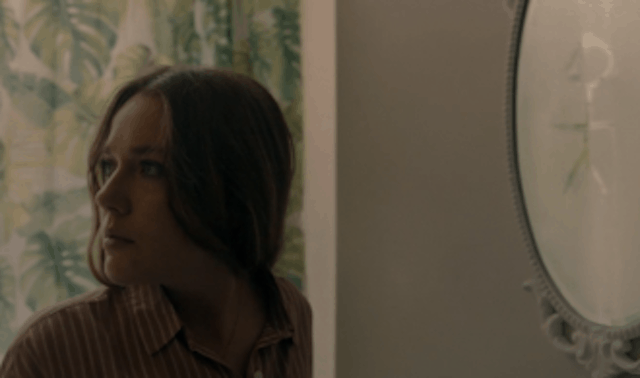 Perhaps the finest thing about the story though, is how it grows and grows. Letting the viewer have small titbits, allowing immersion to develop before eventually ramping things up a gear. If you pay attention, the latter part of the movie may not be a complete surprise, but it's still got some effective twists and turns.
Of course, a good story does not equal a good film and there are many more elements needed for it to be a resounding success. The first being the characters and the actors that portray them. The Unfamiliar spends the time allowing the family unit to breathe and for the viewer to see how Izzy's departure affected them.
As the lead, Izzy shows a hardness that comes from being in the military but also a softness that shows her vulnerability. Nowhere is that better showcased than when she herself begins to think she has PTSD. That's credit to the acting abilities of Jemima West.
Elsewhere Christopher Dane as the loving husband is likeable but really gets to have some fun in the latter portion of the movie. The same goes for Rebecca Hanssen who might have one of my favourite sinister smiles ever. Then there's young Harry McMillan-Hunt, who initially struggles, particularly with dialogue that just doesn't fit but turns in a belter in the latter portions of the movie. Without spoiling it, he is asked to do something that many adults would struggle to do and nails it. It's so very impressive.
Another tick in the positive column and it doesn't stop there as the cinematography is also wonderful and the techniques used to capture subtle moments, impressive. It won't necessarily 'scare' but it does have some chilling moments. Although the loud attempts at jump scares could be done without.
Forgivable though because The Unfamiliar is a good movie and that's coming from someone who is sick to death of paranormal horror. One well worth checking out!
The Unfamiliar
The Final Score -

7.5/10