Horror Movie Review: The Texas Chainsaw Massacre – Remake (2003)
Back when remakes were the 'in' thing, it was inevitable that the low-budget, gritty slasher horror The Texas Chainsaw Massacre would get one too. To be fair, the original was released in 1974, so a modern re-telling with new ideas, a bigger budget and a more open horror industry suggested this remake could have been worthwhile.
Sadly, that proved not to be the case here. The Texas Chainsaw Massacre remake isn't a terrible film, it's just a pointless film. Upping the gore and nastiness to make up for the lack of grittiness, the story changes are either minuscule or unnecessary.
Directed by Marcus Nispel, written by Scott Kosar, and starring Jessica Biel, Jonathan Tucker, Erica Leerhsen, Mike Vogel, Eric Balfour, and R. Lee Ermey. The Texas Chainsaw Massacre remake sees a group of young adults being chased, killed and mutilated by Thomas Hewitt, aka Leatherface and his family.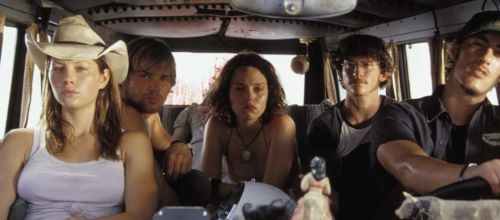 The story beats might play out differently and some characters are swapped out (the meat hook death is with a man instead of a woman this time) but it still ticks all the Texas Chainsaw boxes. It's hard to fault a story that borrows so much from the original, however this one is worse. Simply because all the extra stuff feels like padding. For example… the introduction of a young boy named Jedidiah? What was the point of him? Aside from being a convenient tool for the finale?
He's a bad character but nothing compared to the absolute bland set of victims we have for Leatherface and family to chainsaw their way through. It's not completely the fault of the cast either as some of these names have done good stuff but their characters are trash here. Just watch it and try to name one single defining characteristic about them. You won't be able too.
Which brings us to the villains. Andrew Bryniarski who plays Leatherface is an imposing figure and does 'wild' well but he is completely overshadowed by R. Lee Ermey as Sheriff Hoyt. The most memorable thing about the movie, he is a detestable character and played with intense glee as only Ermey can do. It's not a wild change from the sort of stuff he has done throughout his career but it is a memorable role for him.
It's a shame that he's the only memorable thing about this movie. It has lashings of blood, guts and gore and the effects are good. However, the attempt to replicate the grittiness of the original by making everything 'dirty' doesn't work. You can see the Hollywood gloss through the smears.
Which is the best way to describe this remake. Another pointless Hollywood remake that can't come close to the original. It's not the worst movie in the franchise but it's certainly the most forgettable.
The Texas Chainsaw Massacre - Remake
The Final Score -

4.5/10