Horror Movie Review: Taste the Blood of Dracula (1970)
Two years after Dracula Has Risen From the Grave was released in 1968, Hammer was quick to pump out yet another in their popular vampire series. Called Taste the Blood of Dracula, it was released in 1970, directed by Peter Sasdy and saw a reluctant Christopher Lee reprise his role as the titular vampire.
As is the norm, Taste the Blood of Dracula opens with a prologue to connect this film to the previous one. Here we're introduced to Weller (Roy Kinnear), a businessman who witnesses the death of Dracula that occurs at the end of Dracula Has Risen from the Grave.
After Dracula has disintegrated into red dust, he examines the remains and finds Dracula's ring, cape and brooch.
The movie then shifts focus to three men – William Hargood (Geoffrey Keen) Samuel Paxton (Peter Sallis) and Jonathon Secker (John Carson – all upstanding gentlemen who do lots of charity work with loving families behind them. At least that is the facade they portray.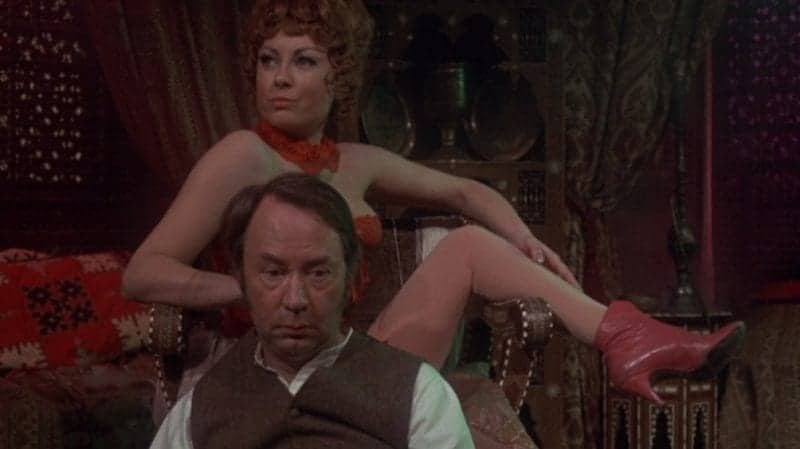 You see these three men are part of a private circle that enjoy brothels and the oddities of life. However, even that is getting boring. So when a young man arrives at their local they watch in amazement as he behaves in a way that suggest he cares for nothing and nobody.
This is Lord Courtley (Ralph Bates), a man who also enjoys the 'darker' side of life. So much so that he was disinherited by his father for celebrating a Black Mass years ago.
The men are equally disgusted and fascinated by him leading to them meeting him in the hope of experiencing more intense pleasures.
He promises experiences they will never forget but first they have to buy the Dracula artifacts from Weller. Against their better judgement, the trio get the items and meet with Courtley at an abandoned church.
Here Courtley reveals his plan, a ceremony that involves drinking a combination of his blood and the Dracula dust. Of course the trio refuse so Courtley drinks himself resulting in him falling down in pain.
The three men then beat him to death and go back to their homes. Perhaps had they stayed longer they would have witnessed the resurrection of Dracula. Courtley's body transforms into the fanged one who wants vengeance on those who killed his servant.
Like all Hammer Dracula films, the contrived way we get to the Dracula resurrection is as amusing as it is clever. Credit where credit is due, he just keeps coming back in the most unusual and fortuitous ways.
Also like all Hammer Dracula films, Taste the Blood of Dracula is a good film. A good entry in the series even if its faults are a little more visible then normal here. These issues are hardly glaring but it is noticeable how Christopher Lee just doesn't seem to have the same vigour he normally has and the supporting cast don't gel as well.
It's still filled with strong performances though and once again, it drips in gothic atmosphere even if it is mostly set within the city.
Once Dracula is resurrected the film becomes a little more linear. Dracula looking to get revenge on the men by going after their families. However, every so often it surprises with a clever little angle or misdirection. His presence is enough to cause insanity and the biggest danger often comes from within. That's a nice and new direction to go in even if it does relegate the vampire to a bit-part player.
It's not the best entry of the Hammer Dracula series but it's still a very strong one.
Taste the Blood of Dracula
The Final Score -

6/10