Horror Movie Review: Scouts Guide to the Zombie Apocalypse (2015)
It looks like we might finally be running out of ideas in zombie genre of comedy horror. I've seen wrestlers face off against zombies, I've seen cockneys face off against zombies & now I've seen scouts face off against the zombies. It's all getting a bit stupid now…
Scouts Guide to the Zombie Apocalypse is a horror comedy that is very light on the comedy but makes up for it with some great zombie effects & an endearing story, even if it lacks originality.
Ben (Tye Sheridan), Carter (Logan Miller), and Augie (Joey Morgan) are all part of a scout group run by Scout Leader Rogers (David Koechner). Ben & Carter are beginning to have second thoughts about being in the scouts. Carter thinks it's harming his chances with the female population but Ben is worried about hurting Augie's feelings.
Meanwhile Scout Leader Rogers is attacked by a zombie that has escaped a local lab while walking through the woods.
After Ben & Carter receive invites to a private party they sneak off in the night as Augie sleeps. Unfortunately for them he follows them back to the car & confronts them about their choice. He storms off to try & find Scout Leader Rogers while Ben & Carter head off to the party.
On their way, they notice a strip club so decide to stop & sneak in as the bouncer isn't on the door. Once inside though they get attacked by a group of zombies but manage to escape. This strip club scene is the best of the movie, a little bit silly but very gory.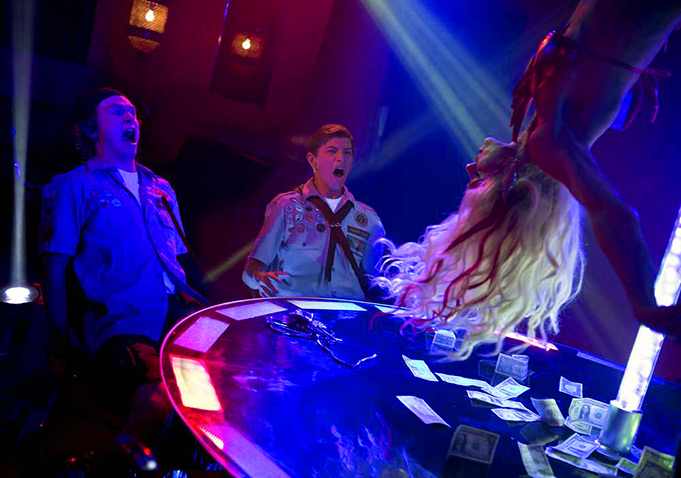 Elsewhere Augie arrives at Scout Leader Rogers' house to discover that he has a serious obsession with Dolly Parton & that he is now a zombie. As the town gets overrun by the walking dead the trio of scouts have to call upon all the knowledge they've learned over the years to escape the ravenous horde.
In reality though, the scouts side of things isn't used well. In fact, it's basically forgotten about by the time the zombies really get going. Instead we get the usual kind of zombie comedy tropes & so many of them fall flat. We're talking zombie penis jokes & singing Britney Spears with the undead. Hardly smart stuff.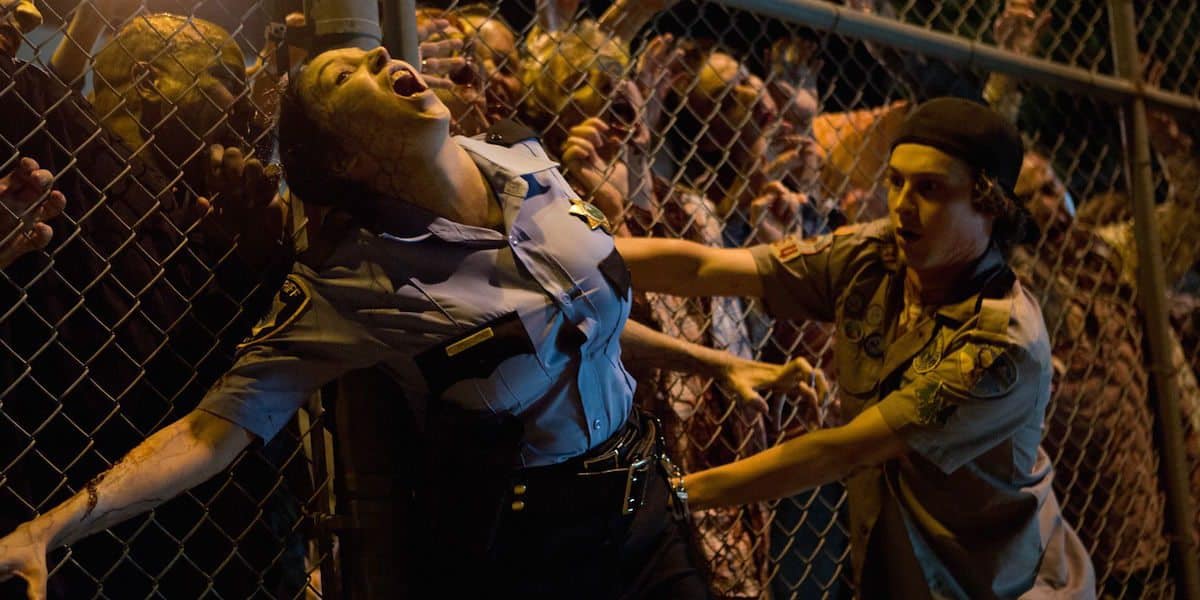 The cast do well though with the three leads being believable & likable. Their comradery is sincere & their relationships well defined. They grow as characters throughout the movie resulting in a payoff that has some emotional impact.
Talking about the payoff…the entire film builds towards an epic showdown at the party & it doesn't disappoint. The bloodbath is exciting & fun with some really well done gory moments. A particular highlight involves some cunnilingus! The gore & effects are the real highlight of the entire movie though. It's visceral & nasty throughout never failing to raise a smile.
Scouts Guide to the Zombie Apocalypse is one of the better zombie horror comedies to come out in the last few years but it still falls woefully short of being memorable or offering anything fresh.
Scouts Guide to the Zombie Apocalypse
The Final Score -

6/10