Horror Movie Review: Don't Fuck in the Woods (2016)
Sometimes you just have to sit back, detach your brain & enjoy a horror movie for exactly what it is. Don't Fuck in the Woods is a trashy, exploitative gore fest that straddles the line between soft porn & horror but is every bit as entertaining as you could hope.
Directed by Shawn Burkett & starring Nadia White, Brandy Mason, Brittany Blanton & Roman Jossart. Don't Fuck in the Woods sees a group of young adults heading off to camp in the woods for a weekend of drinking, smoking weed & having sex.
Unfortunately for them these woods contain a monster. A monster that seems to only attack when it smells people having sex (or knocking one out on one occasion). It doesn't take long for the group to pitch up their tents & start the shagging.
You better enjoy boobs because this film has them in spades!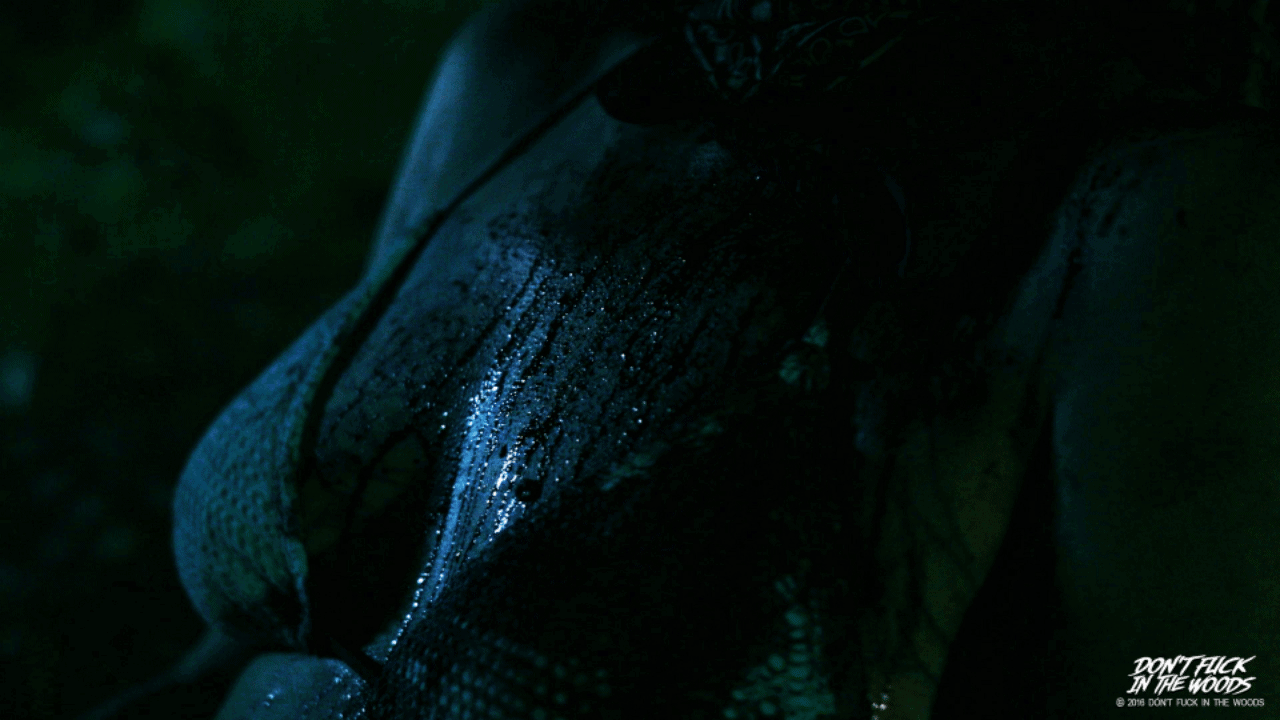 Don't Fuck in the Woods is a tongue in cheek homage to creature & slasher flicks from the 1980s. The monster in question is kept in the darkness for most of the movie, wisely as it's a pretty laughable costume (bought for $180). It looks silly but it's a ferocious beast able to disembowel & mutilate its victims with ease.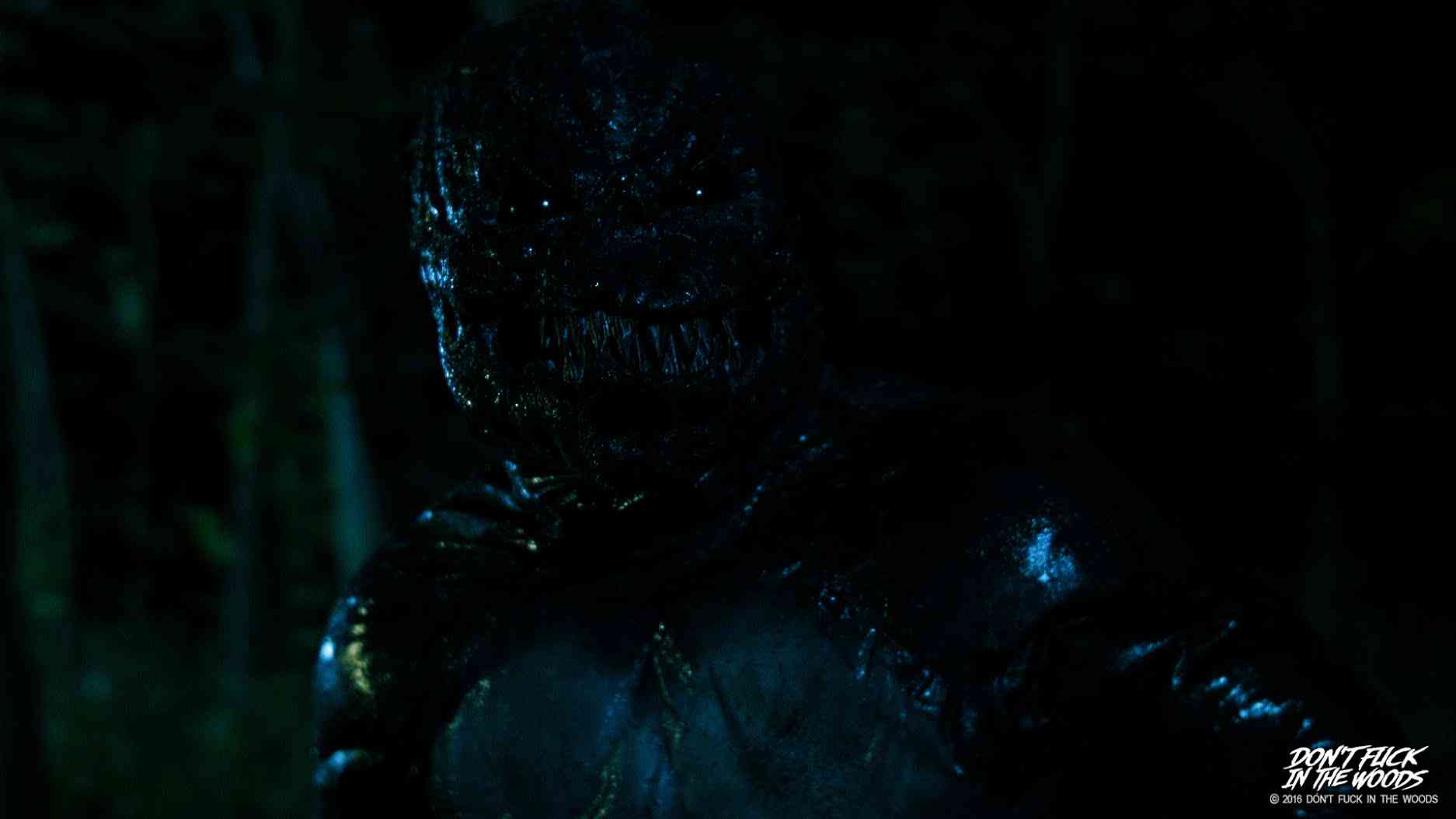 What really is a surprise is the quality of the acting. The cast are great & the movie avoids some of the more obvious horror tropes. For example, one character hears noises in the woods, the sounds of something big moving around. Rather than go investigate calling out names expecting an answer, he says 'fuck that' & beats feet in the opposite direction!
Sure, it's really heavy on the nudity but it's not out of context & does set up some hilarious death scenes. One such scene sees a character on all fours with her fella hammering her from behind. He says he's about to cum & she tells him to hang on but suddenly feels a splatter across her back. Angry that he came all over her & that there was so much she turns around to see him kneeling there with a massive hole in his chest! It wasn't cum, it was blood!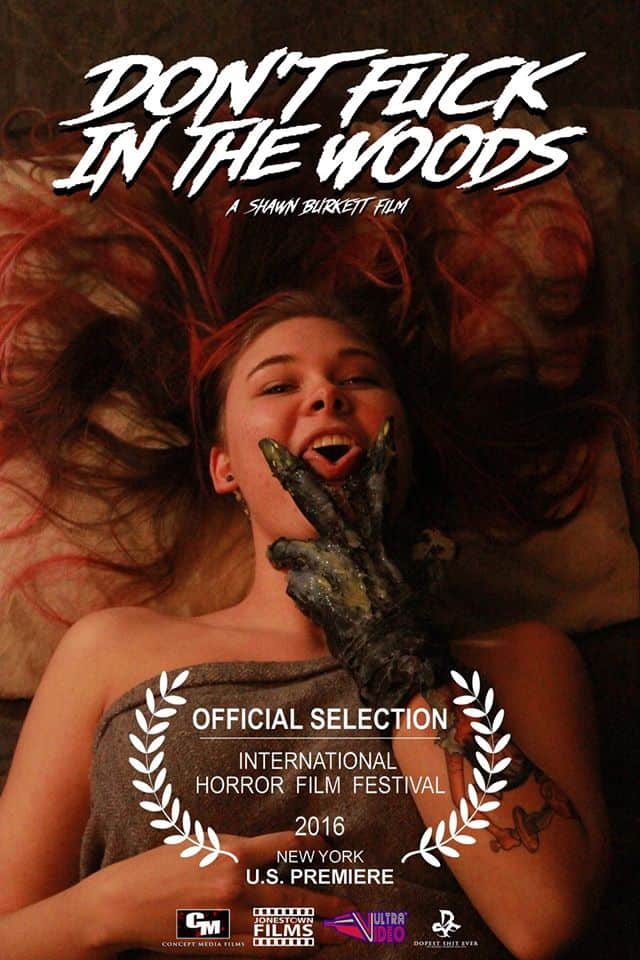 It works so well because of the camera angles. One of the more impressive things about Don't Fuck in the Woods. For such a low budget offering it looks really good. It's well put together with some imaginative shots such as the one from inside a character's stomach as the monster rips into her.
The final girl is a surprise choice but one that makes sense by the time the credits roll. At only 60 minutes long it doesn't overstay it's welcome, doesn't give you time to get bored & even throws in a blooper reel during the credits!

As far as entertainment goes Don't Fuck in the Woods ticks most of the right boxes. It's way more fun to watch then most modern, high budget horrors!
Don't Fuck in the Woods
The Final Score -

8/10