Horror Movie Review: Dave Made A Maze (2017)
Dave Made a Maze is a 2017 comedy horror that can proudly say it is one of the more unique modern horrors although it certainly won't be for everyone. While it isn't the most horrific kind of horror you'll ever see, it's hard not to be impressed with the visual style and impressive set designs.
Annie (Meera Rohit Kumbhani) has returned from a weekend away to find her boyfriend, Dave (Nick Thune) has built a cardboard fort in their living room. On the outside it's nothing particularly special looking but when Annie demands Dave comes out from inside it, he tells her he can't because he is lost.
Apparently, it's far larger inside then it is on the outside.
Confused, Annie calls Dave's best friend Gordon (Adam Busch) over. Who in turn calls over even more friends to study the fort. One in particular, Harry (James Urbaniak) decides he is going to make a documentary about it. It's while he is questioning Annie that she realises how much she cares for Dave, so decides to go in with everyone else following her in.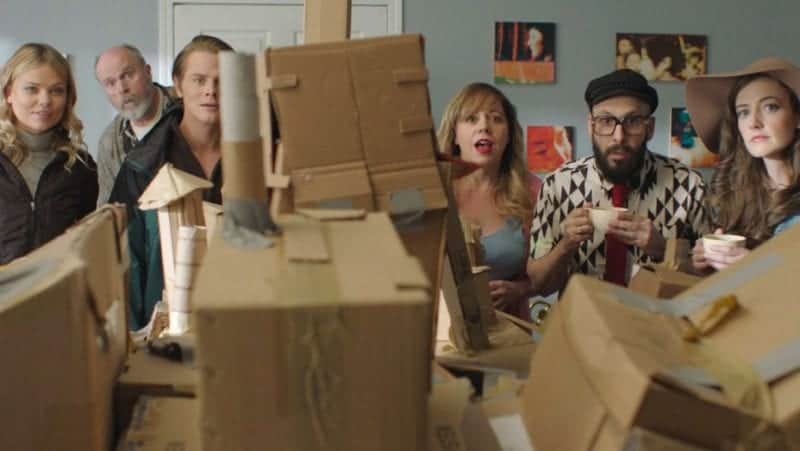 What they discover inside is a huge surreal maze-like building made of cardboard. One with seemingly supernatural elements as origami birds and other creatures live within. It's a truly spectacular sight and the group marvel at what Dave has managed to create until they realise it also has traps…deadly traps.
Will any of them manage to survive Dave's maze?
For those tired of the same old supernatural films that blights the modern horror scene then Dave Made A Maze has to be seen. It's silly, it's fun and it's violent when it needs to be. Sticking with the theme of everything being made out of cardboard (which the sets actually were) and paper, blood is symbolised by confetti like streamers. When a character gets killed, it bursts out of them in vivid red and pink colours. It's just one of the many charming elements that makes the movie so much fun.
How good it looks can't be understated but it's not the only thing that stands out. The narrative is really well told. In particular Dave and Annie's relationship and his reasoning as to why the maze can't just be pulled down. They're an endearing couple and have good chemistry.
The rest of the cast are a mixed bunch hurt by a lack of screen time and overused jokes. While they all have individual personalities, not enough get to shine and a couple are filler at best. One who could have done with a little less screen time is the filmmaker Harry. Whose running gag of trying to get the perfect reaction/shot gets a little old by the end.
At only 80 minutes, it also doesn't overstay its welcome. How is it that Dave made the maze? It doesn't matter and in fact, it's even acknowledged that it doesn't make much sense in the film. Yes, this is on the nose but this is the kind of movie that doesn't need an explanation. It just happened and that's fine.
It wraps up in a satisfying way baring one final scene that probably could have been cut. Some minor complaints in a movie that really is quite unique and very clever. It's well worth a watch especially if you're burnt out on traditional horror.
Dave Made A Maze
The Final Score -

8/10