Game Review: Coffee Talk Episode 2: Hibiscus & Butterfly (Xbox Series X)
Released in 2020 by Toge Productions, Coffee Talk was a delightful visual novel style game that put you in the shoes of a late night coffee shop barista tasked with serving a wide array of drinks to the unusual patrons that stop by. Unusual because Coffee Talk was set in a world populated by all manner of fantastical beings. All just trying to live their lives while dealing with day-to-day problems reflective of real life. You can read our review here.
Gameplay amounted to nothing more than serving them drinks, often having to find the best option for them based off their descriptions (warm, sweet, comforting, etc) but the thing that made it such a great game was its characters and their stories. You really get to know a multitude of interesting people and, through the drinks you serve, help them resolve, understand, or move forward from their problems.
Relaxing and clever, for being just another visual novel with limited gameplay, Coffee Talk stood out and a sequel seemed inevitable.
Which brings us to Coffee Talk Chapter 2, a continuation of the experience rather than a sequel per se.
What we mean by that is Coffee Talk Chapter 2 isn't all that different from the first game. It looks the same, it sounds the same, and it plays the same. Albeit with some minor tweaks here and there, such as introducing new brewing options and being able to give characters items. It is the continuation of this story, something bigger than it first seems, as those who finished the first game's story can attest to.

Set many months after the events of the first game, Coffee Talk Chapter 2 puts the player back in the shoes of the barista as the constant bad weather outside sees a litany of characters, both new and old, coming through the doors wanting both a drink and a chance to get some things off their chests. Be it, an increasing crime wave of vandalism to cars, the behaviour of a unscrupulous gaming publisher, the difficulty in maintaining fame while trying to do something new, and so on.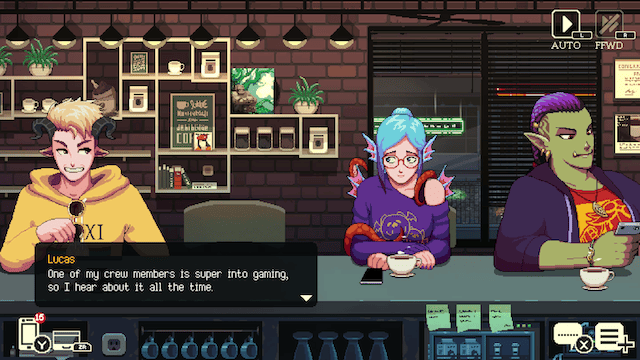 Many fascinating stories with the joy of occasionally screwing up their drink order too. We mean that, as Coffee Talk's new drinking options makes working out exactly what they want, a challenge. A fun one none the less. Especially as how right or wrong you get their order will affect your relationship with that person. It's the small touches that make this game so enjoyable even if it's not quite as immersive as the first one was.
Maybe it's because so little is different, maybe it's because some of the character stories aren't as memorable, maybe it's because they sometimes feel dragged out and slow, or maybe it's a combination of all of this.
It's still a throughly enjoyable experience though, provided you did actually like the first game. It is, at its core, a visual novel game and that has a ton of drawbacks, most of all, the lack of gameplay. Yet, Coffee Talk Chapter 2 follows its predecessor by being engaging and importantly, not overstaying it's welcome.
Coffee Talk Episode 2: Hibiscus & Butterfly (Xbox Series X)
The Final Score -

7/10