EP Review: Void Rot – Telluric Dismemberment (Everlasting Spew Records)
US death and doom titans Void Rot will release a brand-new EP, featuring a new track, an Amorphis cover and (exclusively for the CD/digital versions) 3 live tracks recorded for an exclusive CVLT Nation show. Called 'Telluric Dismemberment', it will be released on July 22nd, 2022 via Everlasting Spew Records.
The hook of the new track is what will reel fans in and what a nasty piece of work it is too. Sharing the same name as the EP title, Void Rot unleash a cacophony of death and doom filth. The darkness doesn't creep up, rather it hits like a wave, causing many to drown within its murky shadows. Guttural and garish, Void Rot create feelings of revulsion through the death side of their sound but also numb the mind with their off-kilter sinister doom side. If there's one thing this track makes clear, it's that Void Rot are getting nastier and more dangerous sounding as they go on.
Considering the wide array of musical options that Void Rot could have gone to for an Amorphis cover, it's telling that they chose Black Embrace. Taken from the Privilege of Evil EP, released in 1993. Back when Amorphis were more of a no-nonsense death metal band. The kind of sound that fits Void Rot to a tee, resulting in a solid cover version.
The rest of the EP is live stuff and features Descending Pillars, Liminal Forms and Inversion. A perfect chance to hear how this band sounds in the live environment. Want a clue? It's very noisy, very dark and very nasty.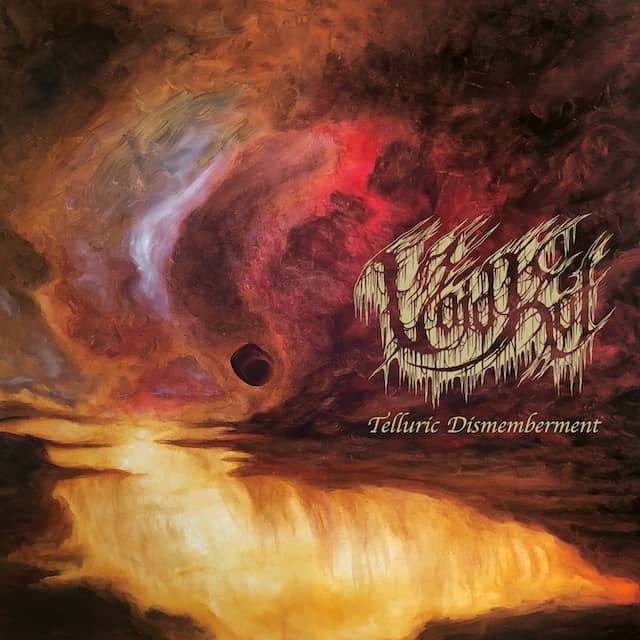 Void Rot – Telluric Dismemberment Full Track Listing:
1. Telluric Dismemberment
2. Black Embrace (Amorphis Cover)
3. Descending Pillars (Live)
4. Liminal Forms (Live)
5. Inversion (Live)
Links
Big Cartel | Bandcamp | Facebook | Everlasting Spew
Void Rot - Telluric Dismemberment (Everlasting Spew Records)
The Final Score -

8/10