EP Review: Ibyss – Hate Speech (Self Released)
German industrial metal band, Ibyss, have released a new EP titled Hate Speech. It was released on the 31st of January this year. Ibyss are a two man band. There is singer and guitarist Jens who also looks after keyboards and second guitarist Nihil who also handles the bass and sampling.
Ibyss claim to be industrial metal in it's rawest, original form. Bringing brutal vocals, programmed drum loops and distorted bass over mechanical riffs in the vein of early Godflesh and Pitchshifter.
The EP has also been mixed and mastered by the talented Ben Blutzukker.
Hate Speech is 6 tracks long in total and comes in at just under 30 minutes long. The first track is called Bois Ton Sang which translated to Drink Your Blood in French. It is a slow paced, mechanical sounding track. A crunching riff is followed by dark and aggressive vocals before switching back to the industrial riff. It follows this pattern repeatedly and breaks things up every now and then with a little flourish of lead guitars.
I am getting a bit of an early Fear Factory vibe to it I think. It slows down into little guitar scratches and then starts building back up with a heavy bass line and then that mechanical riff again before a sudden stop.
Industrial metal as raw as this can suffer from songs sounding quite similar but Ibyss have dealt with this quite nicely by throwing in different vocal tones and by making good use of guitar leads to interrupt the mechanical riffs.
The second track is Face Off which starts with some sampling and then a nice little drum rhythm. It uses almost spoken word vocals at the start but it all builds into a crescendo of shouts and music. Home is Where the Graves Are has a really great riff. It also features Rudiger Schuster. The vocals are the strongest so far with a more singing/shouted style and it has a great bass solo that builds back up into a banging riff.
Like Drones is a short song and uses a very heavily distorted bass in the intro over clean leads. A single clean guitar line rings out over darkly spoken vocals. The chorus is huge with Like Drones roared out over huge guitars and a fast drum beat before it returns to the single guitar lead and spoken vocals. It is a very good song.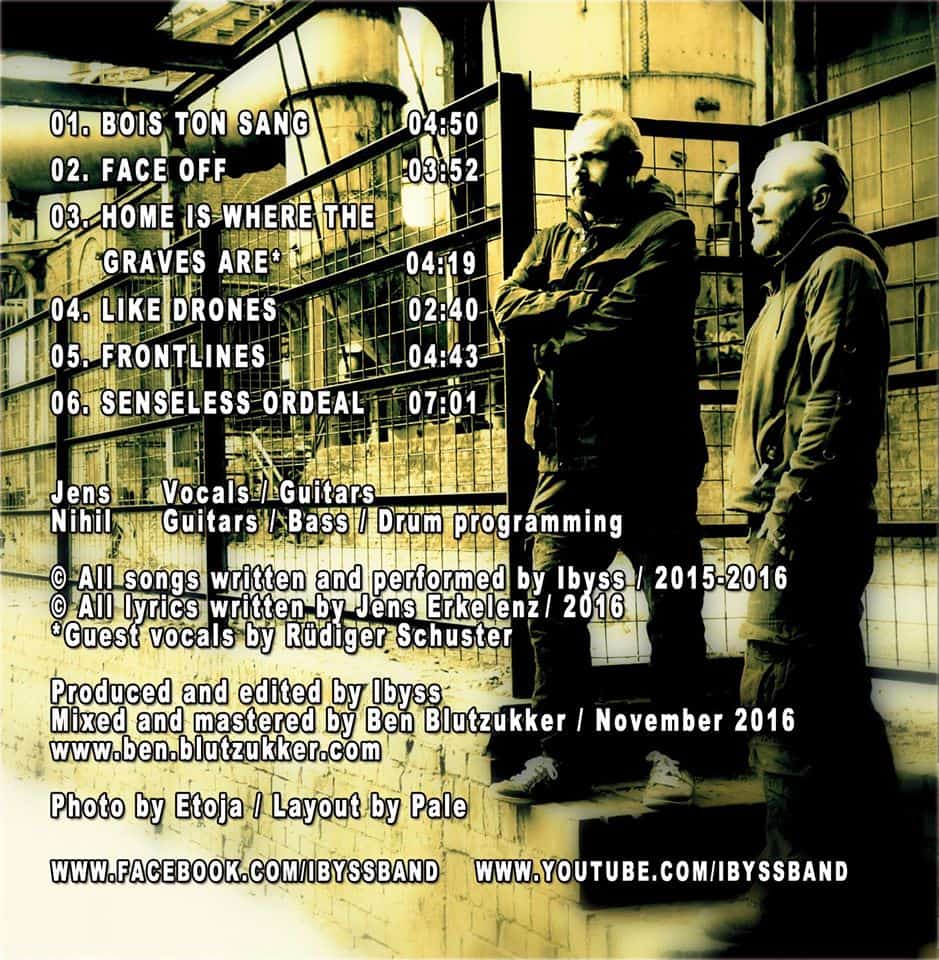 As is the 5th track, Frontlines, starts with a much faster riff. It then slows down for some deathly roars and distorted effects. The verse has a sung section which sounds solid before reverting back to the death metal like shouts and roars. The mix of clean and shouted vocals really remind me of early Fear Factory now. Not a bad comparison to have as a band right?
Senseless Ordeal is the final track and also the longest. It has a really interesting start with wailing guitars and a prominent bass line. Shouted vocals come through over a slow drum beat and heavily distorted guitar and bass. The riff is exactly as expected and sounds machine like and heavy.
There is a very doom like, sung section near the half way point that sounds great over squealing guitars. This softer section repeats after another heavy verse before it returns to the riff of the intro until it fades out at the end.
I must say I am pleasantly surprised. I was a little worried that the effects and samples would be prominent but they aren't. Of course the drums are programmed but that is quite normal in industrial metal. The main focus of these songs though are angry vocals, crunching riffs and a thick bass line.
The drums sound like they could do with a bit more depth to them but I can't fault the guitars and vocals. Industrial metal isn't for everyone but if it is your thing, this is a fine example of it in it's rawest form.
Hate Speech is a really strong EP that deserves to be heard. Because of it's title, Ibyss have struggled to get the mainstream metal media to either listen to it or review it. Their is a fear the title may be problematic somehow. Let me assure you, this band are not champions of, or involved in actual political hate speech.
They are musicians, and talented ones at that.
Part of a statement released by the band reads – "It´s been four weeks since we released our latest EP titled "Hate Speech" and most German webzines and even leading print magazines refused to publish any news about the release or even review it because they think our title is too "problematic" or "misleading". We are stunned, as our press kit even points out the specific topics our non-political EP deals with (like "third-wave feminism, censorship, trigger warnings, toxic masculinity" etc.) in an aggressive and unapologetic way you´d expect any Industrial-Metal record in the spirit of acts like Nailbomb, Godflesh or Ministry".
A strong EP though it probably starts with the least good song. Like Drones and Home is Where the Graves Are stand out more than other tracks but there is a lot to like here. The drums need a bit more oomph and I would like a few more speedy sections but that is a personal choice thing. It is well worth a listen and they are a band I will be keeping an eye on in the future.
Check it out for yourself over at Bandcamp. By doing so, you are not only supporting a band but also refusing to be censored. You can find out more about Ibyss on their Facebook page.
Look out for an interview with the band coming very soon on GBHBL too.
Ibyss - Hate Speech (Self Released)
The Final Score -

7/10
Comments Rating
( reviews)