EP Review: Eternal Suffering – Beyond the Threshold of Twilight (Imperatrix Mundi Records)
Eternal Suffering came to life in 2006, from the ashes of Hell Hunter, a Thrash/Death Metal entity hailing from Sardinia and formed a few years before, in 2003.
Raising from the Marghine area, in central Sardinia, the original lineup saw the union of Pavor Nocturnus (Six Strings and Incantations), Uroboros (Six Strings), David S.B. (Four Strings), Nekroblast (Drums of Doom), and Baskanos (Keys and Synths).
The unholy creation's early evocations took full hands from the '90s symphonic Black Metal style of acts such as Emperor, Satyricon, Limbonic Art, Dimmu Borgir, absorbing the ancestral influences of the mountainous forests of the band's motherland!
The entity remained unchallenged until 2009, the year when David S.B. qutted the band, just prior to the recording sessions of the band's venomous first EP "Beyond The Threshold Of Twilight".
The offering did not go wasted or forgotten. During the early Autumn of the same year, desecration took place at Nasprias Cave, the dwelling of the independent label Trasponsonic, based in Macomer (Sardinia).
Since then, the entity has seen new acolytes joining the obscure forces, with Phoenyx (Four Strings), the almighty blasphemer S.E. Incitatus (previously part of Infernal Doom, as the new chanter of horrors), Ad Noctum (Six Strings) some time later, and new fanatics of the black flame behind the skins year after year.
During the year 2017, the formation took back its original EP to elevate its obscure power toward new horizons of blackness. "Beyond The Threshold Of Twilight" was finally remastered and restored.
After a long journey, a new presence was summoned behind the skins, L.M. (the violent engine behind Crimson Storm and The Sundering).
The blasphemous entity, taken to new life, is now ready to kill, composing new unholy hymns and getting ready for its forthcoming assault. It will be released on July 31st 2019 via Imperatrix Mundi Records (a sublabel of Third I Rex).
The wonder grows, encouraged by the sublime symphonic gothic sound of the title track, serving as an intro to the EP. It's all go with Invoking the Full Moon, the rawness of the black metal cutting through like a hot knife into butter. More bathed in flame then icy cold, the symphonic effects give it a lighter tone even though the guitars and vocals are as traditional black metal as you can get.
Endless Kingdom of the Spirit has an interesting bit of folkish glee to it whereas Forgotten Dawn is less nonsense and more riff driven. Both are well done tracks, although the former does come across a little silly.
Finally, Reconquering the Lost Throne builds on a symphonic start in a much grander way. This is the biggest and brightest of the tracks, really showing off just how epic and heavy Eternal Suffering can be.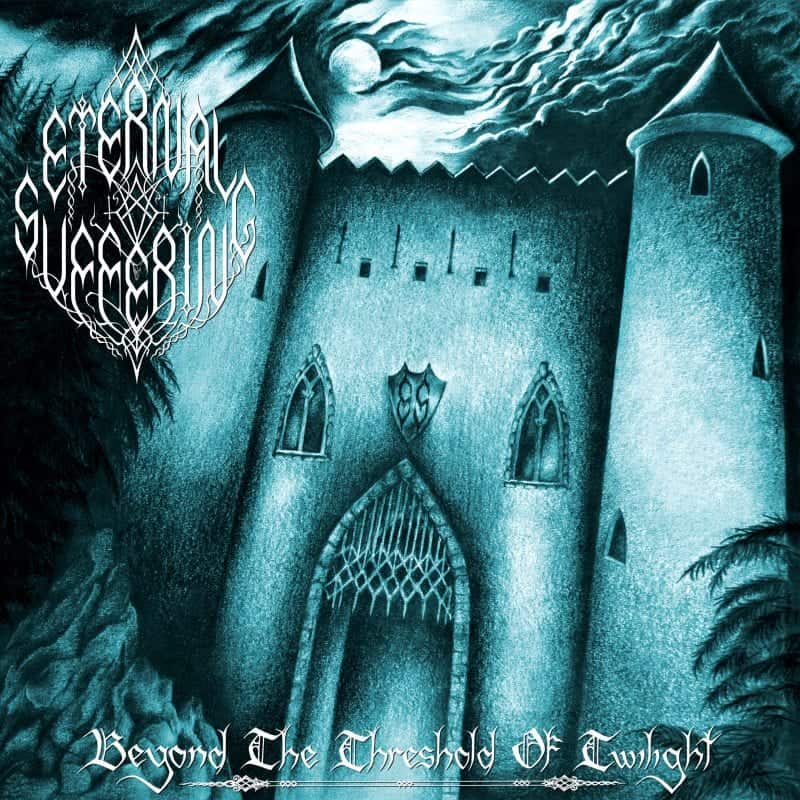 Eternal Suffering – Beyond the Threshold of Twilight Full Track Listing:
1. Beyond the Threshold of Light
2. Invoking the Full Moon
3. Endless Kingdom of the Spirit
4. Forgotten Dawn
5. Reconquering the Lost Throne
Links
Bandcamp | Label Facebook | Label Instagram | Label YouTube
Eternal Suffering – Beyond the Threshold of Twilight (Imperatrix Mundi Records)
The Final Score -

7.5/10