EP Review: Enemy of Creation – Victims of the Cross (Camo Pants Records)
August 30th 2019 will see Indiana based crossover mob, Enemy of Creation unleash their sophomore EP 'Victims of the Cross' through Glasgow based metal label Camo Pants Records.
Clocking in just shy of 25 minutes, 'Victims of the Cross' is a melting pot of thrash and hardcore (with the occasional nod to death metal greats Obituary and Bolt Thrower) which is set to have circle pits opening across the Midwest.
Formed in 2017 by five veterans of the underground hardcore scene, Enemy of Creation came together with the mission of taking their hardcore and punk rock roots and melding them with their love of death metal, old school metalcore, and thrash.
With a mean riff, Paradise is Punishment begins this new EP strongly before the rest of the instruments take things in a deep and chuggy direction followed by thrash heaviness and flashes of hardcore wildness. It's a familiar yet still very potent mix and there is no denying Enemy of Creation know how to do it well.
The title track leans more towards thrash in the old school way and absolutely delivers a crunchy experience. Before hardcore fury arrives again with Lies, a massive uppercut to the jaw.
Dazed, there is no time to recover as Dying Views comes next for a truly high tempo listen. The vocals spitting fury and the riffs blazing. All before Buried in Guilt delivers a knockout blow with exceedingly good guitar work.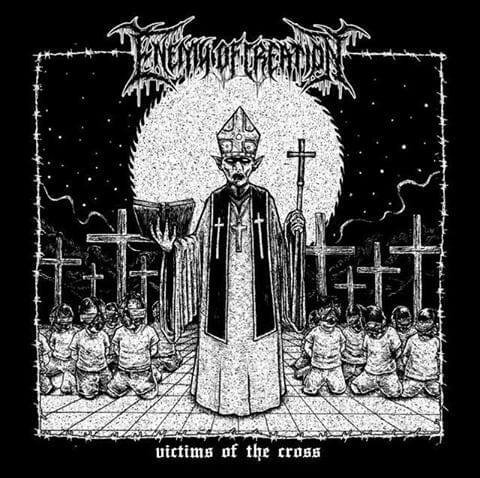 Enemy of Creation – Victims of the Cross Full Track Listing:
1. Paradise is Punishment
2. Victims of the Cross
3. Lies
4. Dying Views
5. Buried in Guilt
Links
Enemy of Creation – Victims of the Cross (Camo Pants Records)
The Final Score -

8/10