EP Review: Caustic Minds – Black Oil for a Soul (Self Released)
Berlin fuzzed-up alt-rockers Caustic Minds plan to break out to the UK with the release of their mesmerising new EP, Black Oil For A Soul, which is out now via all streaming sites. This mouth-watering EP takes from everyone from Black Sabbath and The Kills, to The Dead Weather and Arctic Monkeys.
Initially formed in 2017 in Berlin, Germany, Caustic Minds have formed a sound that mixes gritty indie rock with hard rock, and the end result delivers powerful riffs and edgy phrasing with sharp lyrics. Although the band are Berlin-based, they have a true international flavour: Daniel Viseras Calvache (Guitarist) hails from Granada, Spain, Michiel Sybers (Bass) was born in Antwerpen, Belgium, Chris Crabtree (Drums) is British/German, and Laura Jiménez Alvarez (Singer) comes from Mexico City.
Since their arrival on the scene, the foursome have earned a reputation for delivering highly energetic shows; such praise has seen the band undertake a series of successful shows throughout the whole of Germany. Caustic Minds now continue their climb with the release of their new EP, Black Oil For A Soul.
Guitarist Daniel Viseras Calvache remarks about the release:
Recordings were as intense as you would expect from a band of unemployed kids. 'Black Oil for a Soul' includes the loud voices that you wanna hear from a starting band, with the subtlety of young musicians with a will to grow and create music.
All the rock and the riffs, Eyes on Fire has a rhythmic beat that gets the foot tapping inadvertently. The vocals making a statement that draws the soul into Caustic Minds world.
It's the same vocals that power Baby Doll in the most eye-opening of ways. A passionate delivery, the track is a little bit punky and very energetic. A favourite for sure.
Destroyer is faster and more intense but it keeps the energy high which is perfect for an EP. Although it is followed by the mellow tones of Blacklist, where the vocals once again absolutely kills it again. The stoner like riffs give it a really rich sound too before Black Oil for a Soul wraps up with psychedelic heaven. A finale that exudes coolness.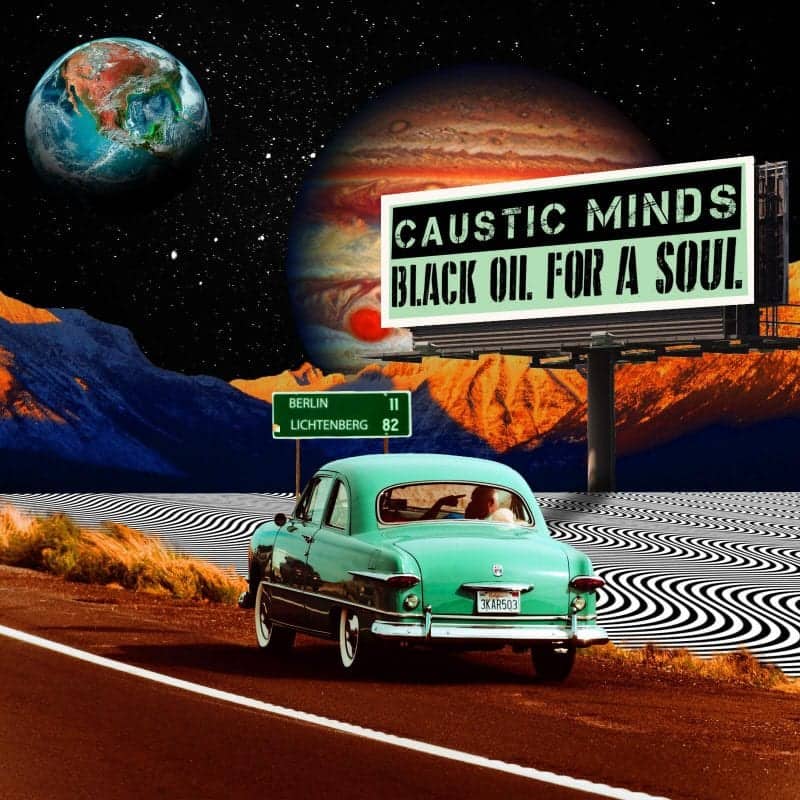 Caustic Minds – Black Oil for a Soul Full Track Listing:
1. Eyes on Fire
2. Baby Doll
3. Destroyer
4. Blacklist
5. Carry On
Links
Bandcamp | Spotify | Soundcloud | Facebook | Twitter
Caustic Minds - Black Oil for a Soul (Self Released)
The Final Score -

8/10