EP Review: Burning Witches – Wings of Steel (Nuclear Blast)
Having recently unveiled their new front-woman Laura alongside the release of a brand new single called Wings of Steel. Burning Witches will now release a new EP, 3 live tracks alongside the previously released, Wings of Steel song.
The three live tracks have been taken from their Wacken Open Air 2019 performance. The EP will be available on December 6th 2019 via Nuclear Blast.
The band states:
We are thrilled to present you with this limited edition collector's item! It is the beginning of a new era with Laura and the three Wacken live songs are very special to us. It was our first time playing there, so it was really moving and exceptional – which is why we had to put that magic on the Wings of Steel vinyl EP. Have fun listening and crank it up to 11!
The actual track 'Wings of Steel' is a heavy metal banger but you don't need us to tell you that. Galloping riffs, booming bass and drum hooks all while new vocalist Laura showcases her impressive vocal range. Able to soar like a bird while also delivering snarly barbs. The solo that comes near the end is high levels of quality.
It's really cool to hear just how Burning Witches sound live too especially at such a festival as Wacken. The crowd clearly super-hot for the band and the sound quality is proper on point. Three top drawer Burning Witches' tracks that shows the band are only growing in strength and we can continue to expect great things from them going forward.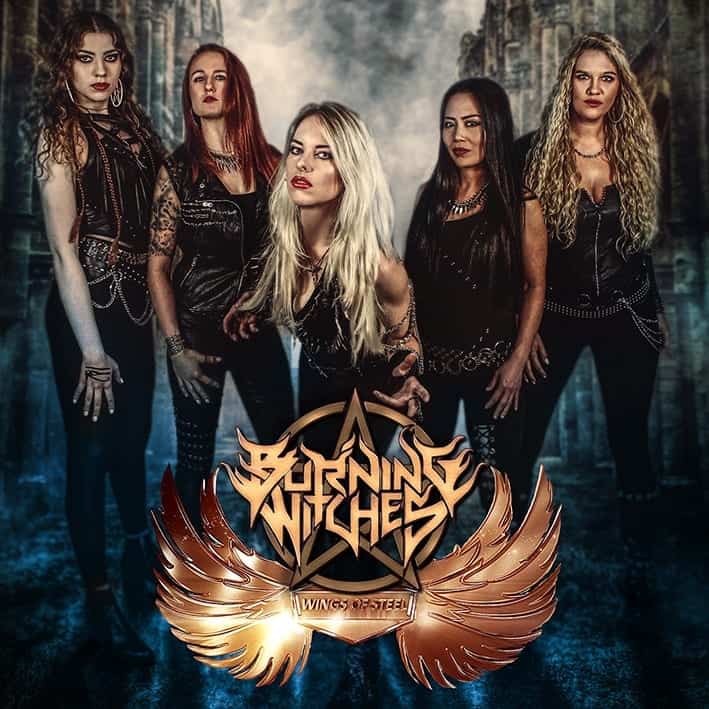 Burning Witches – Wings of Steel Full Track Listing:
1. Wings Of Steel
2. Executed (Live at Wacken 2019)
3. Open Your Mind (Live at Wacken 2019)
4. Hexenhammer (Live at Wacken 2019)
Links
Burning Witches - Wings of Steel (Nuclear Blast)
The Final Score -

9/10