Bloodstock 2019 – Band Feature/Interview: Master's Call
Bloodstock Open Air 2019 is nearly upon us and to say we're excited is an understatement. We adore the festival and this year's line-up is simply phenomenal. From the Ronnie James Dio Main Stage to the Sophie Lancaster Stage to the New Blood and Jägermeister Stages, there is something for everyone! Not got your tickets yet!? What are you waiting for!? Head over to the Bloodstock Festival website here and join thousands of like-minded head-bangers for a weekend of quality rock and metal.
A new dark force of the UK underground- originally conceived in The Black Country in 2014 as a project between guitarists John Wilcox and Dave Powell but became a complete band in 2016.
All band members are experienced live musicians in the UK extreme metal scene, which their debut show demonstrated in 2017, as off the back of this were invited to join the Beermageddon Metal Festival 2017 line-up. Further invites followed including a slot on Hard Rock Hell in 2018 and a slot at Incineration Festival 2019.
Released in January 2019, Master's Call debut EP entitled 'Morbid Black Trinity' was well received picking up many positive reviews in worldwide webzines and magazines. We really liked it and you can read our review here.
Conjured from unholy darkness, Master's Call walk forth through the flames beyond the gates, never to return……..
They will be playing the New Blood Stage on Saturday the 10th August 2019.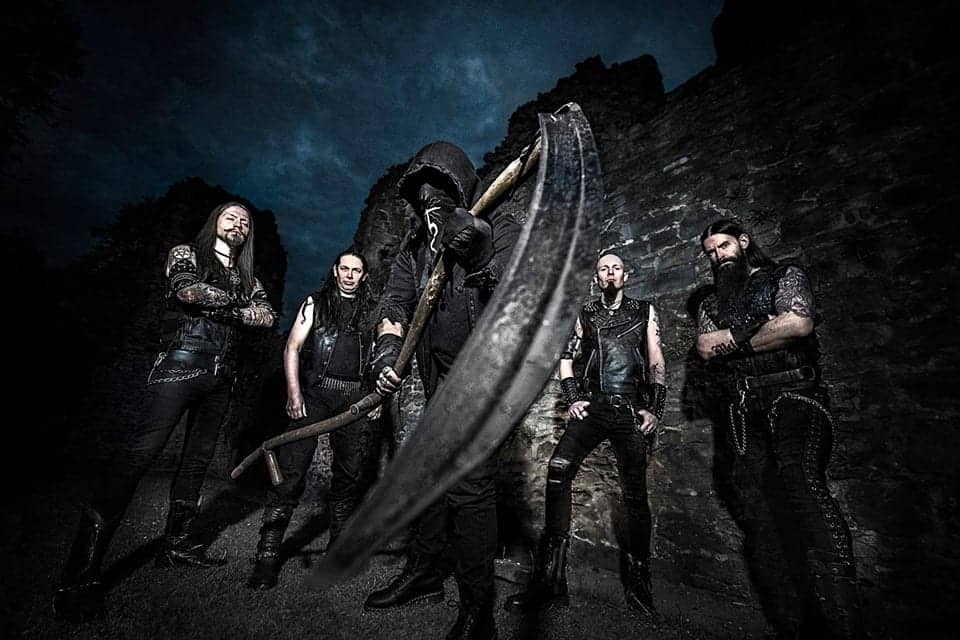 Interview
1. Hello Master's Call! Congratulations on getting on the bill of Bloodstock 2019. How are you feeling about playing such an important UK festival?
It's certainly an honour and we are excited to bring the fire! We were chosen to play off the back of our EP submission rather than via live performance competition; that actually speaks volumes to us, because we actually put a lot of focus into our live performance and delivery- so to get the slot without that element makes us all the more proud of our music!
2. Have you ever been to the festival before?
Yes we've been on multiple occasions over the years individually, but we all attended last year. Judas Priest, Watain, Emperor, Cannibal Corpse- some important and influential bands to us played in 2018, so it had to be done!
3. You're closing out the New Blood Stage on Saturday. What can Bloodstockers expect from your set?
If you know our debut EP you'll know most of our set, but either way you'll see an aesthetic blackened death metal band playing like they mean it with some stage flare to boot. If you are into your heavy extreme metal it'll surely be worth checking us out.
4. Are you there all weekend? If so who are you most looking forward to checking out yourself?
We will likely be there most of the weekend for sure. We are probably most looking forward to Cradle Of Filth, Dimmu Borgir and Taake as they have been major influencers to us or partly responsible for some of us even discovering black metal in the first place. But we're also down for some Rotting Christ, Aborted and of course, the Priest legend that is K.K. Downing joining Ross The Boss!
5. It really feels like 2019 has been a big year for you. The release of Morbid Black Trinity, Incineration Fest and now Bloodstock. Have you been enjoying the ride?
Considering we only have a 3 track EP under our belt, we certainly feel like we've gotten some mileage out of it! We're always working hard behind the scenes and pushing ourselves, so it's great when it pays off.
6. What does the rest of 2019 look like for Master's Call? Any new music in the works?
We have a couple of shows in place and we are writing the follow up album to Morbid Black Trinity which we are aiming to release in the first half of 2020.
Links
Bandcamp | Spotify | Google Play | Deezer| Website | Facebook | Instagram | Twitter | YouTube | Bloodstock Open Air