Bloodstock 2019 – Band Feature/Interview: Jailbirds
Bloodstock Open Air 2019 is nearly upon us and to say we're excited is an understatement. We adore the festival and this year's line-up is simply phenomenal. From the Ronnie James Dio Main Stage to the Sophie Lancaster Stage to the New Blood and Jägermeister Stages, there is something for everyone! Not got your tickets yet!? What are you waiting for!? Head over to the Bloodstock Festival website here and join thousands of like-minded head-bangers for a weekend of quality rock and metal.
Jailbirds are an Australian/Irish hard rock band based in Dublin, Ireland.
The band is composed of four members, Axel McDonald, lead vocals and lead guitar, his brother Jay McDonald on drums, both of whom are the founding members originating from Sydney, Australia. Completing the raw and powerhouse sound of Jailbirds are Irish rhythm guitarist Ed Orr and bass player Jamie Trimble.
The band produce a unique, dynamic, energetic and explosive sound defining a new generation of hard rock thanks to a healthy appetite of Australian powerhouse rock bands such as AC/DC, Airbourne, Rose Tattoo and legendary Irish rockers, Thin Lizzy. Their high-energy live shows are a testament to the bands growing reputation and intend to leave no stone unturned when it comes to giving 100% in just about everything they do.
They released their new album 'The Great Escape' on 5th July 2019 via Golden Robot Records. You can read our review here.
They will be playing the Jägermeister Stage on Sunday the 11th August 2019.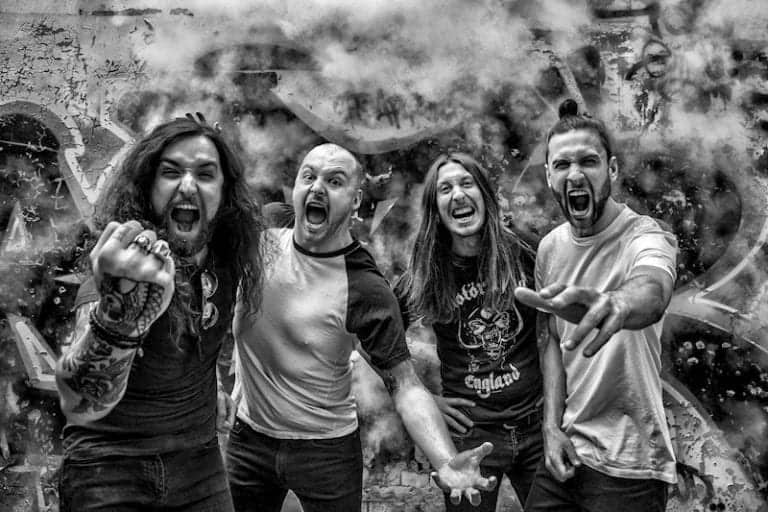 Interview
All questions have been answered by our Rhythm Guitarist, Ed!
1. Hello Jailbirds! Congratulations on getting on the bill of Bloodstock 2019. How are you feeling about playing such an important UK festival?
Thanks very much Carl! We're stoked to be taking part in the Bloodstock festival this year, most of the bands that we love have taken part in it at one point or another, and we've been following the festival since the band's founding and before, so it's a huge honour to be asked to be on the bill!
2. Have you ever been to the festival before?
None of us have ever attended the Bloodstock Festival before, however, I personally have been in a few bands taking part in the Metal 2 the Masses competition in Dublin, so have known about the festival for a few years. There have been some amazing line-ups in recent years, so to be asked to play as a part of this year's line-up is a serious privilege! And of course we'll get to spend some time taking in the atmosphere and enjoying the other bands; we can't wait!!
3. Considering Bloodstock is better known for hosting the more 'extreme' side of music, you stand out with our hard rocking sound. Does that excite or intimidate you?
I don't think any of us feel intimidated by the contrast we're trying to bring to the table! If anything, I was in heavier bands for years, and the guys are metal fans too. We feel that our appreciation of heavy music really helps us to bring a show that everyone can enjoy; whether you're a fan of Slayer or Ed Sheeran! At the end of the day, we want to have a good time, and for everyone to have a good time with us!
4. You're on the Jagermeister Stage on Sunday. What can Bloodstockers expect from your set?
We always bring a good show. Anyone who likes sing-alongs and having a beer can take part. If you like just listening to the music at the back, or jumping headfirst into the pit, that's all cool too! There's something for everyone at a Jailbirds show, so whether you're a fan or you've never heard us, you're always welcome. To sum up; Lots of lights, lots of noise, and f*ckloads of fun!!
5. Are you there all weekend? If so who are you most looking forward to checking out yourself?
Yes indeed, we're gonna stick around! I can't speak for the others, although I can guarantee that we'll be going to check out another Golden Robot band, The Lazys, who are also playing on Sunday! Other than that I'd really love to catch Children of Bodom, Parkway Drive, Thy Art is Murder and, of course, the Scorpions!!
6. The timing is great as you have just released your new album, The Great Escape! It's a banger in our opinion. How have you found the reception to it so far?
We're really proud of what we've released for our first record! We are, of course, still a very small fish in a massive ocean, so a slow burn is to be expected. But it doesn't dampen the passion we have for playing music together, and hopefully someday, Jailbirds will become a household name! The only way to do that is to keep grabbing amazing opportunities like Bloodstock by the balls and bringing our music to the people. We love Rock n' Roll, and we hope that other people will love our take on Rock n' Roll too.
Links
Shop | Spotify | iTunes | Soundcloud | Facebook | Instagram | Twitter | Bloodstock Open Air