Bloodstock 2019 – Band Feature/Interview: Grief Ritual
Bloodstock Open Air 2019 is nearly upon us and to say we're excited is an understatement. We adore the festival and this year's line-up is simply phenomenal. From the Ronnie James Dio Main Stage to the Sophie Lancaster Stage to the New Blood and Jägermeister Stages, there is something for everyone! Not got your tickets yet!? What are you waiting for!? Head over to the Bloodstock Festival website here and join thousands of like-minded head-bangers for a weekend of quality rock and metal.
Grief Ritual are a blackened hardcore / post-metal band, from the South West, UK, that combine elements of heavy hardcore, black metal, post-metal and grindcore to create a raw abrasive sound that can shift from the crushingly heavy to bleak ethereal funeral drone inside the space of one song.
Formed in late 2018, their debut EP 'Life is a Phase' followed in December of that year and was described as "five tracks of truly brutal hardcore that veers into sonically unique territory without losing any of its impact", by Caleb Newton of Captured Howls Zine / New Noise Magazine and "An amazing debut that is aggressive, unique and has a great mix of black metal and hardcore/grindcore", by Gerard McElwee of blackmammoth666.blogspot.com. Cardiff-based DIY label FHED then re-released this on cassette tape in March 2019.
They have gigged extensively since then; playing with bands such as Ascaris, Engorgement, Climate of Fear, Road Mutant, Revolve, Monolithian, Lotus Eater and Ithaca, and drawn praise for their crushing live shows.
Their second EP 'Moments of Suffering' was recorded by Joe Clayton (Pijn / Leeched / Curse These Metal Hands) at No Studio, Manchester, in the summer of 2019 and is set for release before the end of the current year.
In the two weeks before Bloodstock they also have support slots playing on shows with the amazing Watchcries, Black Tongue, Back Down and Axis of Despair.

They took part in the Cheltenham leg of the Bloodstock Metal 2 The Masses events seeing off fierce competition to emerge as winners and earn their place at Bloodstock 2019.
They will be playing the New Blood Stage.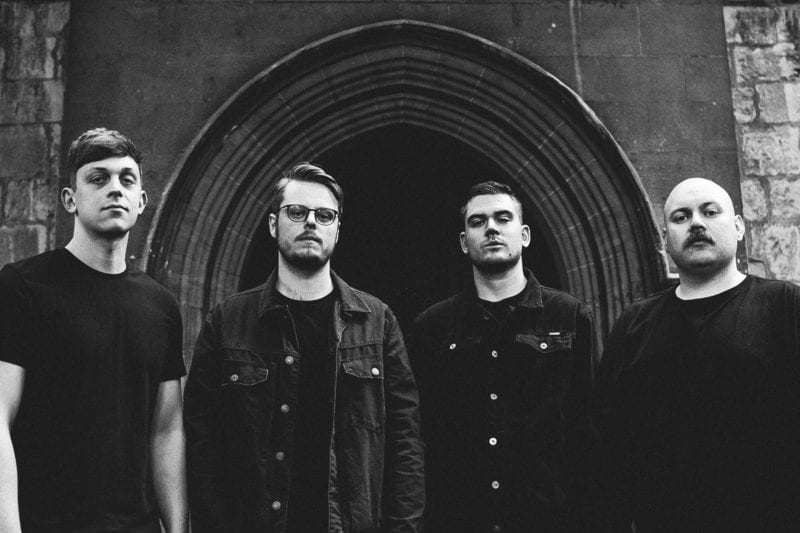 Interview
1. Congratulations on winning the Cheltenham leg of the M2TM and earning your slot on the Bloodstock New Blood Stage. What made you decide to take part?
Bloodstock is a world renowned festival that's hosted so many bands we really enjoy and admire over the years so the chance to earn the opportunity to play was a chance we didn't think we could pass up. Being such a relatively new band and having the opportunity to play to a new audience and alongside new bands is also great for us. The Frog & Fiddle, where both our heat and final were held, is also a great Cheltenham venue with a solid scene and all the staff, especially Olly Roylance, the promoter there, put in a great deal of hard work so it's fantastic to see Bloodstock M2TM coming to our hometown and thriving.
2. What were some of the highlights of your competition run?
The final itself. The Frog was heaving, every band involved absolutely slayed, and the crowd really went off to us which made our set all the more exciting. It's amazing to see friends and strangers enjoying the music as much as we enjoy playing it. It couldn't have gone any better.
3. Describe the feeling if you can upon hearing your name read out as the winners?
Amazing. I think all four of us are still in shock. One of us also won part of the raffle so essentially we've done the Bloodstock Double.
4. How big of an opportunity is playing the New Blood Stage for Grief Ritual? We've seen some bands really grow from it over the years!
It's almost un-quantifiable. This will be by far the biggest show we have ever played to date and we're really looking forward to it. When you look at some of the bands who have appeared on the stage before such as Conjurer and Hexis and where they are now it's incredible. If you'd have told us when we started the band that little over a year later we'd be set to appear on the New Blood Stage we'd have laughed it off as incredulous.
5. What can Bloodstockers expect from you come festival time? Why should they come see you?
We feel that we've got a sound that's got something for everyone who enjoys their music on the heavy side. You've got crushing heaviness that you'd usually find within the heavier hardcore and metalcore scene, mixed together with ethereally grim post-metal parts plus a bit of black metal and savage grindcore thrown in. You'll probably like us if you're into bands like Conjurer, Cult Leader, Harms Way and Leeched. We're super loud, crushingly heavy and high energy. We can't wait to play.
6. Are you regular attendees to the festival or will this be your first time?
This will be all of our first times but hopefully not the last.
7. Are you hanging about all weekend? If so who are you most looking forward to seeing?
We'll be there from the Thursday onward and are really looking forward to soaking up the atmosphere. We're most looking forward to seeing Parkway Drive, Cradle of Filth, Children of Bodom, Raging Speedhorn, Tesseract and our friends in The Hope Burden, who are also playing the New Blood Stage this year.
8. What does the rest of 2019 look like for Grief Ritual? Shows? Releases?
Following on from Bloodstock we have a show in Sheffield supporting Kingpin and Inhuman Human and then we're going out on a weekender in September with our friends Heriot (who have also appeared on the New Blood stage in the past – with The Hope Burden also appearing on our Oxford date) which has been set up by our good friend Josh White at Bandit Music. From then we've a show in early October with Rot In Hell and Instruments of Torture in Cardiff. All details of which can be found on our Facebook and other social media accounts.
We'll also be releasing our second EP which is titled "Moments of Suffering" at some stage before the end of the year, which was recorded by Joe Clayton (Pijn / Leeched / Curse These Metal Hands) at No Studio in Manchester, and we're very excited to get this out and show everyone what we've been working on for the past six months.
Next March we'll also be appearing at Dreadfest in Leeds and hope to pack in a few more shows between now and then.
Upcoming Shows (July – October)
22/07 – THE OLD ENGLAND – BRISTOL
(w/ Watchcries and Gay Panic Defence)
26/07 – THE RED LION – STEVENAGE
(w/ Back Down, Who Cares?, Do One and Chinned)
27/07 – CENTRALA SPACE – BIRMINGHAM
(w/ Expetya and Harmfool)
28/07 – THE OLD ENGLAND – BRISTOL
(w/ Axis of Despair, Human Cull, Atomçk, Skullfucked, Black Skies Burn and Voltane)
01/08 – THE EXCHANGE – BRISTOL
(w/ Black Tongue, Upon Those Dying, Ursus and Drifted)
10/08 – BLOODSTOCK NEW BLOOD STAGE – DERBYSHIRE
15/08 – THE MULBERRY BAR – BRISTOL
(w/ Kingpin, Inhuman Nature, Grave, Old Wharf, Greed)
06/09 – LE PUB – NEWPORT
(w/ Heriot)
07/09 – SUBURBIA – SOUTHAMPTON
(w/ Heriot)
08/09 – THE BULLINGDON – OXFORD
(w/ Heriot, The Hope Burden)
04/10 – THE MOON – CARDIFF
(w/ Rot in Hell, Instruments of Torture, Positive Reaction)
Links
Bandcamp | Spotify | Facebook | Instagram | Twitter | YouTube | Bloodstock Open Air