Band Interview: Truth & Tragedy
Games, Brrraaains & A Head-Banging Life are pleased to bring you an interview with post-hardcore band, Truth & Tragedy.
1. How did you get started as a band?
Truth & Tragedy actually started out as a duo between Aaron (vocals) and Freddy (guitar), when Covid restrictions meant we couldn't meet up with our previous band. We started Truth & Tragedy as a side project, but as it gained more momentum and the world started opening up again for live shows, we were joined by brilliant musicians Kai (guitar), Vitali (bass) and Domi (drums) – and that makes us the 5-piece band we are today!
2. How would you describe your sound?
Raw, impactful and loud! We define ourselves as a post-hardcore band, but we also dabble in a lot of alternative genres including metalcore, pop-punk and hard rock, and you can definitely hear these influences in some of our tracks.
3. What bands/artists would you say have influenced your style of music?
People often liken us to bands such as Being As An Ocean, Casey and To Kill Achilles, and these amazing bands have definitely influenced us in our music! But we also take inspiration from some less conventional genres in our music and lyrics, including hip hop, jazz and country and western.
4. Has the rise of YouTube and music streaming helped or hindered you as a band?
That's a really interesting question! Of course, you can't deny the huge advantages these platforms give you in being able to distribute your music all over the world in just a couple of clicks. But at the same time, you're also essentially giving these massive platforms your work for (practically) free, for them to make a profit on. As with everything, the pros come with the cons – these platforms definitely make it easier for DIY musicians to gain exposure, but as with anything, it comes at a cost.
5. What do you enjoy doing when you're not making music?
Usual human things! (We try to blend in.) But generally enjoying time with family and friends, drinking beers and spending too much money on tattoos.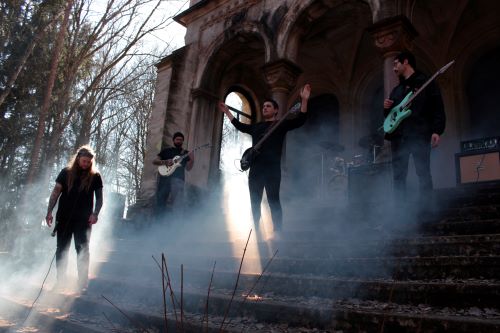 6. What are your future plans musically? Tour?
2022 is actually a really exciting year for Truth & Tragedy! Our new EP 'Blood on Blood' is was released on May 24th, and is available in all the usual spots – we have a boatload of festivals and shows coming up, including the infamous 'First Act Night' newcomer festival at Stattbahnhof Schweinfurt and Wacken Foundations 'Rock Das Ding'! Then in September, we are piling into an RV and touring Central and Eastern Europe, where we'll be playing in all sorts of amazing places in Czech Republic, Hungary, Romania, Croatia and Austria, to name a few!
If you'd like to catch us for a show, or just want to check out our music, videos and merch, you can find it all on the links below. And thanks, as always, for your support!
Much love, T&T.
Links
Website | Spotify | Instagram | Facebook | YouTube | Soundcloud