Band Interview: Truth Decayed
South African Thrashers Truth Decayed has been hard at work and recently unleashed 'Faded Visions I' (the first of a two-part release set for 2022). 'Faded Visions I' delivers 5 potent tracks (inclusive of their latest singles 'PTSD' and 'Faded Visions'), mixed & mastered by Kris Xenopoulos (Ormsby Guitars, Vulvodynia, Technopath & Xavleg). Truth Decayed is primed and ready to take things to a blistering next level, so watch out world!
We had an opportunity to speak to founder, vocalist, and guitarist Ryno Theron about Truth Decayed and more …
As a Metal band from South Africa, please share some key insights about your scene and notable styles, festivals, and artists.
When I (Ryno) was much younger, and just being introduced to the Metal scene here in South Africa, the thought of international success, or any success beyond it being a hobby was unfathomable. Although, as I got deeper in the scene, and started performing myself, I realised we had strong and influential bands such as Groinchurn and Agro breaking boundaries in a number of ways. A big eye opener for me was learning that Agro had performed at the famous Wacken Open Air Festival. Over the years more breakthroughs happened with Seether attaining massive international success and forming a solid career in the music industry. At this point anything seemed possible, the world has seen what heavy music in South Africa is capable of. And over the years there were more breakthroughs with Deity's Muse performing at Bloodstock Festival, and the massive success of Vulvodynia. Who would ever imagine a Brutal Death Metal band, from South Africa could achieve what they have, whether it be touring the world, having a giant and devoted international fanbase, and even making a top ten list in Revolver Magazine, alongside prominent bands such as Lorna Shore and Whitechapel, amongst others? We ourselves were even featured in the mighty Metal Hammer Magazine, with a positive review for our "Modern Day Illusion" EP. Followed by our friends from Riddlebreak who received an even stronger review. The future for South African Metal is looking great, and not just for more commercially viable option, but for heavier bands that have become the foremost popular attractions in our scene.
Who is who? Please take us though your members and their contribution to Truth Decayed.
A: Ryno Theron is our vocalist and guitarist. Warren Jones is on guitar too, and Johan Maree on bass. And our newest member is Daniel Philogene on drums. Ryno and Warren are old friends, and co-founders of Truth Decayed. Johan has been in the group from the start, and as someone new to the Metal scene, especially in the initial formation of the band, he brought a very fresh and excitable energy with him to the band. Daniel is a seasoned drummer who has been a great fit so far and has brought exciting heavy elements to the band's sound. Warren and Ryno are the primary songwriters, although Johan has become more involved in this process with the new material. And Daniel being a professional videographer also brings many new options to our visual creativity too.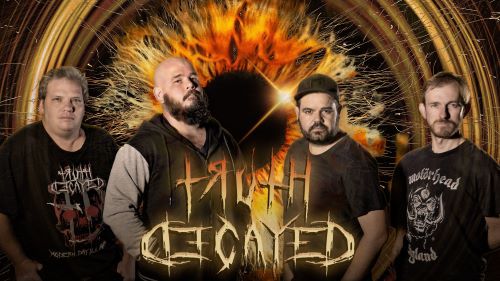 What elements of your sound have you taken from the classic Thrash Generation, and where do you bring something novel in The New Wave of Thrash Metal?
On the classic side of Thrash Metal, we draw a strong influence from Slayer, especially with Warren's riffs. We also draw strong influences from old school Metallica, and lead guitar/solo wise from Megadeth. Faded Visions 1 however has made a shift away from Classic Thrash in many respects, especially in that some elements of the songs are much heavier, with nice and meaty breakdowns appearing in two of the songs. And vocally, Ryno certainly pulled some inspiration from acts like Lorna Shore, and tried to apply it with his vocal style and capabilities.
Having formed during the beginning stages of lockdown in early 2020, has this dire pandemic state of the world primarily shaped and driven your style and lyrical nitrative, described by yourselves as "stark commentary on the state of the modern world"? What else helped shape your current sound and offering?
The pandemic, and all that came with it played a huge part in our sound and voice early on, and very clearly on our debut EP "Modern Day Illusion". It was all written more from a commentary point of view, as opposed to directly telling, or suggesting how the listener should feel. With Faded Visions Part 1, we have taken a broader angle with regards to human psychology, around issues such as the pandemic, but even that of war, or abuse and any other traumatic events. PTSD, our first single off the album is a good example of that. And we were completely humbled, and honoured with how so many of our fans, and even new fans connected with our take on this difficult and crushing existence that PTSD Survivors live with daily.
As a 'lockdown band', how have you been able to deliver your music to fans direct, and what role has live streams played the past 2 years?
We have been very fortunate through social media, and the internet in general to be able to reach out to Metal lovers around the world. From early on we drew a lot of international attention and developed wonderful friendships with our fans and many media sites/people that have supported our music. This also created the opportunity for us to perform on a good number of internationally based online streams and share line-ups with high-profile legendary bands like Venom Inc. and Rotting Christ at the World Of Metal Online Festival in 2021. Courier companies also made it possible for us to send merch to fans both locally, and around the world. Thank goodness as restrictions have eased around the world, and within South Africa, we finally got to perform several real-life gigs, including a headlining mini tour in the Gauteng Province.
How did you manage to get to work with Ormsby Guitars Kris Xenopoulos, known for his adept involvement in Slam Bands like Vulvodynia, Technopath and Xavleg? We understand he also adds additional drums on some tracks?
We were busy with the process of tracking for the album and reached a point of completion for our first single for the album. But we realised through listening back to it and sharing it with some trusted colleagues that although the song felt solid, the mix, and sound quality was lacking. So, we made what we feel now was the wise decision to reach out to a skilled producer to help us out in this area. After considering some talented professionals within South Africa, Kris' name was prominent. He has done amazing things with Vulvodynia as a guitarist and having produced their latest offering. Right off the bat we knew we had made the correct decision, and he got us to track completely from scratch, and pushed us to get each take as tight and solid as possible. He brought an intense sense of professionalism to the process, and a warm, engaging, and accommodating presence with him. Also, at this time we had lost our drummer, and while arranging a replacement, Kris was more than happy to use his multi-instrumental abilities to track drums for two songs on the album to keep the progress going strong.
What graft has it taken to date to get your material out, and yourselves heard coming from South Africa?
We were fortunate to have David Devo Oosthuizen from Devographic Music Agency in our corner from the inception of the band. Ryno was already using his services for his solo music, and through those amazing results it was a no brainer to have him involved in Truth Decayed too. So, with this relationship we had the opportunity to get our music out as far and wide as possible, and to audiences from many different parts of the world. This was an important opportunity indeed, especially during the periods of the harsh lockdown restrictions.
What motivated releasing Faded Visions in two parts, and how will these parts relate to each other (what commonalities will they share)?
I think the biggest idea behind it was trying to bridge the release of music as we know it (through our age and generation) as a full album, and the modern approach many artists now take in the form of numerous EP's, or a string of singles releases and so on. So basically, we are releasing half of the album in April, and this gives people a chance to really embrace and connect with those songs. Then by releasing the second half later in the year it will hopefully have the same effect, and we don't have any songs falling behind as fillers essentially. As far as commonalities go, the topical content and even the sound, and new influences we have brought in will be interwoven between the two parts.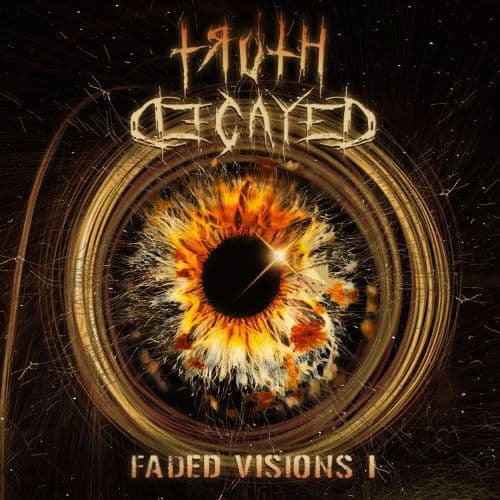 What can fans look forward to insofar as your launch campaign for 'Faded Visions I', and what do your plans look like for the Truth Decayed into 2022 and beyond?
We have a big media campaign ahead, and we plan to get the album out as far and wide as possible both locally and internationally. We also have a very good relationship with our fans and are known to engage with them personally, and always acknowledge them. As far as plans for 2022, first step would be releasing Faded Visions 1, touring, and performing to promote it as much as possible, then release part 2, and repeat. Other goals are to hopefully perform outside of South Africa soon, and get out to the international audiences in person, so funds permitting that is a big goal for us too.
Thank you for your time and we wish you all the best with 'Faded Visions I'.
Truth Decayed hail from Durban, South Africa, and started during lockdown early 2020. The quartet combines the talents of seasoned musicians from varied bands craftily collected by founders and long-time friends Warren Jones and Ryno Theron. Mere weeks from formation, the band unleashed their debut single 'Modern Day Illusion' that earned them a top position on France The Planet's 'Metal Madness Week Competition' on BurgStudio. This was closely followed by winning the Battle of the Bands with 'The Metal Lab UK'. Their debut EP 'Modern Day Illusion' and Music Video for 'Opposing Direction' soon followed and received critical acclaim from numerous renowned global media channels, with positive reviews in magazines like Metal Hammer.
During 2021 Truth Decayed proudly represented South Africa on the global stage on international Online Festivals like SUBGB Festival de Música (Colombia), Heresy Fest (Argentina), Caio Indica Fest (Brazil), Larva Fest (Peru), La Ley del Rock (Argentina & Italy), Music Entropia (Greece), as well as the World Of Metal Online Festival (Portugal) where they opened for icons Venom, Rotting Christ, Anvil and Iron Saviour. Truth Decayed also enjoyed frequent Radio play from notable stations like Wacken Radio, and their track 'Opposing Direction' featured on the Greece Compilation 'In The Sign Of Chaos Vol 3' and 'PTSD' on the US Compilation 'Rage Against Cancer' from Malevolence Records. Their latest single 'Faded Visions' had its Music Video Premiere with HEAVY Magazine in Australia (and Truth Decayed also feature on the cover of the latest Magazine Edition). The full 'Faded Visions I' had its Exclusive Worldwide Premiere with Metal Injection.
Truth Decayed is primed and ready to take things to a blistering next level, so watch out world!
Links
Link Tree | Bandcamp | Spotify | Facebook | Instagram | YouTube