Band Interview – Herida (Metal 2 the Masses Essex 2019)
Hard rock/heavy metal band, Herida, will play in Heat Two of Metal 2 the Masses Essex 2019. They face off against Coda, Of Our Design, Seawolves and Killerkorp on the 1st of February. The event takes place at The Soundhouse which is at The Bull, Colchester, CO3 3ES.
Each band will be giving their all to try to progress in the competition where the winner receives an amazing opportunity. A much coveted slot playing on the New Blood Stage at Bloodstock Festival, 2019. GBHBL are pleased to bring you
a short interview with Herida to help introduce them to the metal masses.
Have a read, enjoy and make sure you get down to The Soundhouse on the 1st of February to give them some support.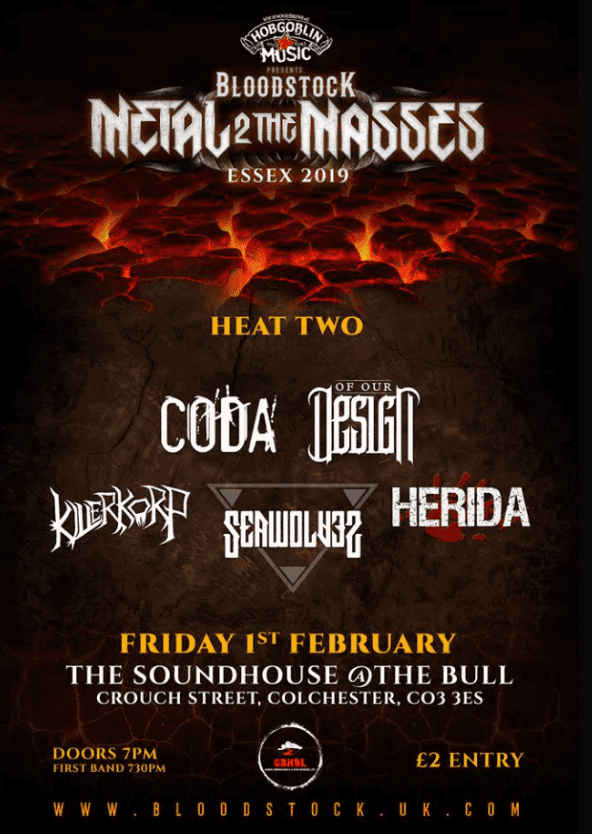 1. Why Herida? Where did the name come from?
Well, we wanted something that wasn't long winded. We wrote a list of names that were just a word like you'd get with The Cult or Clash, you know? Just more of stab and to give it a twist I thought of having it in Spanish. Herida means wound or injury. Google images and you'll get the idea.
2. Tell us a little about Herida. How long have you been playing together? Who is in the band? Where are you from? How did you meet?
Our first gig was at the tail end of '09. We've got Adam on bass, Colin on drums and myself. We're all based in south east Essex. We'd come together because my previous band had kinda imploded. The drummer disappeared and we knew Col through our bassist. We got him in as we had a few commitments and he just stayed. Then the bassist left and we met Adam. Turned out I used to lodge a room from his elder brother about 10/15 years before so I'd already met him at some point in the past. After a couple of gigs the singer disappeared into ether and we decided to carry on. changed the name, wrote new material and I got behind the mike as well.
3. What artists, metal or otherwise, have influenced you and your sound?
I think the one that overlaps the three of us is Pantera. Ad really goes for Korn and Tool. Colin's drum teacher is a Buddy Rich freak so he has a lot of big band in his background and loves Faith No More where I was brought up on gospel, jazz and blues. Allman Brothers, Paco de Lucia. That kinda thing.
4. With so many genres and sub genres around these days, what genre would you put yourself in?
That'll have to be "Miscellaneous " Haha
5. What will you bring to the Metal to the Masses heats? What can music lovers expect and how are you going to win their support on the night?
Just a kinda old school power trio vibe really and I think the way to be, hopefully, is to be honest in what you do.
6. Any horror fans in the band? What are some of your favourite horror movies or books?
No, not really. I've read a couple of Steven King's but not for a long time.
7. How about games? What's your console or game of choice?
I personally don't game but Colin's a 360 boy and Adam's wedding was based on Zelda, hahaha.
8. Have you been to Bloodstock Festival before?
Pretty sure Ad has but otherwise, no.
9. If yes, what is it you love most about the festival?
Knowing Ad it was booze and hot pants.
10. Where can fans check out your music, merch and find out more about you?
Check our facebook that's on the /heridaband
We're finishing off our album in the next month or so, so there's a release coming up. We took two years out so want to get 2019 into gear, Obviously there will be new stuff going up, merch etc around the same time.
GBHBL would like to thank Herida for taking the time to answer these questions and we wish them all the best in their heat at Metal 2 the Masses Essex. Find out more about Herida at their Facebook page and on Twitter. Check out some of their music on Spotify here.
Importantly, get yourself down to the venue on the 1st of February and throw them some support.