It's been a long wait but Badgerfest 2021 is now in the rear view mirror. A massive weekend festival featuring the best and brightest of the UK underground rock and metal scene. If you needed any more convincing that the future of our scene is in good hands, Badgerfest 2021 did that. Even more so, on a weekend when the rock and metal world got the spotlight shone on it in a negative way, this festival served to remind you that it can be one of the most welcoming and diverse out there.
Credit to the organisers, Badgerfest 2021 was an immaculately run festival with a lineup that would make any rock and metal fan proud. As a group of Londoners, travelling to the great city of Manchester to experience the festival for the first time, we can't express just how amazing it was.
We didn't see a bad band, we didn't even see an average one. Every single band we saw worked their asses off. They did themselves and Badgerfest 2021 proud. With that in mind, we're just going to talk about the bands in this review. Rather than score them, we'll give the festival an overall score at the end.
Friday
Badger and the Mushrooms
(Carl) A great way to get the festival started, Badger and the Mushrooms (a super group featuring the talents of local rock and metal bands) hit the hungry crowd with a handful of covers that range from classics (Ozzy Osbourne's Crazy Train and Dio's Holy Diver) to more modern club hits (Disturbed's Down With the Sickness). Everyone's having fun and the sea of badger masks tells you all you need to know about the love and respect the man behind the drum kit has.
(Brendan) As festival openers, the intention was clearly to lift spirits and have fun. In that they certainly succeeded with an energetic covers set that got people smiling and moving.
Bruteallies
(Carl) The Bread Shed needs something truly brutal now and the thrash/death combo of Bruteallies delivers. One of the loudest bands of the weekend, ears were ringing after this band smashed the stage apart through the sheer force of their playing.
(Brendan) Kicking things off proper, Bruteallies, were probably the perfect band to get the crowd going with their energetic and heavy thrashy performance. As the beers started flowing, these guys got heads and bodies moving to make the festival really feel open.
Grief Ritual
(Carl) Taking the crown for the heaviest set of the weekend, Grief Ritual bring misery to Badgerfest. Glorious misery that you can't help but wallow in. This was one of my personal favourite shows of the weekend. Where 30 minutes genuinely flew by in a blur of crushing noise. Had they played double that, I'd still have been happy wallowing.
(Brendan) Seriously dark metal with crushing riffs, their name is very apt and descriptive to the darkness that washes over you coming from the stage. Crushing stuff.
Basement Torture Killings
(Carl) Finally! It only took a trip to Manchester to finally see this band and they did not disappoint. Ritual slaughter that is as captivating as it is horrifying, Basement Torture Killings bring death and grind to the Badgerfest stage. They arrive covered in blood and leave with even more. Brilliant, they leave you wanting so much more.
(Brendan) Bringing the horror, Basement Torture Killings are visually impressive and memorable but when the music starts, the combination of brutal metal alongside that imagery is disturbingly brilliant.
Agvirre
(Carl) A band I knew very little about, Agvirre deliver a stellar set of 'deconstructed' black metal. 30 minutes that fly in a memorable bout of pummelling heaviness.
(Brendan) What a treat this was. Agvirre were an unknown band to me but that was memorable. The whole set seemed so well thought out and so intelligently delivered it was impossible not to be on board.
Foetal Juice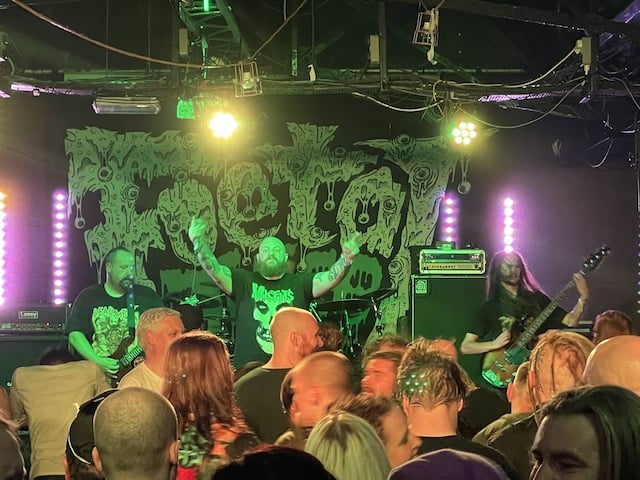 (Carl) It was only a few short months that my first experience of Foetal Juice came in the early morning of Bloodstock 2021. A fine set, I was more excited to see them here in the dark and smelly confines of the Bread Shed and they didn't disappoint. It's uncouth aggression that puts a smile on the face.
(Brendan) High energy of course, filthy raucous fun. Foetal Juice certainly deliver aggression and intensity though that's no surprise to anyone who knows them. It's chaos but chaos that makes you smile once you're caught up in the whirlwind.
Saturday
Recall the Remains
(Carl) I don't know what I expected but I know for sure that it wasn't this. Recall the Remains absolutely took the moment, clearing hangovers and getting a delicate crowd up and moving. A phenomenal show, the band's infectious show leaves everyone wanting more.
(Brendan) What a way to shake off the hangover of the previous day. Recall the Remains were energetic and genuinely looked delighted to be playing. There smiles were infectious and the music balanced nicely between crushing riffs and melody. Wonderful performance.
Ashen Reach
(Carl) I was glad for something with a rockier twist, although be under no illusion, Ashen Reach can be heavy when they want to be. It's the shit that gets the legs moving and the head-banging.
(Brendan) I really enjoyed Ashen Reach's energetic performance and rocking riffs. They looked like they were having a blast and the crowd were too. While often operating in the hard rock style, their sound is as heavy and as anyone playing and it is impossible not to bang your head and enjoy the performance. Excellent set.
The Injestor
(Carl) Needs must so I only caught around 15 minutes of The Injestor and they certainly take to the stage with aplomb. An incredibly watchable band, once that passes, you're left with the music and The Injestor have the tracks to back up their twisted circus looks.
(Brendan) While I didn't totally get how the masks and costumes linked in to the music, they were memorable and musically, the band put on a strong showing with some neat ideas and catchy riffs. They are an interesting band and theatrics are certainly a big part of modern music but it's the great tunes that make them one to watch for the future.
Callus
(Carl) Holy shit. By chance, the week leading up to this show, I had spent some serious time with Callus' new album, A Breath of Flesh Air and loved it. That meant, this was a must-see show for me and Callus absolutely smashed it. The new stuff sounds fantastic, it's the set I attribute to the current ringing in my ears.
(Brendan) Callus were one of the loudest bands to play so far, their doomier tones had the walls shaking and the floor vibrating. The slightly more melodic side of the band kept the sound interesting to those like me that aren't always 100% on board with the fuzzy sludge/doom. Very strong stuff.
Netherhall
(Brendan) Netherhall are fast cementing a reputation for consistent brilliance, especially in their live performances and this was another belter of a set. Seeing the smiles on all the faces around as Netherhall crush it was awesome and shows the impact they are having on the UK scene.
Ashen Crown
(Carl) Look, we're not alone in shouting about how good Ashen Crown are so if you're still not paying attention to them, I don't know what to say to you. Ashen Crown are tight as fuck on record but live might be where they deliver the true Ashen Crown experience. This is a band we look at and see future superstars written all over them and shows like this just confirm that.
(Brendan) Do Ashen Crown do bad sets? I have never seen one and thought they were immense here again. They are such a tight band, so heavy but with meaning and feeling. The band clearly love what they do and that spreads through a watching crowd too. Awesome, they absolutely smashed it again.
Ascaris
(Brendan) Other commitments meant I could only catch a track or two from Ascaris but based on what I heard, and how much I enjoyed the two tracks, well they did an awesome job. Brutally heavy yet modern sounding, they are a talented trio (well normally a trio).
Blood Oath
(Carl) A blistering and visceral showcase of their blackened death metal. For all their intensity, Blood Oath have a little bit of fun with this one too. All while delivering a professional and super-tight blast of heaviness.
Red Method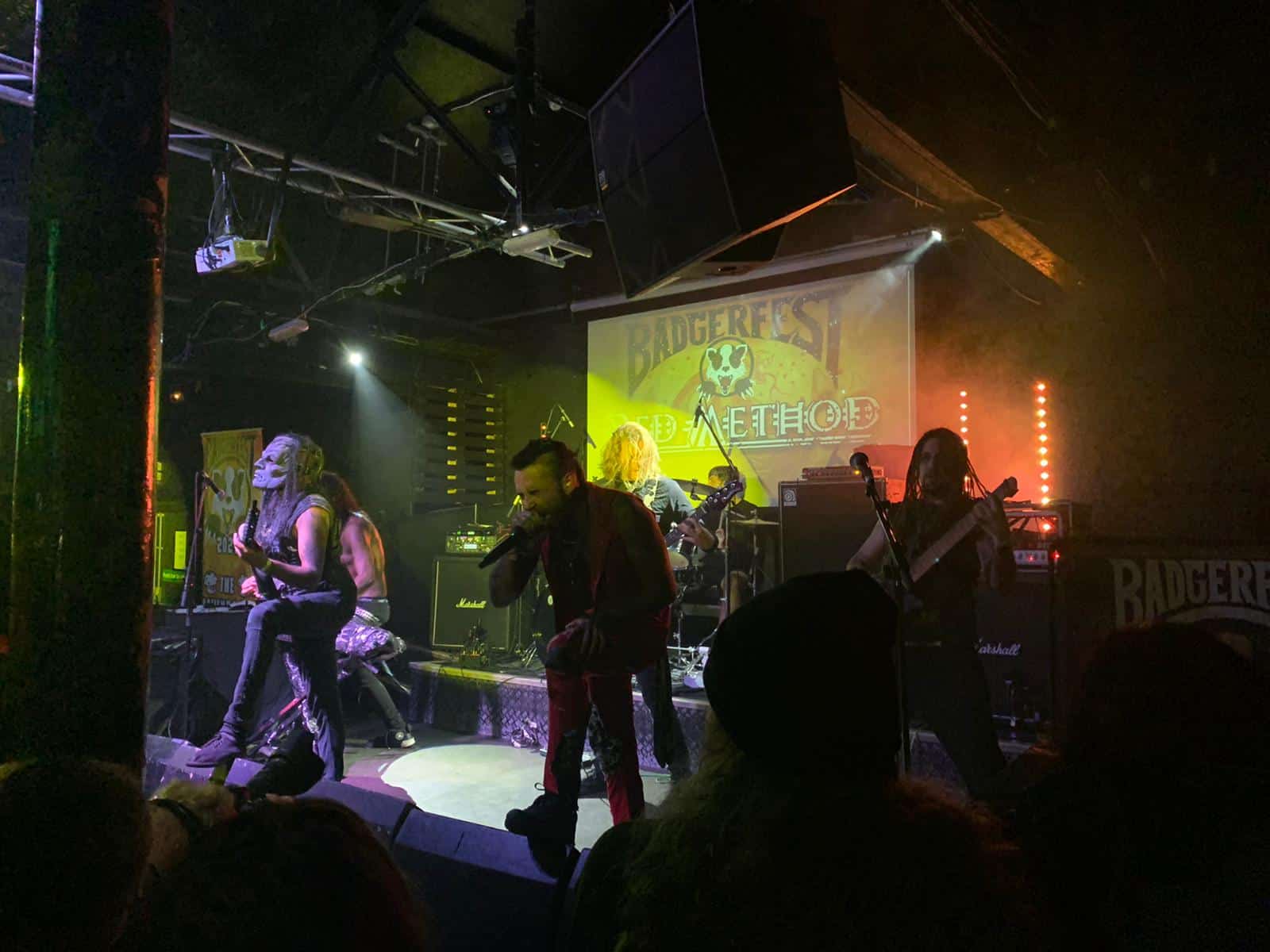 (Carl) I absolutely loved this. Although we're not ranking the bands we saw, if we were, Red Method would be near the top. The energy, the blend of meaningful melody and heaviness, I could watch and listen to this band for hours. One of the times where 30 minutes just didn't seem enough.
(Brendan) Red Method put on a memorable performance with their high energy music. The band hold the crowd in their hand as they get the pit started and bodies moving. Red Method seem to go from strength to strength with every performance and this was another strong one which appeared to really click with the watchers and listeners.
Krysthla
(Carl) Headlining positions means headlining shows and Krysthla proved without a shadow of a doubt that they deserve the position they have here. Musically tight, visually captivating and with a clear connection to the packed Bread Shed crowd.
(Brendan) Watching Krysthla perform, you would never believe they hadn't played in around 2 years. They were awesome, really bossing it and looking like headliners as they commanded proceedings with heavy riffs leading the way and a good connection with the watching crowd. Hopefully this first gig back will see them back as a regular at metal gigs and festivals all around the country.
Sunday
Tortured Demon
(Carl) We kind of saw/heard Tortured Demon at Bloodstock 2021 as no-one was getting near the stage once they started there. So, this was a chance for me to properly see them and man, they did not disappoint. In fact, I'd say they were better than I expected. I don't think I stopped head-banging throughout their 30 minute set.
(Brendan) Heavy thrash but that's only part of the picture, these guys have way more to their sound and their excellent set here showed that to all watchers. The reaction to them shows how well thought of they are and watching the passion they throw into their performance and the way they command audiences is just as impressive. These guys are a really exciting band.
Clashmute
(Carl) Loved it. A bouncy, heavy and energetic showcase from this band. I found reserves of energy I didn't know I had thanks to Clashmute.
(Brendan) I only caught the first half of Clashmute's set unfortunately but what I saw was high energy, enthusiastic metal with plenty of punchy riffs and melody. All stuff I love and the crowd seemed well invested in them too. Great job.
Beyond Grace
(Carl) Another banger set from Beyond Grace, their infectious blend of groovy death metal is the shit head-banging dreams are made of. I really enjoyed it.
(Brendan) Top quality death metal, Beyond Grace put on an excellent show. Super heavy but with plenty of groove too, they really impressed me and had me go from not knowing too much from them to me headbanging along lost in the music.
Vice
(Carl) Stuck between the excellent Beyond Grace and probably our most anticipated band of the weekend, Vice made sure they were not an afterthought. I found myself getting more and more invested and interested, note by note. By the end, I thought they had smashed it.
(Brendan) I didn't know much a huge amount about Vice but will put that right after really enjoying what I heard and saw from the trio. Plenty of meatiness to their music and I found myself headbanging along happily throughout their set.
Ghosts of Atlantis
(Carl) Another where 30 minutes just wasn't enough but what a 30-minutes it was. Ghosts of Atlantis are one of those bands that bring it regardless of if they're playing 60 minutes, 45 minutes or 30. You're going to get the full GOA experience and leave satisfied. I loved this and really want big things for them. With shows like this, it seems so obvious that we're looking at greatness.
(Brendan) Brilliant performance from Ghosts of Atlantis who offer something different on this weekend of quality metal. The symphonic elements, the combination of harsh and clean vocals, the huge choruses, fiery riffs – they seem to have it all and their enthusiasm on stage is infectious as well.
Harbinger
(Carl) A though task to refocus my mind but Harbinger do a fantastic job of drawing me into their heavy as fuck music.
(Brendan) Impressive stuff from the Londoners. Seriously heavy but there is more to them with plenty of melody and technical prowess on show. It was a strong performance from the band who seem to go from strength to strength with each release and performance.
Ramage Inc.
(Carl) Their blend of progressive and epic heaviness is the palette cleanser needed right about now. A band that I find myself transfixed by, I could stand and watch this band play for double the set and still wonder where the time went.
Raging Speedhorn
(Carl) There's probably no better band in the UK scene to close out a festival like this these days. Arguably playing the best music of their careers to date, Speedhorn do what Speedhorn do and cause some chaos. It's in your face, angry and intense which is exactly how the Bread Shed wanted it.
(Brendan) 3 days of music and it's getting late on a Sunday now, if there is one band out there you need to pick the crowd up and reenergise them one last time it's Raging Speedhorn. Speedhorn were excellent, really ramping the crowd up with a massive set full of attitude and heaviness. It just felt like the right ending to this immense showcase of sun of the cream of the UK scene.
Links
Badgerfest 2021
The Final Score -

10/10