Artist Interview: Scant Regard
Games, Brrraaains & A Head-Banging Life are pleased to bring you an interview with multi-talented artist, Scant Regard.
1. How did you get started as a band?
This is a solo one man band project which I started when I found myself band-less about 7 years ago. I always wanted to try something on my own without relying on anyone or anything else and once I got the ball rolling it all happened quite naturally.
The first gig I did was in LA to a "select" audience just to try it out and I enjoyed it so much I haven't stopped since. Now I juggle this with playing guitar with a few other bands such as Adam Ant's band and The Selecter.
2. How would you describe your sound?
It's a big mixture but the basis is heavy industrial beats mixed with surfy, twangy guitar. It can fire off in any direction from that blueprint. I try to veer away from the normal verse/chorus/verse idea of the traditional song and add new ideas. It started off quite instrumental but I'm now adding my vocals to the mix quite a bit.
3. What bands/artists would you say have influenced your style of music?
A lot of bands with came out of the early electronic scene like Depeche Mode, Fad Gadget and Cabaret Voltaire. I guess I have a lot of punk influences as well but mainly in the attitude department rather than the sound. I like a lot of horror and western soundtracks too and people like John Carpenter and Ennio Morricone are a big inspiration.
4. Has the rise of YouTube & music streaming helped or hindered you as a band?
I love the fact that I can release anything I want whenever I like and that just wasn't possible only 10 years ago. Every online avenue is a welcome promotional tool to me and I hope I make the best use of those tools in what I'm putting across. Having been through the whole record company experience with my old band Rachel Stamp and experienced first hand all the problems that can create I can really appreciate the freedom of today.
5. What do you enjoy doing when you're not making music?
I like designing artwork for promote the music! It all comes back to music I guess.
6. What are your future plans musically? Tours?
I just put out a cover version EP which is only available to download at Bandcamp and from my website. I'll be touring the US with The Selecter in November and slotting in a Scant Regard show on the 12th Nov at the brilliant Redwood Bar in downtown LA. Always working on the next release so that should be out in the new year after my London show on December 7th at the Hope and Anchor.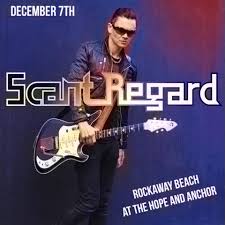 We'd like to thank Scant Regard for taking the time to speak with us. Find out more by checking out his website, Bandcamp, Twitter, Facebook, Instagram and YouTube.