Album Review: Witherfall – Curse of Autumn (Century Media Records)
Witherfall are unstoppable! The dark melodic heavy metal juggernaut from Los Angeles are blazing new trails and weaving new tales on spectacular new album, Curse of Autumn. It will be released on March 5th 2021.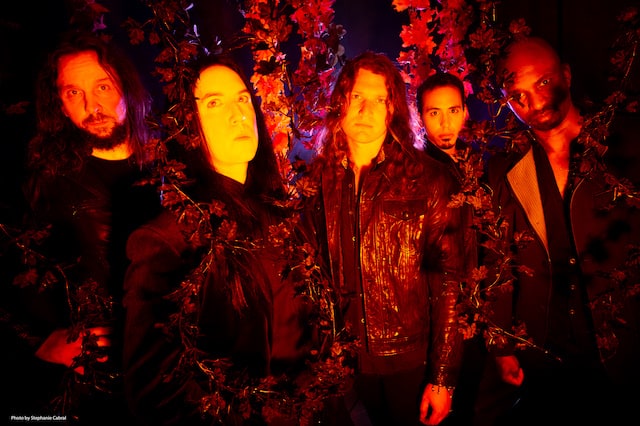 A short touch of folksy melody that kicks into a dark metal sound welcomes all to the Curse of Autumn before Witherfall then expertly transition into the first of their many epics. The Last Scar beginning with urgency, the racing and rollicking guitars alongside a frantic drum beat. Powerful and demanding vocals play off the tempo and it all culminates in a massive chorus that has a ton of singalong quality about it.
Suitably warmed up, As I Lie Awake is where the step really increases and Witherfall really start to lean into their larger than life reputation. An exciting slice of melodic metal with another chorus that just slays. Then Another Face is the first example of the band taking their foot off the gas momentarily for a more mournful melody. Then they bite and they bite hard, the fire bursting into life as though someone threw gasoline on it. The two contrasting styles doing harmonious battle. Epic.
Speaking of which… Tempest is Witherfall at their most elaborately detailed and most refined. Where the darkness seeps through, infecting the heavy end of their spectrum until it feels as though that's all that is left. Dark heavy metal that might not leave a good feeling in the pit of the stomach but more than delivers in head-banging intensity.
It's time for a breather with the title track. 90 seconds of mellow folk-like melody that is still pretty damn effective. The word is pretty. Which isn't something that can be applied to the frenzied instrumental noise monger that is The Unyielding Grip of Each Passing Day.
The vocals are back for another frantic effort in the form of The Other Side of Fear. An apt title as it takes on a rhythm akin to panic. As though desperation is setting in because something is chasing and should it catch, things won't go well.
Relax, take a breath and enjoy the comforting mellow combo of plucking guitar strings and sweet vocals that is the first half of The River. Of course, it has got a much meatier second half, dominated by a crushing guitar solo and soaring singing.
Which leads to the finale (sort of) and the gargantuan …And They All Blew Away. A 15+ minute effort that is Witherfall at their grandest, most lavish, most intensive and progressive, and most challenging. Perhaps a bit too much to take in at first, this is a track that requires multiple listens, so the many intricacies can be heard and appreciated. Even then, after many listens, there is still so much more to take away from it. Some, simply that it has got solid head-banging rhythm, and at times can be as attractive as it can be nasty.
It's the track that is going to cause the most discussion and dissection amongst Witherfall fans. Which does make the actual outro of an acoustic version of Boston's Long Time a bit of a comedown. Or at least it might have been had it not be such an excellently chilled out listen. Like the rubdown down after a hefty workout.
The crowning glory of Witherfall's career so far? It's hard to argue against that statement.
Witherfall – Curse of Autumn Full Track Listing:
1. Deliver Us Into The Arms Of Eternal Silence
2. The Last Scar
3. As I Lie Awake
4. Another Face
5. Tempest
6. Curse Of Autumn
7. The Unyielding Grip Of Each Passing Day
8. The Other Side Of Fear
9. The River
10. … And They All Blew Away
11. Long Time (Acoustic Version)
Links
Witherfall - Curse of Autumn (Century Media Records)
The Final Score -

9/10