Album Review: Vulvodynia – Praenuntius Infiniti (Unique Leader Records)
An unending sea of carnage, a God-turned-beast devouring everything within its path, an epic, sprawling tale of the consumption of galaxies and their inhabitants – and the duality of battling deities that takes place to bring the reign of Praenuntius to an end. What does this all mean? Simply put, it means Vulvodynia – South Africa's premium death metal export – are back with Praenuntius Infiniti, their fourth full-length release, set for release on the 17th of September 2021 via Unique Leader Records.
Completing the tale established in their 2015 EP Finis Omnium Ignorantiam, Praenuntius Infiniti is an hour of thrilling and spectacular slam death metal. Albeit one with a ton of layers, melody and technicality. This is Vulvodynia's Mona Lisa and length proves to be irrelevant as the unit deliver something captivating, story-wise and utterly crushing, music wise.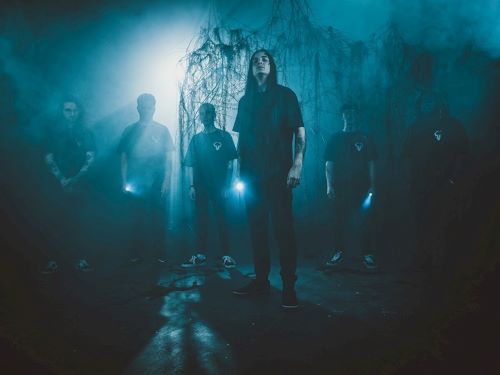 Prepare yourself, the title track intro has dark horror running through it like a bulbous vein. Prepare yourself because what follows is a brash and breakneck blast of slam. The Shadowy Descent of Gaia, Eternal Wasteland of Galaxies and Praenuntius Ascends are the first three to come out swinging. The latter being the first to feature guests, of which there are quite a few spread out. Here we get Jon Huber (Bludgeoned, ex I, Detest, ex Pathology, ex I Declare War) and Matti Way (ex Abominable Putridity, ex Pathology) adding even more vehemence and annihilation to proceedings.
The two parts of Banquet Of Enigmatic Horrors come next. I: Terror and II: Agony, the former as disturbing and rotting as death metal can possible get albeit with these grin-inducing sci-fi effects layered throughout. The latter, which features Oliver Rae Aleron (Archspire) has some of the album's sharpest guitar riffs and solos.
Vulvodynia are playing out of their skin. As though their bodies have become possessed and are being used to wield these instruments of torture for some malicious being. The tale has to be told and Vulvodynia are the story-tellers.
Whispers Of Calamity, The Seven Judges, Ravenous Revolution and A Cosmic Betrayal make up the middle portion and keep things as hefty, as ruthless, as horrifying and as cosmos spanning as humanly possible.
It's far from over though, after all this is the fall of Praenuntius and that is something that takes time. Such an important event means we get even more guests. Jamie Graham (Viscera) drops bombs in The War Within, Jawd James (Disentomb) adds guttural grime on Forging The Deity Crusher and Funeral Ov The Gods' Elliot Einstein helps the maelstrom get stronger and stronger.
It's quite something to hear just how far Vulvodynia have come as Praenuntius Infiniti is one of the most refined death metal releases heard in some time. What makes it so special though is simply how Vulvodynia haven't 'chilled' or taken a more relaxed approach. Praenuntius Infiniti is simply savagery personified, wrapped up in a story that mesmerizes from beginning to end. This is the clash of celestial beings and the unending carnage that comes from such war.
…and thus, it ends. Deicidal Finality closing out a momentous effort from Vulvodynia that can simply be called exhausting and exhilarating. This is top shelf slam death metal and Vulvodynia have fought their way to the top of the pile. Bloodied, bruised and nursing a few broken bones, there is no doubt they have earned it.
Vulvodynia – Praenuntius Infiniti Full Track Listing:
1. Praenuntius Infiniti (Intro)
2. The Shadowy Descent Of Gaia
3. Eternal Wasteland Of Galaxies
4. Praenuntius Ascends (Feat. Matti Way & Jon Huber)
5. Banquet Of Enigmatic Horrors I: Terror
6. Banquet Of Enigmatic Horrors II: Agony (Feat. Oliver Rae Aleron)
7. Whispers Of Calamity
8. The Seven Judges
9. Ravenous Revolution
10. A Cosmic Betrayal
11. The War Within (Feat. Jamie Graham)
12. Forging The Deity Crusher (Feat. Jawd James)
13. Funeral Ov The Gods (Feat. Elliot Einstein)
14. Deicidal Finality
Links
Website | Facebook | Twitter | Instagram | Spotify | Bandcamp | TikTok | YouTube
Vulvodynia - Praenuntius Infiniti (Unique Leader Records)
The Final Score -

9/10