Album Review: Vulvodynia – Mob Justice (Lacerated Enemy Records)
South African Slam Death Bulldozer Vulvodynia present their latest offering, the full length album Mob Justice. Ten tracks of sheer unbridled African brutality!!! Exactly 3 years since the release of their previous album, Vulvodynia return with a fresh new sound and lyrical concepts straight out of the darkest depths of South Africa. Guest features include Trevor Strnad Of The Black Dahlia Murder, Martin Matoušek of Gutalax & Alex Taylor of Malevolence. Unleashed upon the world June 30th 2019.
The band had the following to say:
"It's already been three years since the release of Psychosadistic Design! Since then it has been a dream come true for us playing multiple tours and festivals abroad, but we've always felt that we needed an album that paid homage to the savage motherland we call HOME. We needed an album that hit home for us conceptually.
Instead of following up on the murder themes of Psychosadistic Design or the Alien themes of Finis Omnium Ignorantiam we are basing each song around the horrors we face in our day to day lives in South Africa. We will leave no stone unturned as we expose you to everything VILE that Africa has to offer from our Drug Epidemics to our Mob Justice Killings to our Corrupt Government! All will be revealed… You will witness the true beast that is AFRICA."
Brutal. So damn brutal.
Vulvodynia are a force born out of fire and injustice and with this album they make sure everyone listening to their guttural noise is fully aware of this. It's simply staggering just how furiously this record comes at you. The chunkiest of riffing, the filthiest of vocals and the most skull-cracking of percussion.
Following a horror-lite intro with Feast, Mob Justice and Blood Diamond set about destroying everything in sight. Wrecking and devastating as they dish uncontrolled and uncompromising levels of death metal. Heavy? You have no idea.
It's the theme of the album. Low, dirty and incredibly heavy. Having the likes of Alex Taylor of Malevolence and Trevor Strnad of The Black Dahlia Murder guest on tracks just confirms that. There are no lighter moments, no melodies or moments of respite. the best you can hope for is a well done guitar solo or an intro of a track that only serves to heighten the tension rather then relieve it.
Most will have made their mind up by time the latter part of the record is reached. However, for those who still need convincing that Mob Justice is one of the most brutal records heard this year, Reclaim The Crown Part I: The Burning Kingdom, Reclaim The Crown Part II: Risen From Ash and Cultural Misogyny will do the job.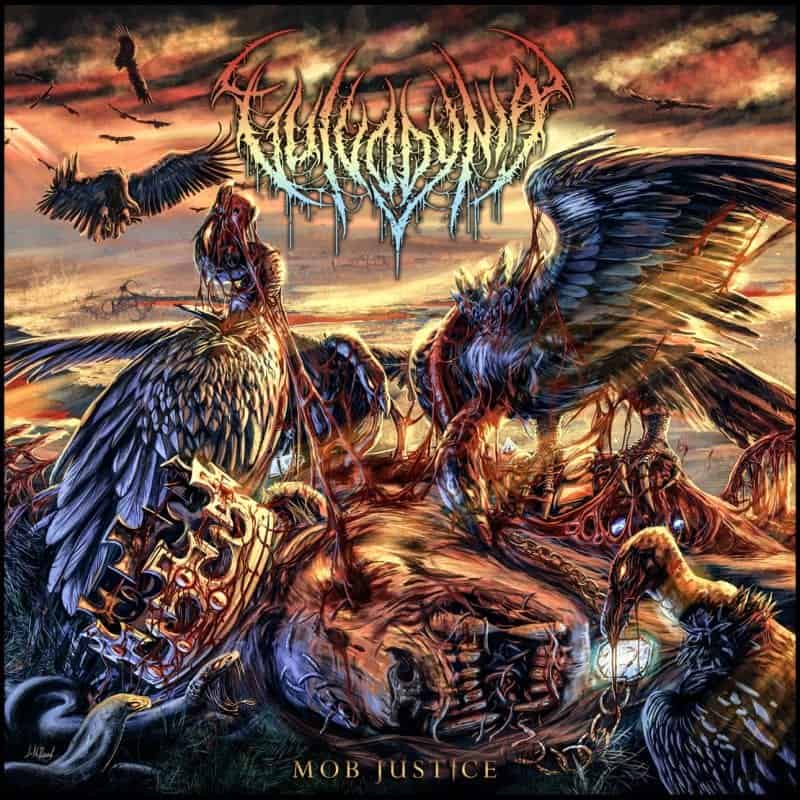 Vulvodynia – Mob Justice Full Track Listing:
1. Feast
2. Mob Justice
3. Blood Diamond
4. Born Into Filth (Feat. Alex Taylor of Malevolence)
5. Famine
6. Echoes Of The Motherland
7. Nyaope (Feat. Martin Matoušek of Gutalax)
8. Reclaim The Crown Part I: The Burning Kingdom (Feat. Trevor Strnad of The Black Dahlia Murder)
9. Reclaim The Crown Part II: Risen From Ash
10. Cultural Misogyny
Links
Bandcamp | Big Cartel | iTunes | Google Play | Facebook | Twitter | Instagram | YouTube
Vulvodynia - Mob Justice (Lacerated Enemy Records)
The Final Score -

7.5/10