Album Review: Vomit Forth – Seething Malevolence (Century Media Records)
Seething Malevolence marks the Century Media debut of New York death metal band, Vomit Forth. It will be released on July 8th, 2022.
Delivering more than just a regurgitation of a tried and tested death metal sound, Vomit Forth bring up more poisonous bile than most. Seething Malevolence is an apt title as this is a bristling ball of barely contained fury and across eleven tracks, Vomit Forth will burst ear drums.
Blending the old school East Coast sound with modern details, Seething Malevolence is a guttural blast from the very beginning. Made even more interesting and listenable by tight instrumentation, gargantuan vocals and subtle atmospheric elements. The latter carefully snuck in so as to not detract from the unmitigated violence of their death metal sound but prevalent enough to perk the ears up.
That being said, the biggest takeaway from this album is just how nauseatingly heavy it is. Vomit Forth are an angry bunch and focus all their wrath and disgust into delivering a record not to be taken lightly. Tracks like Eucharist Intact, Pain Tolerance, Severely Wounded and I Feel Nothing swarm over the mind turning dark thoughts inward and leaving little more than the basic feeling of rage behind.
It's this dedication to the death metal craft, while trying to keep it as fresh as possible, that endears Vomit Forth to the listener. Seething Malevolence is more than just a solid rethread of everything we've heard from death metal before. It's a splendid bout of abhorrence, the stuff nightmares are made of, yet fans of extreme will eat it up.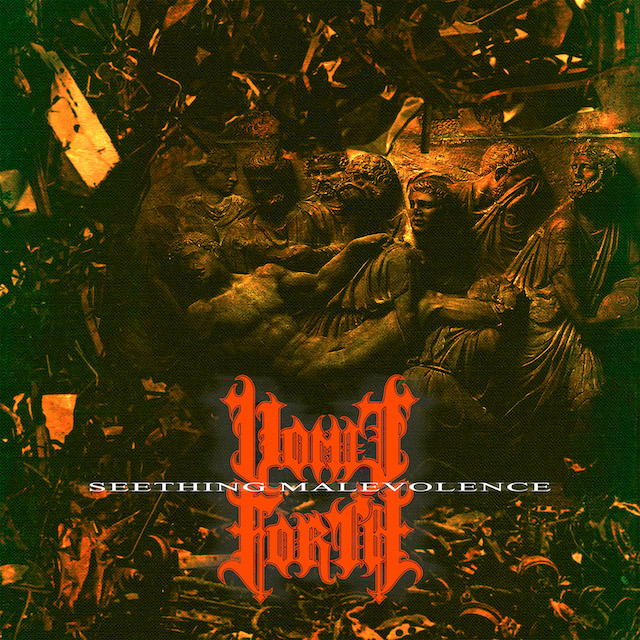 Vomit Forth – Seething Malevolence Full Track Listing:
1. Untitled
2. Eucharist Intact
3. Pain Tolerance
4. Tortured Sacrament
5. Unrecognizable
6. Seething Malevolence
7. Severely Wounded
8. Carnivorous Incantation
9. I Feel Nothing
10. Predatory Savior
11. Pious Killing Floor
Links
Link Tree | Bandcamp | Facebook | Twitter | Instagram
Vomit Forth - Seething Malevolence (Century Media Records)
The Final Score -

9.5/10