Album Review: Visions of Atlantis – Pirates (Napalm Records)
Symphonic metal visionaries Visions of Atlantis set sail on another adventurous journey and new exciting chapter, marking a turning point in their discography with the upcoming album, Pirates, out May 13th, 2022 via Napalm Records.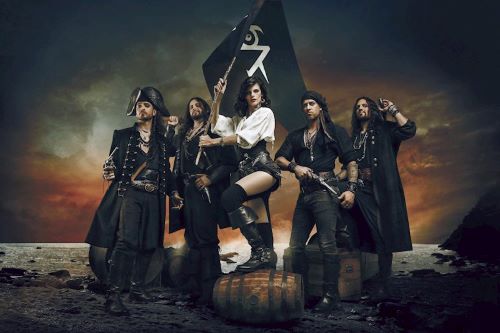 As bombastic as ever, Visions of Atlantis return with a pounding and powerful ode to self-discovery and the freedom that such insight can bring. Called Pirates, it's an album that has the symphonic metal band hitting exceptional cinematic highs. An album that is filled to the brim with heart-racing and blood-pumping epics that are also deeply melancholic and intensely melodic.
All of that, and more, makes a thrilling appearance from the very start with Pirates Will Return. The duelling vocal performance is a particular highlight of a banging opener. It is just that though, the start and Visions of Atlantis have a lot of extravagance still to showcase.
Extravagance like Master the Hurricane, a track that is part cinematic wonder, part folksy brilliance and all kinds of pounding symphonic metal. Then there is something like Freedom, that delivers lightness and lifting melodic power.
Fancy more energy? Legion Of the Seas follows that with fist-punching energy. With a singalong chorus and unmitigated cinematic supremacy, it's one of the best tracks on the album. Especially as Visions of Atlantis' symphonic metal sound is as fresh to the ears at the halfway point as it was at the start.
The hunger for more is present and Visions of Atlantis' are standing on the bow pointing towards the horizon. The soundtrack consisting of the energetic and bouncy Wild Elysium, the pomp and poise of Mercy and the wide, open and epic space that I Will Be Gone creates. Just a selection from a second half that gives such an array of metal highs and melancholic lows.
Now, while Pirates is not what you might call ground-breaking, it has to be said that Visions of Atlantis make it feel larger than anything heard from the symphonic metal genre in a while. The focus, the messages, the smooth and rich sound, the heavy parts and the melodic parts, it all combines to create something memorable. Something that has impact and stays with you afterwards. That there, is a thing of beauty.
Visions of Atlantis – Pirates Full Track Listing:
1. Pirates Will Return
2. Melancholy Angel
3. Master The Hurricane
4. Clocks
5. Freedom
6. Legion Of the Seas
7. Wild Elysium
8. Darkness Inside
9. In My World
10. Mercy
11. Heal The Scars
12. I Will Be Gone
Links
Website | Facebook | Instagram | Napalm Records
Visions of Atlantis - Pirates (Napalm Records)
The Final Score -

8/10