Album Review: Thirteenth Sign – The Ashes of a Treacherous Silence (Self Released)
Thirteenth Sign are a melodic death/thrash metal band based in Nottingham, UK. Taking their passion for Queensryche's classic 1988 concept album 'Operation: Mindcrime' as inspiration, Thirteenth Sign focused on the idea of writing a concept album of their own, in a similar vein to the Queensryche album, but making sure it retained their own distinct sound.
'The Ashes of a Treacherous Silence' uses lyrics based upon the true story of some of Britain's most notorious serial killers. However, the album doesn't focus on the actual killings but delivers an insight into what lead them to commit such evil crimes. The 14 crushing tracks cover neglect, domestic violence, depression, suicide, and betrayal interlaced with beautiful orchestration and haunting soundscapes.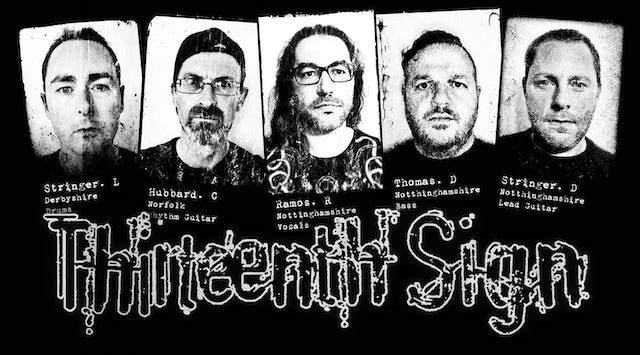 During the writing process, three band members that had performed on 'Evolutions End' left the band leaving the only two remaining original members: Lloyd Stringer on drums and Chris Hubbard on rhythm guitar. New members Dale Stringer (lead guitar), Dave Thomas (Bass) and Reno Ramos (Vocals) were gradually introduced and brought their individual talents and creative ideas into the writing process.
Thirteenth Sign's forthcoming album 'The Ashes of a Treacherous Silence' will be released on October 2nd, 2020!
It's a beast of an album that Thirteenth Sign have for us here and certainly shows their ambition. 14 tracks long and coming it at around 70 minutes, this feels like such a big moment for the Brits.
A moment that they're grasping with both hands and proving that the UK is producing some of the world's best metal.
We begin with dark intro of WN-3617 which builds up some early dread before the band unleash Bond of Wicked Blood. The thrash riffs are alive and kicking here, whereas the vocals in the verses are positively possessed and the clean singing of the chorus adds some melodic weight to it. It's a damn fine start for Thirteenth Sign and both Impulse Control and Electric Hammer build on that. The latter is such a head-banger and will be stuck in the brain matter for hours afterwards.
As for the concept? That's a track that really embodies it.
Keeping things intense and beastly, Demons Within is a roaring inferno of molten riffs and furious vocals. Locked in a Deadly Embrace pushes and pulls with a doomier drawl playing off manic thrash segments. The Spiders Web is a sticky assault with a banger of a guitar solo and Walls of Jericho has some epic relief with some touching melodic moments driven by soaring female vocals.
In an instant, over half the album has flown by and it is testament to the quality of Thirteenth Sign that it's still gripping the attention.
The Bone Collector's opening news report serves to remind you just what this album is about. A chance to re-focus the mind on the concept before Thirteenth Sign continue their thrashy assault. Whereas Leach is such a classy melodic metal effort where the blend of twisted, evil snarls and murderous, humming guitars just works so damn well.
A short but effective intermission of horror-fuelled atmosphere (The Perpetual Darkness) leads into the final handful of tracks. Kicking off the end of the journey with Ashes for Eternity. A stunning showcase of gothic and grand choir vocals leading towards a thick and bulbous slab of energetic heaviness.
Then it's the longest offering with Silent Witness where Thirteenth Sign's driving drum and riff combo is so damn impressive. It also showcases a clean style of vocals that has an air of the traditional heavy metals to them.
Before this truly excellent album comes to and end with one final hefty and thrilling slab of chunky metal. It should come as no surprise that the riffs of The Scars of Betrayal are as strong as ever. That the dark vein found throughout the album is well and truly pulsating here and the neck muscles will be working over-time to keep up with Thirteenth Sign.
So very impressive. This is the sort of album that can confidently be called a 'game-changer'.
Thirteenth Sign – The Ashes of a Treacherous Silence Full Track Listing:
1. WN-3617
2. Bond of Wicked Blood
3. Impulse Control
4. Electric Hammer
5. Demons Within
6. Locked in a Deadly Embrace
7. The Spiders Web
8. Walls of Jericho
9. Bone Collector
10. Leech
11. The Perpetual Darkness
12. Ashes for Eternity
13. Silent Witness
14. The Scars of Betrayal
Links
Thirteenth Sign - The Ashes of a Treacherous Silence (Self Released)
The Final Score -

10/10