Album Review: The Scars In Pneuma – The Path of Seven Sorrows (Promethean Fire/Kolony Records)
The Scars in Pneuma ("The Scars in the Soul" – from "πνεύμα", ancient Greek word for "breath", "breath of life" and, in a religious context, for "spirit", "soul") initially started as a solo project of Lorenzo Marchello (vocals / guitars / bass) in the beginning of 2017. It turned into a band when trusted musicians Francesco Lupi (guitars) and Daniele Valseriati (drums) joined the ranks later during the same year.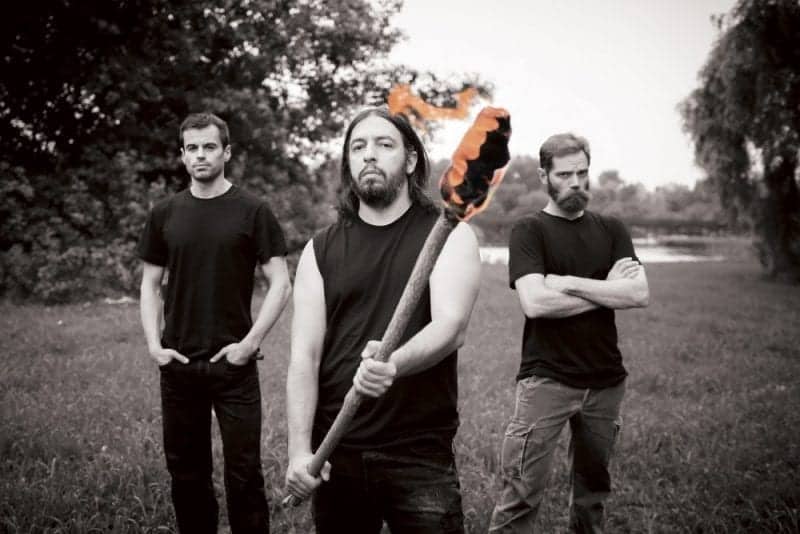 They provide their own particular black metal style, which can be defined as a mix of black metal, death metal with melodic riffing and epic passages, with a touch of doomy mood. Some bands that can be cited as inspiration are Dissection, Mgła, Be'lakor, Rotting Christ, Forgotten Tomb, Blut Aus Nord and Emperor.
Promethean Fire / Kolony Records are proud to present the debut album from Italian black metallers The Scars in Pneuma, fittingly titled "The Path of Seven Sorrows".
What's really interesting about The Path of Seven Sorrows is how it fundamentally is a black metal record but throws so many curve-balls that if you were asked to describe it to someone you'd probably have a much longer list of reference points then just black metal.
Take opener Devotion as an example. It's cold, harrowing and rough on the ears but has these wonderful riffs that lift it out of the dregs. There is clarity to the sound when you could be expecting muddiness.
Souls Are Burning is a bit more angry. A bit more solid and mean thanks to a deeper bass chug and the vocals having more less empathy. It's followed by the impressive riffing of Spark to Fire to Sun, a track that is as traditional as The Scars in Pneuma get with its troubled rhythm.
Three tracks with three leans in slightly different directions. Proof enough that The Scars in Pneuma are an enlightened bunch. They're not done yet though as they drop the best track so far in All the Secrets That We Keep, a slower and more methodical approach to bleakness that builds in pace to take on the form of black metal's evil little sister.
The incredibly strong combo of heaving horridness and epic passages continues into Dark Horizons Ahead and The Glorious Empire of Sand. The latter, the longest track coming in at 8+ minutes.
The Scars in Pneuma have absolutely nailed their unique sound across the seven tracks of The Path of Seven Sorrows. Is it any surprise that they close it out with a melodic offering in Constellations? So mellow is this closer that it even includes a short segment of crooning vocals.
A wonderful listen.
The Scars in Pneuma – The Path of Seven Sorrows Full Track Listing:
1. Devotion
2. Souls Are Burning
3. Spark to Fire to Sun
4. All the Secrets That We Keep
5. Dark Horizons Ahead
6. The Glorious Empire of Sand
7. Constellations
The album can be ordered here and more information can be found via the band's Facebook.
The Scars In Pneuma - The Path of Seven Sorrows (Promethean Fire/Kolony Records)
The Final Score -

9/10