Album Review: Temple of Dread – Hades Unleashed (Testimony Records)
After the previous albums "Blood Craving Mantras" and "World Sacrifice", which were highly rated by critics and fans, Temple of Dread complete their opening triple with the new hateful chunk "Hades Unleashed". The band's third full-length will be released on July 23rd, 2021 via Testimony Records.
Says Markus Bünnemeyer, guitarist of the North German death metallers:
Despite the two extremely strong previous albums, we managed to pack a few more bits on top! "Hades Unleashed" definitely contains our strongest material so far. The album keeps what our name promises – even if we experiment more within the genre boundaries than on the previous albums. We have both clubbed the fastest songs of our career so far and slowed down the pace significantly on some of the other songs. All in all, the listener gets a fat piece of Old-School Death Metal, seasoned with a good portion of eighties thrash.
A primordial style of death metal, Temple of Dread's frantic and furious instrumentation comes screaming out of the darkness with Aithon's Hunger. The guitars and drums are on fire but the vocals, having a hoarse and scratchy sound, really adds the meat to the bones of this track and the album overall. As an opener, it showcases the experimentation the band are testing out here as we get touches of thrash and some more progressive sounding guitar parts.
There's no slowing down on the following deathy beast that is Necromanteion or the wild thrashiness of Wrath of the Gods (Furor Divinus). The speed of both these tracks would have you believe that Temple of Dread just want to get it over with. As though they're desperately trying to exorcise the demons inside them.
Yet the demons begin to win out on the slower and dirtier rhythm of Threefold Agony. A very evil sounding track but also one of the album's best. Especially when the drumming heralds a momentary burst of energy.
It's back to the fast and in your face frenzied style for Empyrean, a bedlam creating track. The dangerous and fascinating tempo shifting Crypts of the Gorgon and the twisted savagery of Nefarious, I. Temple of Dread continuing to impress on this third album.
Happily, that high quality continues into the final part of the album too. As Whores of Pompeii goes for straight-forward thrash and death assault. Whereas Procession to Tartarus is somewhat of an epic. An expansive and very heavy one at that. One that moves at a methodical but crushing pace ending this excellent album in such a powerful way.
You may not think it at the start but come the end, you will know this is one of the finest heavy releases of the year.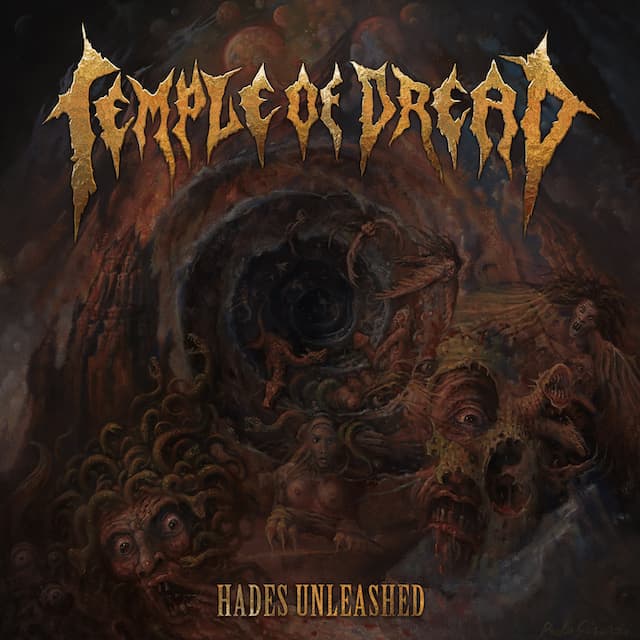 Temple of Dread – Hades Unleashed Full Track Listing:
1. Aithon's Hunger
2. Necromanteion
3. Wrath of the Gods (Furor Divinus)
4. Threefold Agony
5. Empyrean
6. Crypts of the Gorgon
7. Nefarious, I
8. Whores of Pompeii
9. Procession to Tartarus
Links
Bandcamp | Facebook | Instagram | Testimony Records
Temple of Dread - Hades Unleashed (Testimony Records)
The Final Score -

9/10